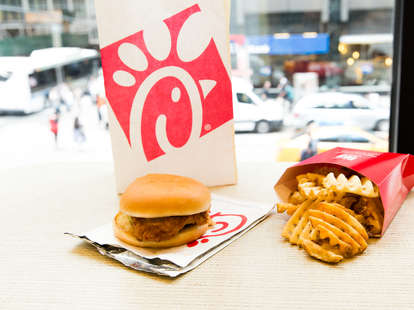 Cole Saladino/Thrillist
Cole Saladino/Thrillist
Many of us were taught to mind our manners, that it was important to look people in the eye, and to say "please" and "thank you." Based on the results of a new study on fast-food drive-thrus from industry magazine QSR, Chick-fil-A employees listened to their parents. When compared to 14 other chains in the fast-food landscape, they were polite more than any other fast-food chain's workers.
QSR visited 15 chains and went in drive-thru lines 1,948 times to get the results of this study, which found that Chick-fil-A employees had a pleasant demeanor 93.9% of the time, compared to KFC, Wendy's, and McDonald's, which were hovering near 80%. Its employees also looked people in the eye and said "please" and "thank you" at higher rates.
And because the brand realizes that you just want your food quickly and on time, it employs people to "line-bust using tablets in the drive-thru lane," where you can order a chicken sandwich from a real live human person instead of having to wait until the car in front of you is done. That's service with a smile. And a tablet.
That politeness and efficiency might just be why Chick-fil-A is America's favorite fast-food chain. That and, you know, the chicken.
Sign up here for our daily Thrillist email, and get your fix of the best in food/drink/fun.
Lee Breslouer is a senior writer for Thrillist, and hears its chicken tortilla soup is the best in the game, too. Follow him to soups @LeeBreslouer.