Chick-fil-A has surpassed KFC, could take down McDonald's next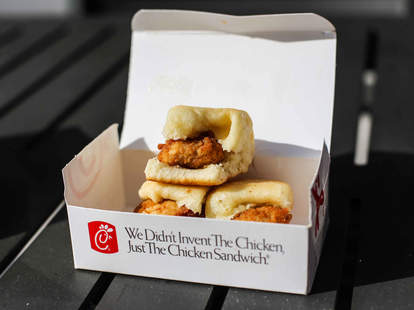 Apparently, that whole "dress like a cow" stunt Chick-fil-A pulled last week was just a distraction from the chain's loftier goal: world domination. A new report from Janney Capital Markets shows the regional chain has surpassed KFC in the chicken game, and could be a serious threat to the Golden Arches in the near future.
Back in 2003, KFC was king. Where Chick-fil-A's 11.9% share of the "limited service" (fast food and fast casual) chicken market put it on par with Popeyes, it was no match for KFC's 38.3%. But now, as in most Charles Bronson movies, the tables have turned. Chick-fil-A now boasts a 26.3% share over the Colonel's 21.9%, and isn't slowing down anytime soon.
So why is McDonald's part of the discussion? Chick-fil-A isn't anywhere close to Mickey D's in terms of locations, but its monstrous growth could spell trouble for the fast-food champ. Over the past decade, Chick-fil-A has not only leap-frogged over the chicken competition, but it's also gone from under $2bil to over $5bill in nationwide sales. Should they continue at the current rate, Janney pegs their 2023 sales at somewhere between $11.4 and $14.4bill. Though that's still nowhere near McDonald's current haul -- $35.9bill -- those numbers would put Chick-fil-A in the same league as Ronald's closest competition, Subway ($12.7 billion) and Starbucks ($11.7 billion). McDonald's might need to deploy Happy as a scare tactic pretty soon, because Chick-fil-A is coming for that crown.
Kristin Hunt is a food/drink staff writer for Thrillist, and is waiting for the inevitable street fight between Grimace and the Chick-fil-A cow. Follow her at @kristin_hunt.