The One Big Problem With Chick-Fil-A's New 'Meal Service'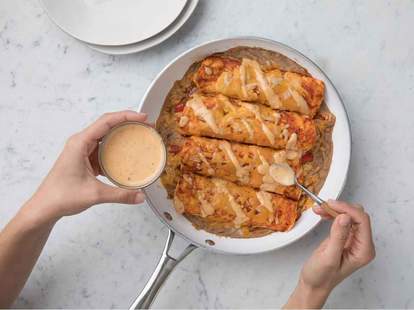 If you pay close attention to news about national chain restaurants -- or happen to read the very site you are currently reading this article on -- there's a good chance you've heard that Chick-fil-A recently announced the creation of a new Blue Apron-style Mealtime Kit, primed to roll out in mid-August.
What does this mean, for you?
If you visit one of 150 select (and yet-to-be-designated) Georgia-based Chick-fil-A's participating in the new Mealtime Kit initiative from August 27 through mid-November -- when the first run of the experiment ends -- you'll be able to purchase a 30-minutes-or-less, just-under-sixteen-dollar, ready-for-two meal kit, right at the counter.
Naturally, reactions to this deep-fried bombshell were mixed.
For some, this came as glorious news and was highly relevant to anyone who's ever desperately craved some of that controversial chicken at home (or perhaps just on a Sunday).
I'm sooo excited for this @ChickfilA meal kit !! Omg ! They just keep on blessing us + we are not worthy !

— Thumper (@titts4tatts) July 24, 2018
Me: "I'm never gonna join one of those weekly meal kit serv..."@ChickfilA: "We're going to enter the weekly meal kit service industry."
Me: "SIGN ME UP!"

— Taylor Fedena (@TFedena) July 24, 2018
CHICK-FIL-A MEAL KITS ARE A THING! LIKE WHAT IS LIFE!

Only issue... they will only available in the ATL... @ChickfilA, please bring them to Chattanooga.
Thanks!

— Anna Huffstutler (@A_Huffstutler) July 23, 2018
Others, were a little more skeptical....
Why would I drive to Chick-fil-A to pick up a meal kit that I then have to go home and cook when I could just... get Chick-fil-A? https://t.co/609y9uItEK

— Aerolyn Shaw (@AerolynShaw) July 23, 2018
Chick-Fil-A doing meal kits.

(Pretty sure there are a ton of chicken nugget meal kits available in the freezer section of the grocery store already?)https://t.co/grDjvYvM5Z

— Jay Yarow (@jyarow) July 23, 2018
And one young woman named Tori was really not into it.
Some people might consider a fast food outlet clawing their way into at-home meal kits as a harbinger of the ultimate decay and eventual doom that will no doubt be brought down upon our hedonistic Western society by a higher power.
But, as someone who has personally sampled and tested more than a few of the Blue Apron-esque meal services, my interest was piqued immediately. Does this move signal a new, Golden Age of fast food? Has the uber-convenience of the drive-through -- where we don't even have to leave our car in order to procure and consume three spicy chicken sandwiches and waffle fries -- paved the way for this, even more convenient method where we don't even have to leave our kitchens to consume three spicy chicken sandwiches and waffle fries as long as are willing to plan (slightly) ahead. Is this a signal of more fast food innovation to come? Will we soon be heating up freshly prepared Doritos Locos Tacos in our ovens, slinging up original recipe, pre-sold Big Macs at our next backyard BBQ, and talking about how much we still don't like In-n-Out's fries, even when we make them ourselves?
Well, not exactly.
Because here's the menu that Chick-fil-A rolled out:
Chicken Parmesan
Chicken Enchiladas
Dijon Chicken
Pan Roasted Chicken
Chicken Flatbread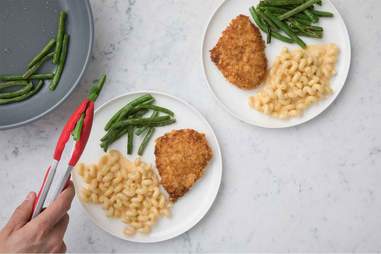 Courtesy of Chick-fil-A
Yes. It reads more like a roadside diner in Idaho's brunch specials than a meal-kit by the fast food leviathans. If you'll notice, none of the items that will be available to as pre-made meals is actually served by the chain. So, nothing the chain actually serves, will be available to make at home.
So. No chicken sandwiches. No spicy chicken. No biscuits. No waffle fries. No fried chicken at all.
No semblance of the food that has made Chick-fil-a a bewilderingly popular outlet for people who want sandwiches and love morbid marketing campaigns revolving around cows begging for their lives.
It's an odd twist, no doubt. And one that's hard to comprehend. In fact, what they are trying to sling to the public doesn't even really look like Chick-fil-A in the first place. Everyone who already started planning out their weekly meals on the merits of knowing they'll be able to make mini chicken sliders on a whim, just got sorely ripped off. And there's only a few logical explanations for this misguided move:
Chick-Fil-A wants to prove they can make quality meals… but actually wants you to make them… so… they want to prove they can at least set-up quality meals? (unlikely)
The chain is becoming more health conscious, and wants to promote healthier eating trends, so if you gorge on fried chicken one day, it can at least nudge you to prepare a slightly-healthier chicken parm the next. (also unlikely)
Chick-fil-A is setting itself up as the grocery store of the future (scary!)
Chick-fil-A got cold feet and desperately scared that if they start clueing people in on their secret recipes, no one will visit them any more (sad!)
Chick-fil-A is testing their renown customer loyalty by seeing if they can make their fans purchase absolutely anything (most likely)
As part of a nearly 8 months April Fool's campaign, Chick-fil-A will finally admit they were just kidding on midnight, 4/01/19, after selling no less than three billion "fake" meal kits to adoring fans, before confirming their new, real line featuring fried chicken and waffle fries (hopefully!)
They messed up (could also be true)
At the end of the day, this news isn't really news at all. Chick-fil-A's meal service doesn't even feature Chick-fil-A food, and we should all feel cheated, if not slightly deceived.
We wanted waffle fries and chicken sliders in the comfort of our own home. And what we got were enchiladas. A classic let down. It's the fast food equivalent of getting a hollow chocolate bunny for Easter.
And -- like the chicken itself -- this whole scheme may be able to coast, but it's certainly not going to fly.
Sign up here for our daily Thrillist email and subscribe here for our YouTube channel to get your fix of the best in food/drink/fun.
Wil Fulton is a staff writer at Thrillist and a passionate doer of other stuff. For more info, you'll have to do a free background check.