Not About Jesus: The Truth Behind Chick-fil-A's Sunday Policy
"Thou shalt not eat Chick-fil-A on Sunday."
This decree isn't written in the Old Testament. Somehow, there's no mention of fried chicken in the Bible at all. But it is chiseled in the presumed stone tablets of Chick-fil-A's corporate policy. The chicken chain is never open for business on Sunday. Ever. Period. If you want their waffle fries on the first day of the week, you need to stock up on Saturday night, partner.
In our current politically charged climate -- where major brands are forced to either shut the heck up or choose a side, stick with it, and suffer through boycotts and backlash -- Chick-fil-A has always veered to the right, even if it's "unofficially." And the company's late founder, Truett Cathy -- a noted and oft-outspoken Christian -- implemented the policy in question himself: Chick-fil-A has never been open on Sunday, and never will be.
So, it's natural to assume the no-chicken-on-the-Sabbath measure is a function of religious inclinations. But, it's just not that simple...
Or so they claim.
It all started on the kitchen floor...
"Look, running a restaurant is a tough job," said Jodee Morgan, senior director of culture and talent operations for Chick-fil-A. Based in Atlanta (where the company is headquartered), she speaks in a delightful Southern twang and puts a long, heartfelt emphasis on words like "tough," like an empathetic grade-school teacher talking to a kid with a scabbed knee. "When Truett Cathy started his first restaurant (called Dwarf Grill), it was a 24-hour business. He would sleep next to the grill and jump up when he heard cars pulling up -- the gravel driveway was his alarm clock."
During one of his all-nighters lying on the kitchen floor and using his arm as a pillow, Cathy decided that his own employees -- including himself -- needed a guaranteed day off every weekend, lest they lose their chicken-slingin' minds.
"It's really about getting that work-life balance right. And that was so important then, and is still probably even more important now in the way the Cathy family continues to run their business," Morgan said. "And even if you aren't open 24/7, running a business is still a 24/7 job."
The Dwarf Grill -- Cathy's spiritual predecessor to Chick-fil-A -- opened in 1946 in the Atlanta suburb of Hapeville. The first bona-fide and branded "Chick-fil-A" didn't open till '67, in the food court of the Greenbriar Mall in Atlanta, Georgia. It's been growing since. But not on Sundays.
So, it's not about going to church?
Now, if you know anything about the deep South, you know it's red. Like, as red as a sunburned Baptist minister at a joint NRA/Kid Rock convention. Religion is a big deal down there. Georgia is practically the big ol' chrome buckle on the Bible Belt -- so its Blue Laws were and continue to be some of the most extreme in the country.
But (in Chick's words) the Sunday mandate was never about religion.
"We have more than 80,000 team members that represent almost every point of diversity and lifestyle. This day off is for people to spend time with their friends, their families, to do what they want," Morgan said. "They absolutely have the choice to do whatever they want on their day off. Truett Cathy's choice was based just as much in the practical points of running a business as his beliefs."
But seriously. Is it a Christian holiday?
"At the end of the day, we just try to reiterate something Truett Cathy always said: 'We aren't really in the chicken business, we are in the people's business.' This balance and work and life -- especially nowadays, is so crucial."
So crucial that the company believes their "closed-on-Sunday" policy actually attracts the kind of employee they want, all by itself.
"Closed on Sunday" is actually a recruitment tool
While most fast-food chain's are experiencing less-than-stellar sales of late, Chick-fil-A is currently dominating the fast-food world, making more money per location than any other chain and expanding at a rapid clip.
Much of this success has been attributed to Chick-fil-A's top marks in customer satisfaction, mainly due to the positivity that oozes from its staff members. They are extremely friendly, sometimes nauseatingly so.
"We choose our team members very carefully. We want to attract people with a certain spirit," Morgan said.
The Holy Spirit?!
Not quite.
"We want people who are committed to having a healthy work-life balance. Who want that time. It's important that we get employees that are passionate about serving our customers, as well as taking the time to rejuvenate and be with friends and family," she clarified.
And apparently, it has worked.
"We definitely get people who come here and say that this policy is a big part of why they want to work here in the first place, and we really value that," she said.
The policy is so ingrained in the corporation's ethos that they look to bring in people with similar viewpoints... if not similar beliefs. It's a selling point, and a benefit that competitors simply don't offer.
Being closed on Sunday is kind of a big deal
As recently as the late 1970s, it was the norm for businesses -- from department stores to restaurants -- to be closed on Sundays. It was the result of pre-existing cultural norms and lingering Blue Laws.
Now, finding a business that completely shuts down on Sunday (let alone a nationwide chain) is harder than sleeping on a greasy kitchen floor beneath a oven, Truett Cathy-style. And the reason is obvious. One less day of open doors = less money.
Chick-fil-A leaves an estimated $47.5 million on their red, shiny plastic tables every year due to being closed on Sunday. But to them, it doesn't really matter. It hasn't stopped Chick-fil-A (valued at around $5.5 billion, in case you were wondering) from flourishing.
"Despite being open only six out of seven days a week, we've been able to consistently generate more sales than competitors who are open every day," Morgan said. "And I do think customers appreciate our policy. I know our employees do."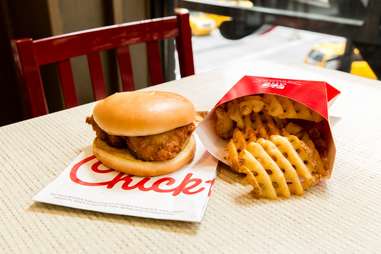 Sometimes Chick-fil-A still makes chicken on Sundays, even if they're closed
Though the restaurant is never open for business on Sunday (nor ever will be, according to Morgan) there are times when the kitchen is still making food. Though, it's always for a good cause.
"Sometimes we are up and running at some capacity on Sundays... for volunteer opportunities, making food to donate, and things like that," Morgan said. "Those decisions are up to individual restaurant operators, but we are never actually open for business."
Chick-fil-A franchises have been known to open on Sundays for altruistic endeavors like feeding first responders during natural disasters, for example. But perhaps the most notable example of specific stores choosing to "open" on Sundays to donate food happened in the wake of the Orlando Pulse nightclub shootings. Multiple Orlando locations made national news by opening on a Sunday to help feed those who donated blood after the mass-shooting.
Not only was this noteworthy because of the coordinated efforts of multiple stores, it also seemed counterintuitive to the brand's perceived "value system," as they have repeatedly gotten in -- **ahem** -- some hot water from comments and charitable contributions from the Cathy family regarding LGBTQ rights.
While this act neither reinforces nor counteracts any controversy surrounding the brand and its stance on LGBTQ issues, it does prove that the company's modern and granular operations can vary, and that circumstances can cause the "No chicken on Sundays" rule to be bent just a little.
That day of rest is here to stay
Ultimately, the closed-on-Sunday policy isn't a doctrine of direct conservatism -- in fact, it's a (dare we say?) progressive tactic from the "traditional" restaurant chain.
"It's become a big part of our business. Something that sets an example, and in a way defines who we are," Morgan said. "And it is helpful in almost every area of our business."
Though politics, beliefs, and values obviously vary between people -- chicken is a constant (um, except for vegetarians). And even those who need to suffer through a day without their favorite fast-food sandwich should acknowledge that work-life balance of service workers might be worth the personal sacrifice. Right?
In the beginning, Truett Cathy created this policy, and it was good. The Truett family continues to uphold their founder's mandate. And it's still good.
Just make sure to get your chicken fix on Saturday night.
Sign up here for our daily Thrillist email, and get your fix of the best in food/drink/fun.
Wil Fulton is a staff writer for Thrillist. He actually blames Gwyneth Paltrow for most of the world's problems. Follow him @wilfulton.