No Surprise: Chick-fil-a Ranks No. 1 in Fast Food Customer Satisfaction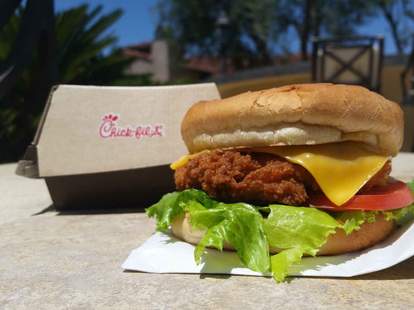 Every time you finish a Deluxe Chicken Sandwich or a Carnitas burrito, you likely think the same thing: I need a nap. But that reaction is an extension of a basic human emotion: satisfaction. And as it turns out, Chick-fil-a and Chipotle dominate in that realm.
According to the latest edition of the American Customer Satisfaction Index, the chicken-slingers made an impressive debut, ranking no. 1 on the annual survey with an overall score of 86. Fast-casual Mexican chain Chipotle also debuted this year in the no. 2 spot, with an overall ranking of 83. Panera came third, with an overall score of 80. Last year's co-leaders, Papa's John's and Pizza Hut, dropped two points down to 78, just behind Panera.
The ACSI averages its ratings by asking 5,000 people to evaluate recent purchases and "consumption experiences with the largest companies by market share within each of the measured industries, plus an aggregate of all other smaller brands not measured individually by name in the ACSI." That's a long way of saying: it asks a bunch of people to rate their satisfaction with big companies on a scale of 0-100, then it averages those out.
On the flip side, McDonald's ranked dead last in the survey, with an overall score of 67. This marks the sixth time in a row McD's came in last, and the 19th time out of 20 surveys, according to Consumerist.