You can use homemade or store-bought chili oil for these juicy wontons.

| Photo by Sarah Leung and Kaitlin Leung
You can use homemade or store-bought chili oil for these juicy wontons.

| Photo by Sarah Leung and Kaitlin Leung
Writing a cookbook with your family is no easy task. You may disagree about the amount of soy sauce a recipe requires, the way to photograph a specific dish so it looks optimal, or the preferred temperature and cooking time that yields the most tender pork. However, Bill, Judy, Sarah, and Kaitlin Leung have mastered this very feat with their acclaimed food blog, and consequent cookbook, The Woks of Life.
The blog was meant to be a resource for the family as parents Judy and Bill were living abroad while their daughters, Sarah and Kaitlin, peppered them with questions on how to cook their favorite Chinese dishes.
"We hoped that other people would get use out of it, but in the beginning it did start as this realization that for my sister and I, even though we grew up cooking and loved cooking, we really didn't know how to make some of our all time favorite dishes that our parents would make for us growing up," Sarah says. "The blog was a remedy to that."
The fledgling blog read like personal journal entries. Slowly but surely, though, The Woks of Life grew into something more than just one family's culinary diary.
Sarah would track the blog's audience numbers, excitably sharing with her family when they crossed the 700 visitors threshold. Now, a typical day nets at least 150,000 visitors from all over the world accessing the Leung's treasure trove of recipes.
"For myself, I still find it hard to believe," Kaitlin muses. "We have such a lovely set of people from all over the world who are like, 'Oh, what do the Leungs have to say?' Sometimes I still feel like I'm just writing for us."
Although the entries remain personal and woven with family dynamics and stories, the Leungs also understand the pressures of becoming authorities on Chinese and Chinese American home cooking.
"It may be extreme, but it's a responsibility," Bill says. The likes of which include sharing pantry staples necessary for the archive of recipes, developing and meticulously testing new recipes, writing instructions as clear as possible for readers, and being unafraid to voice a concern when something isn't working or doesn't taste good—even if that means looking your mom, dad, sister, or daughter in the eye when doing it. Their readers trust they wouldn't put out a dish that didn't meet their high standards.
"We are all equals in the kitchen and everyone's opinion holds equal weight," Judy says. "If one person doesn't approve of a dish, it gets adjusted."
With the blog, recipes are routinely updated and the website functions like a living document. Writing a cookbook, however, is a different beast. (You can't refresh a page in a printed cookbook!)
"It was the hardest recipe developing we've ever done because there was so much pressure on each individual, that each recipe had to be perfect," Sarah says, explaining that as a family they were each responsible for 25% of the book. "There was this pressure in the cookbook that doesn't feel as high stakes on the blog."
The Woks of Life: Recipes to Know and Love from a Chinese American Family is their first cookbook, and though it might have felt scary and permanent deciding what recipes to include, the book as a whole is a touching reflection of culinary genealogy with recipes that meet all four of the Leungs' high standards.
This includes their cover star recipe, chili oil wontons. When I ask about tips for making this dish, everyone has a different suggestion.
"This dish has to be eaten fresh," Judy says.
"But you can pre-make the wontons and freeze them," Kaitlin quips.
"The key for this particular dish is the quality of your chili oil," Bill adds.
It's clear the family feeds off one another's energy and enthusiasm when it comes to cooking, which they have been doing together for years. When one pauses to think of the right word, another jumps in and responds. They admit that mom's strength is in traditional dishes, dad is an expert on all things Chinese American, and Kaitlin and Sarah are the experimentalists. But as a quartet—like the white pepper, chili oil, ginger, and garlic in their wonton recipe—they balance each other perfectly.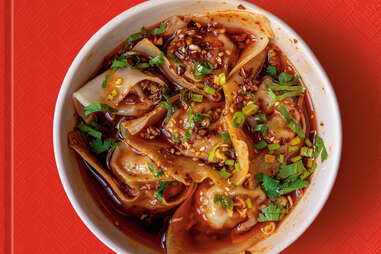 Chili Oil Wontons Recipe from The Woks of Life
Makes 30 wontons and sauce for 15 wontons
Ingredients:
For the wontons
8 ounces napa cabbage
¾ teaspoon fine sea salt
8 ounces fatty ground pork (70% lean) or ground dark-meat chicken
2 tablespoons water, plus more for sealing the wontons
1 tablespoon neutral oil
1 tablespoon toasted sesame oil
1 tablespoon Shaoxing wine
2 teaspoons light soy sauce
1½ teaspoons grated fresh ginger
½ teaspoon sugar
¼ teaspoon white pepper powder
30 wonton wrappers, preferably Shanghai style

For the sauce
4 large garlic cloves, minced
1½ teaspoons sugar
1 teaspoon ground Sichuan peppercorns
1 tablespoon neutral oil
⅓ cup chili oil
2½ tablespoons light soy sauce, or to taste
1 teaspoon toasted sesame oil
Toasted sesame seeds
2 scallions, white and green parts finely chopped
2 tablespoons finely chopped fresh cilantro leaves and stems (optional)

Make the wonton filling:
1. Slice the cabbage leaves lengthwise into thin strips, then finely chop them crosswise. Place in a large bowl and stir in the salt. Set aside for 30 minutes (no more!) to allow the salt to draw the water out of the cabbage.
2. To a large bowl, add the pork, 2 tablespoons water, the neutral oil, sesame oil, Shaoxing wine, light soy sauce, ginger, sugar, and white pepper. Stir vigorously with a pair of chopsticks for about 10 minutes, until the filling has emulsified into a paste-like consistency. (You can also use a stand mixer fitted with the paddle attachment and beat on low speed for 5 minutes.)
3. Squeeze the excess water out of the cabbage with your hands, then add the cabbage to the pork. Stir thoroughly to incorporate.
Assemble the wontons:
1. Line a sheet pan with parchment paper. Prepare a small bowl of water. With a wonton wrapper in the center of your palm, dab the outer edges of the square with water. To the center, add 1 scant tablespoon of the filling. Fold the wonton wrapper in half into a rectangle and press the edges together. Put a dab of water on one of the bottom corners (the filling side, not the seam side). Bring the two bottom corners together and, using the wetted corner to seal the wonton, press the corners together.
2. Place the wonton on the sheet pan. Repeat with the remaining wrappers and filling, ensuring that the finished wontons are not touching each other on the sheet pan. Within 1 hour of assembly, you must either cook the wontons or transfer them to the freezer. In this recipe, we're cooking half of the wontons right away and freezing the other half. To freeze: Cover the sheet pan of wontons with plastic wrap (or use a clean plastic grocery bag) and freeze overnight; when frozen solid, transfer the wontons to freezer bags to store for up to 3 months.
Prepare the sauce:
1. In a large, wide heatproof bowl (big enough to later toss the wontons in), arrange half the garlic, the sugar, and ground Sichuan peppercorns in small piles directly next to each other. In a small saucepan, heat the neutral oil over medium-high heat until it shimmers. Use a rubber spatula to scrape all the oil out of the pan and onto the garlic and seasonings (it will sizzle!). Stir in the chili oil, light soy sauce, sesame oil, and remaining garlic until combined.
Cook the wontons and serve:
1. Bring a large pot of water to a boil. Stir the boiling water in a circle to keep it moving slowly (this will prevent the wontons from sticking to the bottom of the pot). Add 15 wontons (or all 30 if you made a double batch of sauce) and simmer for 4 to 5 minutes (5 to 6 minutes, if frozen), or until the wontons float—an indication that the filling inside has mostly cooked through. During cooking, anytime the water comes back up to a vigorous boil, add ¼ cup cold water to cool down the pot. (This periodic addition of cold water prevents the wrappers from overcooking before the filling is cooked through.) Once the wontons are floating, cook them for 1 additional minute, then use a spider strainer or slotted spoon to lift them out of the water, allowing any excess water to drain off. Transfer the wontons to your bowl of sauce.
2. Gently toss the wontons in the sauce, then sprinkle with the toasted sesame seeds, scallions, and cilantro (if using).
Kat Thompson is a senior staff writer of food & drink at Thrillist. Follow her on Twitter @katthompsonn.