We ate all the new Chili's Frozen Meals for you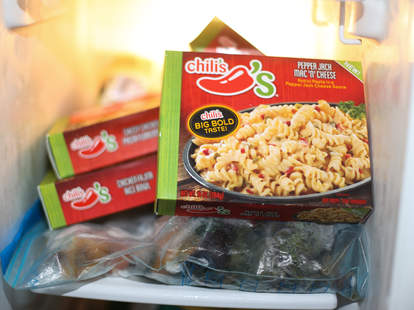 All photos by Dan Gentile
Chili's is now offering its signature flavors straight out of your freezer for a fraction of the price and zero percent of the obligation to wear pants. Or tip. But how do the meals that are stackable in your freezer stack up against the real deal?
To see if they're worth your hard-earned freezer space, we taste-tested four of Chili's new meals: Cheesy Chicken Pasta Florentine, Chicken Fajita Rice Bowl, Pepper Jack Mac 'N' Cheese, and Chicken Bacon Ranch. Here they are, ranked for your enjoyment.
4. CHICKEN BACON RANCH
Texture: Creamy is the story here, and it's a never-ending one. It envelops the pasta, which is probably for the best. The broccoli makes you feel like you're doing something healthy, until it explodes into a the textural equivalent of dandelion seeds.
Taste: The essence of bacon is so strong it borders on liquid smoke. The aftertaste is extremely salty.
Overall flavor: The chicken and vegetables are totally overpowered. They should probably call this Bacon Ranch With Chicken.
3. CHICKEN FAJITA RICE BOWL
Texture: The chicken is rubbery, and the rice is soggy, but it's about par for the course when it comes to frozen entrees.
Taste: Not too bad. There's a surprisingly strong jalapeño flavor. It's easy to wolf down without much thought.
Overall flavor: It's bolder than you'd expect, and a success in the spice department. The kitchen sink mentality of a fajita bowl works well frozen, as you're not tasting individual flavors but rather the sum of the parts.
2. CHEESY CHICKEN PASTA FLORENTINE
Texture: The pasta is like a middle of the road boxed mac. The beans shred into a somewhat realistic paste. The chicken has a plumper texture than previous dishes.
Taste: Cheese is the star here. It takes charge, but you still get hints of bean, tomato, and chicken that are strangely much tastier than in the other meals.
Overall flavor: The cheesiness is much more palatable than ranch or a vague amalgam of the Southwest. This isn't very offensive at all. I took several more bites than necessary.
1. PEPPER JACK MAC 'N' CHEESE
Texture: This is chalkier than any of the other meals. It brings to mind Kraft Easy Mac. The bits of peppers and tomato give it a chunky bonus.
Taste: Pepper jack might be a misnomer here, but that doesn't really matter. It fulfills a mac & cheese craving, and that's really all that's important.
Overall flavor: It has nothing to hide. This is a solid execution of cheap mac & cheese that has just enough extras to make you feel like you've stepped up from a pantry version.
CONCLUSIONS
No matter how much flair is on your walls, these won't make you feel like you're at a Chili's. The flavor profiles of all four are actually very similar: a savory casserole of grain with chunks of chicken and one primary accent flavor (Southwestern, smokey ranch, cheese, cheesier).
I would not recommend the Bacon Parmesan Ranch or Fajita Bowl (you might as well thaw a burrito), but as far as frozen meals go, the Florentine and Mac 'N' Cheese both succeed in offering quick, inoffensive calorie bombs. And, after all, that's what freezers are for.
Dan Gentile is a staff writer on Thrillist's national food and drink team. He grew up on Chili's potato skins and Southwestern eggrolls. Follow him to no shame at @Dannosphere.