James Sutton/Unsplash
James Sutton/Unsplash
Noodles, with the exception of zoodles (please go away), are the arguably the perfect food. This brilliant food genus, which includes everything from rigatoni to udon, banh pho to spaetzle, seems to have endless permutations to slurp, swirl, and stir-fry. Few countries know the joy of noodles better than China, where the foodstuff spread, evolved, and became an integral part of its culinary history for over 4,000 years.
China isn't a monolith and neither are its noodles. In southern China, rice rules the roost. There, rice flour-based recipes generate bouncy and gummy products that soak up sauce like a sponge. (Through centuries of migration, colonization, and trade, the techniques and dishes developed in that part of China seeped into Southeast Asia, giving birth to regional faves like pho, khao soi, and pad see ew.) Head farther inland in China and wheat reigns supreme. It manifests as a vibrantly diverse array of regional breads, pancakes, and, most importantly, wheat and starch noodles.
To sort it all out for you, here's a breakdown of some of the most iconic types of Chinese noodles—many of which are served at beloved restaurants around the country—and our favorite ways to eat them.
Mai fun
Also known as "rice vermicelli," these round and thin noodles are on the drier and chewier side, with their heartier shape making them perfect for stir-fries and salads. In the United States, you'll often find mai fun in a dish called Singapore noodles, wherein they're stir-fried with egg, shrimp, vegetables, and curry powder. You'll also find these in a lot of Vietnamese cuisine, especially in fresh bun salads and a delicious soup called bun bo Hue. You can even get mai fun at Jollibee in the form of pancit palabok, otherwise known as Filipino fiesta noodles.
Shanghainese nian gao
Some might argue that these aren't noodles. To them, I'd say: Who hurt you? Detractors aside, these rice cakes are made from dense rolls of pounded glutinous rice that are steamed, then sliced on a bias into thin pieces. If you're familiar with Japanese mochi, you can probably imagine how nian gao works. Served as a sweet dish in other parts of the country, the Shanghainese variation is distinctively savory. In stir-fried chao nian gao, the soft and chewy texture makes the perfect foil to crunchy vegetables. At the grocery store, you'll probably find the Korean variation, called tteok—those are fine for both Korean and Chinese recipes.
Ho fun
These noodles, made wide and tapered to maximize their compatibility with sauces and gravies, are slippery and slurpable. Thus, they're widely popular in many Asian cuisines, popping up in Thailand as pad kee mao and in Vietnam as pho. Cantonese restaurants often feature it in chow fun, a stir-fried dish with soy sauce, beef, and bean sprouts. To effectively stir-fry these sticky noodles and keep them from massing into a gummy clump requires a well-oiled wok and quite a bit of deftness—so maybe leave it to the experts.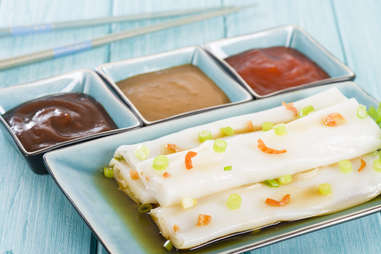 Cheung fun
If you spend your weekends creepin' on your local dim sum parlor, you know these well. Cheung fun are pillow-soft and jelly-like noodles that are made into sheets and often wrapped around a savory filling of shrimp, meat, or fried dough. Eating the dim sum version is, incidentally, a lot like the feeling of having a perfectly warm towel laid on your face. In Hong Kong, the noodles are served at street stalls in little rolls and topped with hoisin sauce, soy sauce, and sesame seeds. Their classic, jiggly texture comes from a mixture of rice flour and tapioca or glutinous rice flour, and the name translates literally to "intestine noodle" because of its aesthetic similarity to pig intestine. You can steam these at home or buy premade fresh noodles at some Asian grocers.
Yao mein
When these thin egg-and-wheat noodles are fresh, they're fantastic, with a distinct springiness and heft that make them the perfect foil to wontons. Some old-school wonton noodle shops in Hong Kong make a variation on these noodles, called "jook-sing noodles," by having a cook knead the dough by hopping on a giant bamboo stalk. It's hard to explain, but it's cool to watch. Many Asian grocers offers these noodles fresh or frozen, though you can use the dried noodles in a pinch. Just make sure that whatever you buy actually contains egg—some manufacturers fudge it a bit and include dye to give the noodles that yolky yellow shade. These can be served in hot soup with wontons or stir-fried in sauce. The par-boiled version of these are what people typically use for chow mein: They can be thrown right into the wok from their package.
Lo mein
When I was a kid, these were the noodles that would shut me up. I'd focus all of my energy on slurping every strand, enjoying every drop of the sauce that clung to them. These chewy noodles typically have the same ingredients as yao mein; in the diaspora, their main distinguishing point is that they're heftier. Lo mein is in it for the long haul and plays well with rich sauces, heavy meats, and long stints at the buffet table, a fact that has placed it securely within the Chinese takeout Greatest Hits Collection.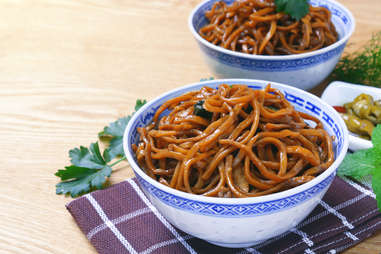 Yi mein
Yi mein are, like instant ramen, cooked and then deep-fried into a cake by their manufacturers. They're expensive because of their high-quality ingredients and laborious cooking process, so they're often brought out for celebrations. You'll often find these in a hefty, stir-fried pile at Chinese banquet halls. When braised in sauce, these noodles take on a wonderfully spongy texture, though it can be easy to overcook them until they get soggy. If you're making them at home, be sure to undercook them by a few minutes when you initially boil them before braising: 3-4 minutes will be just fine.
Dao xiao mian
If you search for these noodles, aka "knife-cut noodles," on YouTube, prepare yourself to be amazed. The making of these noodles is a technical marvel, with cooks using razor-like implements to rapidly shave noodles off of a piece of dough, shooting them straight into a pot of boiling water to cook. Each batch requires expert timing: The cook has to cut the noodles quick enough that the first ones don't overcook. These imperfectly shaped strands are chewy, with a slurpability that makes them great with soups or braised meat. You'd also do well to pair these with Uyghur dishes like a hearty lamb-and-vegetable stir-fry.
La mian
The world loves these noodles, though many of us know them primarily through their pre-cooked and deep-fried variation: instant ramen. To make these noodles the traditional way, a dough made from high-gluten flour is twisted and stretched by hand, with some cooks making a show of banging the strands on their work tables to shake off the excess flour. Through their movements, la mian makers exercise control over the thickness of their noodles. Oftentimes, restaurants will offer a choice between la mian and dao xiao mian for your soups. In Central Asia, these noodles are known as "laghman." One of the most well-known iterations is lanzhou la mian, a beef soup garnished with fresh aromatics.
Liangpi
Newcomers might read the Anglicization of liangpi, "cold skin noodles," on a menu and imagine receiving a plateful of julienned boiled pig skin, but these are actually made from wheat starch. The name was undoubtedly inspired by the noodles' wiggly texture. Through a somewhat arduous process, the starch is isolated from a flour-based dough, steamed, then cut. It's a lot of work, but the noodles' unique and elastic texture is so worth it, especially when served the traditional Shaanxi way with black vinegar, chili oil, garlic, and sliced cucumber.