Secrets of Chipotle, Revealed by an Ex-Manager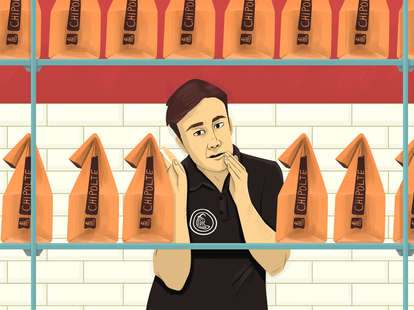 Jason Hoffman/Thrillist
Jason Hoffman/Thrillist
Eating at Chipotle's about as straightforward as fast-casual gets. You stand at an assembly line and tell somebody what you want. They put it in a burrito or bowl. You get pissed about paying extra for guac. You then pay for guac. You eat. Done.
Yet despite everything unfolding before your eyes, there are some things about the Mexican-ish chain you'd never know unless you worked behind the counter. To dish on the bowls, we chatted with Devin Caldarone, an actor who previously starred as a Chipotle manager in real life for six years. He spilled the beans (sorry) about his time at the restaurant, from secret menu items to his side role as a hero.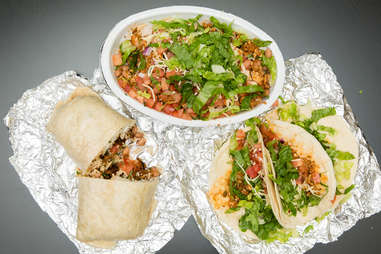 There are allegedly 65,000 combinations of Chipotle ingredients, and longtime managers have had most of them
A manager is required to taste-test for food quality assurance all day long (sucks to be them), so it becomes habit to start creating different combinations. Mathematically, when you consider everything there is to combine, it works out to 65,000, ranging from "just a plain tortilla" to "every single thing in the restaurant."
Obviously, some are better than others. Caldarone -- who claims to have tried almost every possible ingredient permutation -- says the best combination is corn tortilla steak tacos with peppers and onions, hot salsa, sour cream, cheese, and lettuce.
The best authorized off-menu (more on that below) item is the quesarito -- a cooked quesadilla that is reopened and made into burrito. "Try it with guacamole, rice, pinto beans, half steak-half carnitas, corn salsa, hot salsa, sour cream, and cheese," suggests Caldarone.
The worst combination he ever tried: the salsas and sour cream mixed together in a cup. "Those will go right through you."
But hey, at least he knows.
There is an official secret menu…
Back in the day, employees would constantly make new mutant menu items up on the fly. And while corporate has cracked down on that practice following the whole E. coli fiasco, there are still off-menu items that are officially OK with the brass.
"After Taco Bell did their Fritos burrito, people started requesting chips broken up in their burritos," Caldarone says.
While there's no published secret menu anywhere a la In-N-Out, most restaurants will hook you up with the quesarito -- aka the burrito/quesadilla hybrid that Taco Bell took public after years of Chipotle fanfare -- or nachos, which is basically a bag of chips dumped in a bowl with all your favorite items on top.
Employees will hook you up with their own secret concoctions
The unofficial secret menu changes place to place and at employees' whims. The pièce de résistance of Caldarone's repertoire was the Chipotle-style Crunch Wrap Supreme: a honey-infused barbacoa burger wrapped in bell peppers and a tortilla bun.
Caldarone also sings the praises of Chipotle pizzas: "I'd put two tortillas on top of each other on some foil, then add medium salsa mix with a little bit of sour cream as a sauce. On top of that I'd add cheese and then I'd chop up some steak, put it all on the grill, and put something over to convection cook it. You'd have this beautiful-looking pizza come out, all from Chipotle ingredients. I'd just sell them that for the price of a bowl -- I'm sure I would've gotten fired for saying that if I still worked there."
There's only one way to find out what your local Chipotle's cooked up off the menu: Ask nicely. And don't snitch when you get something good.
Employees are basically burrito-rolling machines
"If you need anything rolled up, I'm your guy. I can roll a great joint, sleeping bags, tents, you name it. I can even roll a burrito with one hand," says Caldarone.
That's because employees spend their entire shifts rolling burritos tightly and efficiently. And in bulk: Caldarone once rolled 200 for a single catering order and cut them all in half within two hours. He says that with a solid team set up though, that could be accomplished in less than 30 minutes.
"Quick rollers come in under three seconds or under five if we're including the foil," he says. "From start to finish of the build line, my fastest time was under 20 seconds. That's not super-rare though. After years of working there, you naturally get faster and more deliberate with your action. The tricky part is not to leave a mess!"
Employees are the flair bartenders of the fast-casual food world
"I started flipping the bowls like Tom Cruise in Cocktail flipping drinks," says Caldarone.
He'd close the bowl up with combo inside and start flipping it up around in the air and do tricks from one hand to the other. "I think the best one was two hands at a time, two bowls at a time. I caught each one with one hand at the same time."
Caldarone would even teach his crew tricks to create some excitement. "We would bet free guac on whether I'd mess it up or not," he recalls. "Sometimes I'd lose, other times I'd win, but customers would come back for a chance at some free guac."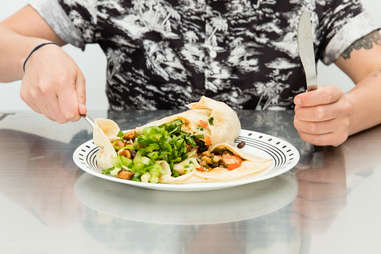 Getting greedy ruins your order
Customers often request that their burrito's two tortillas only overlap tips in order to squeeze as much as possible into a bigger-sized burrito. "It's basically impossible to make a burrito that big… well, not for me, but for most employees it is," says Caldarone. "I had to put a rule in place at my location to prevent customers from asking for this."
Also, asking for extra everything -- but especially extra rice, beans, sour cream, and hot sauce -- is a recipe for complete disaster. "That's a soup burrito that's practically un-rollable."
Customers ask for the same weird stuff all the time
Customers request one particular off-the-menu item in their burritos with alarming frequency: ice. "I have no idea why people asked for this, but it was a thing. Maybe they liked their burrito cold, but they'd ask to put a few ice cubes in it. Sometimes it was a veggie burrito so maybe they thought that would keep the veggies fresh or cold, but it was just going to make it soggy. That was gross."
Other strange requests include putting the ingredients in a blender and deep-frying the chicken. Neither of these can happen at a Chipotle anyway, but that doesn't mean people don't ask all the time.
DIY burritos save you money
The best secret hack is to get a bowl with tortillas on the side to make your own two burritos. "Generally, bowls get more food fillings like rice and beans, just not the meats. And extra rice, beans, and salsas are free, so fill up," our man says.
Being nice could get you free stuff
As your mom will likely tell you, you should always be nice. Caldarone says that being patient and communicating effectively with the crew to attain a great experience is the way to go. It might even get you free guac if you ask nicely: "Crew are trained to reward guests who meet us halfway," he says.
The Chipotle office party is way better than yours
For all general managers and above, there's an all-expenses-paid conference in Las Vegas every two years that basically becomes a liquor-heavy party with celebrity emcees, reveals Caldarone.
"We gather and celebrate progress, success stories, and upcoming objectives," he says. "It's similar to the big Apple tech cons Steve Jobs was famous for, but with burritos and culture-building seminars."
Terrible customers are always on the menu
"I had a belligerent Scottish guy come in on New Year's Eve and start yelling at me about how I wasn't supporting the mainland. I look Scottish, I am Scottish, but I'm not from Scotland," Caldarone says. "I have Scottish heritage. He came in [with that accent] saying, 'You don't know nothing until you've been back home! You're never going to be nothing, and you're part of the problem not knowing where you're from.'"
He's also been hit on -- hard. And it didn't end well. The flirtee was saucy and trying to get his number. When he wasn't responsive to her flirtations and asked her nicely to leave, she threw a fountain drink at him.
Chipotle knows your scams
Caldarone says that most of his customers were well-behaved, but there were the few that would take their already-made-and-paid-for burrito outside, then clear all the meat out of it -- putting it Lord knows where -- and come back for a refund because there was no meat in their burrito. Nice try.
Managers are sometimes forced into heroics
One day, a group of post-Coachella kids come back from the desert only to pass out on his store floor. "He was so dehydrated, and I had to start performing CPR."
An ambulance came and they put him on an IV in the front of the store. "I was like, 'Welcome to Chipotle, here's a kid with an IV sticking out of his arm.'"
And one time, Caldarone went full Batman when he caught somebody stealing out of the tip jar. "Thank God, I've never had an armed robbery," he says. "But I chased down a guy that stole our like $30, $40 of crew tips."
In prison, guac is never free, either.
Sign up here for our daily Thrillist email, and get your fix of the best in food/drink/fun.
Valentina Valentini is a freelance journalist based in Los Angeles who's traveling the world in search of her next meal. Follow her for a little #foodporn and lots of world travel @tiniv.