In the span of two decades, Chipotle has completely changed the fast-casual landscape with its assembly line model

| Cole Saladino/Thrillist
In the span of two decades, Chipotle has completely changed the fast-casual landscape with its assembly line model

| Cole Saladino/Thrillist
Is Chipotle Actually Good?
An obsessive analysis of every aspect of America's most popular burrito purveyor.
Editor's Note: Welcome to Too Fast Too Casual, a new review series where our National Writer-at-Large Kevin Alexander takes a close look at both classic and up-and-coming fast-casual chains. The rising fast-casual trend is defining how Americans eat today, and in this series we'll look at the food, history, decor, and branding of fast-casual chains to see what these restaurants are really trying to do, and where this is all going. Read Kevin's previous reviews of Jersey Mike's, Panera Bread, and Lemonade, and check back in every other week for a fresh takes on more chains.
Let me ask you a question. When you take a real look at yourself, an unvarnished, honest look deep into the sanctity of your soul; when you crawl inside your own pathos as you lay awake at night alone with your thoughts; when you've shed the protective layers of social-media posturing and the half lies you tell your parents on the phone and expose the dangerous, crackling live wire of your true thoughts -- do you think you're actually good?
Oh sorry. Not you, reader. I'm talking to Chipotle about its food.
Where did Chipotle come from?
If you don't know Chipotle's origin story by now, allow me to give you a quick tour of the house. Steve Ells goes to University of Colorado-Boulder for college, starts making fancy meals for friends, decides he loves to cook, goes to the Culinary Institute of America, moves to SF, works as a sous chef at Stars for legendary chef and famous person Jeremiah Tower, and becomes obsessed with SF's particular "Mission" style of burritos. He goes back to Colorado, decides he wants to open an SF-styled burrito joint, names it after the chipotle pepper, and opens up in Denver in 1993. Ells keeps the assembly line process silly simple so he can also focus on opening a fine-dining restaurant. But Chipotle is a phenomenon with 13 successful stores, and can't grow fast enough. Ells ditches fine dining and goes out raise money so they can grow. In 1998, he finds that money. McDonalds invests $50 million.
Chipotle gets money, distribution, supply lines, etc. But they also get calls of selling out. The investment allows Chipotle to grow from 13 restaurants to 500, but ultimately proves complicated, and McDonalds divests and the company IPOs in 2006. Chipotle goes international in 2008, opening in Canada, then throughout Europe. It tries to open a Southeast Asian spinoff called ShopHouse, but that fails. It experiments with a few other spinoff concepts as well (remember Tasty Made?!?) and things are fine, and then in 2015, a bunch of different food-safety issues kick off the Chipotle Apocalypse, the peak of which culminates in February 2016 when every store closed for meetings on food safety. 2017 seems fine until a norovirus outbreak once again puts food-borne illnesses in the spotlight, and finally the restaurant decides to make a change, replacing founder Steve Ells as CEO with former Taco Bell CEO Brian Niccol in 2018. The irony of the anti-Taco Bell replacing its chef founder with the man in charge of the Doritos Locos Taco is not lost on the critic class, but the company needs a turnaround artist, and Niccol is certainly experienced at that.
OK, phew, now we're all caught up.
What is Chipotle trying to do now?
According to the latest stats available, Chipotle operates just over 2,500 locations, all owned by the company itself (an extreme rarity for a company that size in a franchise-dominated space). They've said they'd like to open another 150 in 2019 (for context, Taco Bell has over 7,000, Qdoba has around 700, and Rubio's has around 200). Under Niccol, they've expanded delivery, streamlined the ordering app, and added in-store pickup shelves, in addition to experimenting with "drive-up pickup lanes." They've got catering on lock too: If you need to feed 100 people with just two days notice, I'm not sure of many other places that can get it done for you like Chipotle.
Chipotle is one of the many chains trying catch up to the technological brilliance of Dominos and the marketing savvy of Taco Bell, while also trying to crack the code on various delivery and catering apps. Which is to say, they had their work cut out for them even before they spent the last few years basically reliving various points from the Dustin Hoffman vehicle Outbreak.
But how is Chipotle trying to market itself?
An anonymous creative director at a fancy ad agency tells us how Chipotle is trying to market itself
"Chipotle's an interesting one. They went a long time without advertising at all, and then came out of nowhere with one of the most iconic ads of the last 10 years. They spent a ton of money on it (Willie Nelson covering a Coldplay song -- that means you have to pay both of them!), and cleaned up at the award shows. It was spectacular, and perfectly articulated the whole food movement of moving away from quick and cheap fixes and going back to real ingredients.
"Their current campaign is a far cry from that, but that doesn't mean it's bad. They shoot real Chipotle employees doing their real jobs, giving you a peek behind the curtain so you know there are no surprises in your food. Transparency has always been Chipotle's hallmark, and this campaign supports that.
"I've been to Chipotle literally hundreds of times and never gotten a scoop of guacamole that big. WTF CHIPOTLE!!?!?"
"It also makes for a pretty easy (and cheap) campaign to shoot. You have real employees so you don't have to pay actors. You shoot in your stores so you don't have to pay location fees. And each spot only has one setup. This allows you to make a ton of them. But the downside is they're not terribly compelling. The 'spontaneous' dialogue isn't as cringeworthy as the Chevy commercials, but it certainly does feel rehearsed. Despite the 'docu-style' storytelling, they made sure the film still looks nice, which makes sense given you always want to make your food look delicious.
"Execution aside, this campaign tells me that since that 2012 ad their strategy of transparency and authenticity in their food hasn't changed. And I don't think it should. It's what's made them so damn successful. I just wish every now and then they ponied up for something more memorable, the way other so-damn-successful companies like Apple and Google do.
"Also, regarding their 'Krista' ad specifically, I've been to Chipotle literally hundreds of times and never gotten a scoop of guacamole that big. WTF CHIPOTLE!!?!?"
Some quick notes on decor:
In terms of decor, the various Chipotles I visited were basically Post-Peloponnesian War Era Spartan. The San Rafael, California, location had what looked like corrugated metal fencing to separate the line from the chairs, and a few black and white photos on the wall. The Fisherman's Wharf Chipotle in San Francisco had a similarly gray, basic decor, though you should immediately sit at the metal table facing the windows because it offers an endlessly entertaining view of the barkers at Pompeii's Grotto and Lou's Fish Shack trying to sell tourists in newly purchased coats and Alcatraz sweatshirts on the idea of lunch.
The lack of decor suggests that the enterprise is set up as a Means to an End. And to that end, it is wildly successful. No matter what time I went to a Chipotle, or how crowded it was (the Fisherman's Wharf location had a line nearly out the door at one point), I never waited more than 10 minutes. But when a place sets itself up to be a Means to an End, that cool, modern efficiency can feel soulless (the polar opposite of this approach would be, say, '90s TGIFridays, which incorporated so much pointless kitsch as to basically nullify the meaning of any of the kitsch), and as a company that has gone to such great lengths to show that they actually do have a soul -- that they care about where their foods come from, and also finds themselves in the strange position of having to entice back folks that they'd already had before everything went sideways in 2015, it feels like a slightly strange choice.
Chipotle Menu Review
How I did it: Over the course of a month, I ate at three northern California locations of Chipotle five times (this does not include two delivery orders, which I got for my family). In total, I tried every single available dish (bowls, salads, burritos, tacos, quesadillas) and every single type of filling (chicken, steak, barbacoa, carnitas, sofritas, and veggie), rice (white and brown), beans (black and pinto) and all the various extras (queso, guacamole, fresh tomato salsa, roasted chili-corn salsa, tomatillo-green chili salsa, tomatillo-red chili salsa, sour cream, fajita veggies, cheese, and romaine lettuce) in lots of different combinations. I also tried the various sides (chips and guacamole, chips and queso, chips and various salsas) and a few of the off-menu iterations (the nachos, for example, and the famous quesarito). It was quite a month for me, from a weight-gaining perspective.
Bonus disclaimer: Item availability doesn't really vary by location, but whether you can get some of the alleged "secret" menu items seems to be up to the discretion of the employees.
Reasons Why Chipotle Might Actually Be Good:
As a citizen, I go to Chipotle on a semi-regular basis. As a citizen, I do not order burritos from Chipotle (more on this later). But because Chipotle is essentially a food version of the Choose Your Own Adventure books I read as a child to stave off night terrors, I have found that each particular Chipotle choice you make (Burrito? Bowl? Salad? Tacos?) leads to other choices, and that the correct choices usually follow the same general path.
For example, I think the best deal on the menu is the single soft taco, which can be yours (at least in extremely expensive San Francisco, California) for $3.45. These tacos are nearly always filled generously, to the point that you end up with two meals: the stuff in the taco, and the stuff that fell out (side note: most places will also give you an extra soft taco tortilla for free, so you can get two substantial tacos for under $4, but look, I'm not here for the hacks, OK?!?). The correct filling for a taco is the barbacoa. Actually, the correct filling for all of the Chipotle's various dish iterations is the barbacoa.
There is a logic to this. It is a meat that improves while sitting in liquid. It is meant for the fast-casual sort of life. The other meats do not reap these benefits, and as such, don't hold up as well in the assembly line setting. Of all the others, steak is most complicated because you technically want it to rest after cooking so the fibers wide and relax and the moisture can be reabsorbed by the meat, but then if you continue to keep it warm, it'll cook through more and dry out. And that degree of difficulty is partially why, it's just the worst, even though I very much love me some steak.
And just in case you were wondering the correct rank of all meats at Chipotle, it is as such.
The correct rank of Chipotle meats*
1. Barbacoa
2. Carnitas
3. Chicken
4. Sofritas
5. Steak
*- Yes, we realize sofritas is tofu.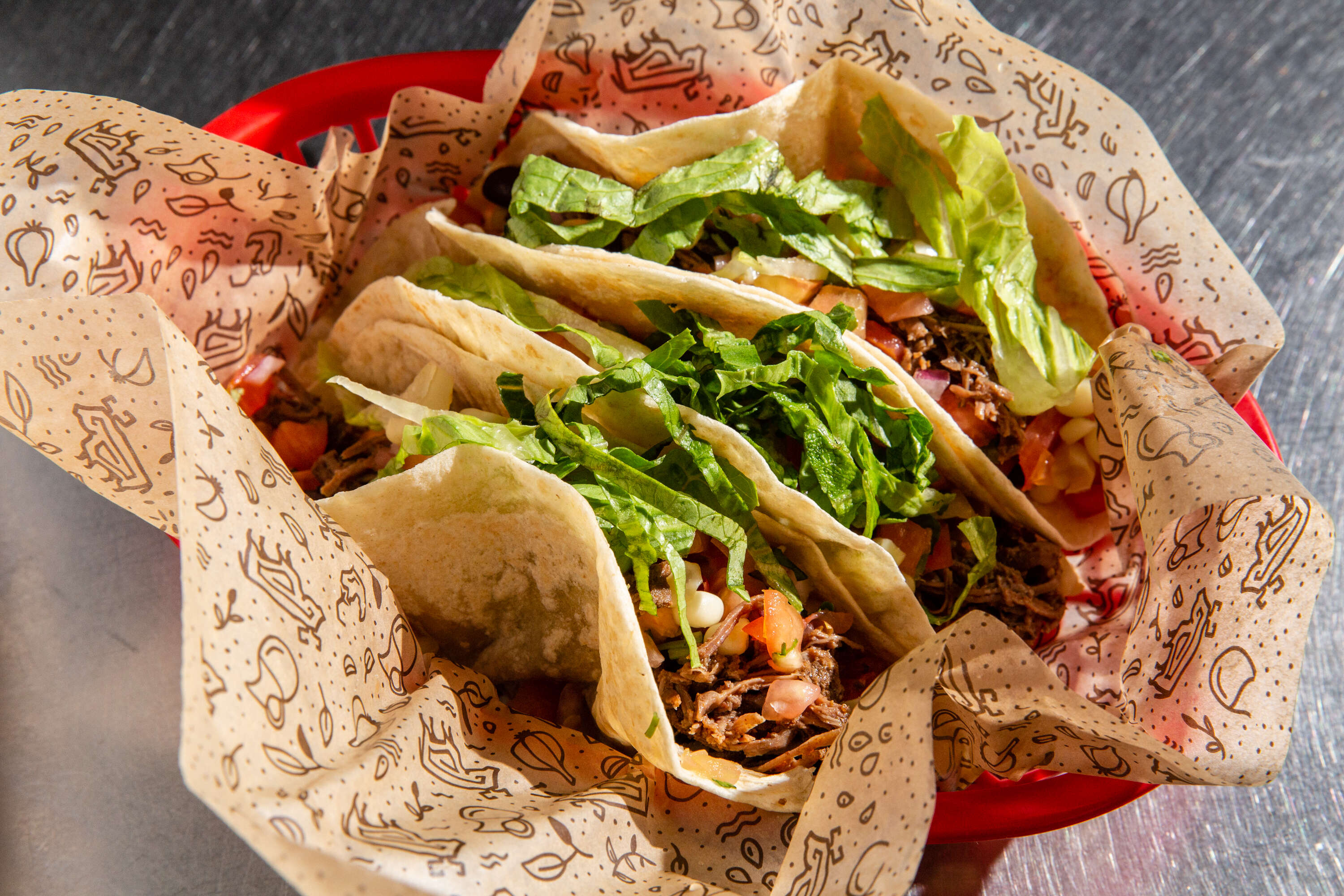 Anyway, back to the tacos. As mentioned, the best move is barbacoa. From there, you have the choice of rice. You should not get rice in tacos (I'm also of the La Taqueria school of belief that you shouldn't have rice in your burritos either, but that's for another time). And if you aren't getting rice, the best move is to get pinto beans, which are more flavorful with better spice, and don't tend to be watery like the black beans, which take longer to break down to optimal mushiness. Particularly early in the day, the black beans leave something to be desired.
From there, you get into the lightning round of toppings. With tacos, the move is simplicity. Get cheese, and have them put it on before the salsa so it interacts with the warm meat and starts melting. Always get the fresh tomato salsa and one other chili salsa, because they're accomplishing different things. The tomato salsa adds a cold vegetable component and some nice acid balance, while the chili salsas add heat. Skip the sour cream, fajita veggies, and romaine. And always, if you've got the extra couple bucks, get the guacamole.
The correct burrito bowl order:
If you opt for a bowl, things change. You should still get the barbacoa, but now you have to get rice so it can absorb the liquid (I am white/brown rice agnostic but IMO you might as well get brown so you can at least pretend you're being healthy). Still get the pinto beans, still ask for the cheese early and skip the sour cream, but now you're free to add the romaine and fajita veggies, and even experiment with some corn salsa. Also, the bowl is the only time you should get the sofritas, as it tends to be extra soggy simmering in the red sauce, and will ruin a tortilla and spill all over your No Fear shirt.
Bonus correct orders:
If they'll do it for you, barbacoa and pinto bean quesadillas are excellent, but you shouldn't put anything else inside. All the other components should be on the side to dip or spread on after, and this is the only acceptable time to get the sour cream, which adds a nice cooling flavor when dipped in the hot cheese, meat, and beans. Now let's talk about the guacamole.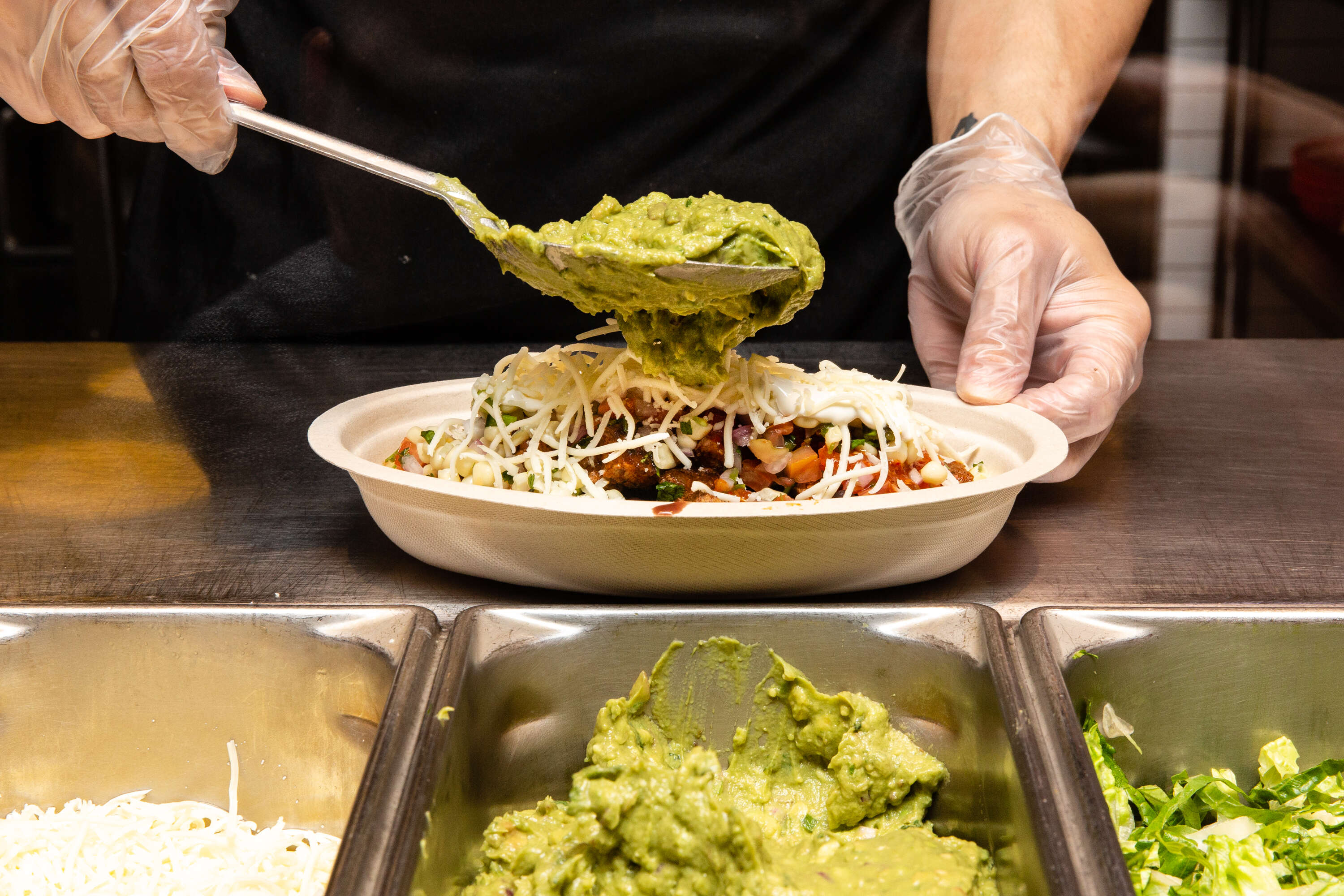 Some not totally brief thoughts on Chipotle guacamole:
Generally speaking, I am a fan of Chipotle guacamole. I believe eating anything on the Chipotle menu without guac makes zero sense (unless you're trying to save money, in which case it makes all the sense!) because it acts as a binding agent, a correct-all, a coolant, and nature's mayonnaise. Basically it moistens things without being watery, and that's damn hard.
Chipotle should be lauded for their "hand-mashed" theme. The key with guac is to get it to that perfect place where the avocado is mashed without seeming creamy, and there are times -- because a real human is hand-mashing it -- where it achieves that sweet spot. But mostly it errs on the side of over-mashed to the point of creaminess. The guac tends to be over-flavored, with each bite punctuated by some other element, like the salt or garlic salt or red onion or cilantro or whatever. Which is fine, this is part of what guacamole is, though you can tell when the avocados clearly weren't as good that day, as they tend to ramp up the masking components. All of that said, no other chain restaurant comes even close to offering the consistent guac quality that Chipotle does. And frankly, a lot of non-chains do a much poorer job as well.
The absolutely perfect Chipotle order:
Barbacoa tacos, pinto beans, cheese (ask them to put it on before the cold items!), tomato salsa, tomatillo red salsa, and guacamole (don't forget to ask for extra soft tortilla to shovel excess taco filling bonus taco!).
Reasons Why Chipotle Might Not Be Good, or The Part Where I Talk About the Burritos:
Is it weird that the item that Chipotle is known for, the item that brought them fame and fortune and altered the way we think about burritos in America (not necessarily in the best way, as Gustavo Arellano points out in this excellent story), is also maybe the weakest thing on the menu?
Part of this is admitted snobbery. I've lived in the Bay Area for over 10 years with my born-and-raised NorCal wife, so I am an eager congregant in the Church of Mission Burritos. But even before, as a teen and pre-adult in Boston I was a fan of the cult-favorite Anna's Taqueria, a small chain that was also started by a man who came to SF, tried Mission burritos, decided they were fantastic, and wanted to recreate that magic in the town of People in Khakis Wearing Red Sox Hats.
But when I eat a Chipotle burrito, I find little of the burrito magic. The tortilla is one of my main issues. There is a chewiness that makes it hard to rip apart easily, especially with my gross fake front teeth that sometimes fall out when I eat chewy pizza. The quick-steam process they're put through doesn't include the cheese, which prevents that ideal melt (see my hack of getting them to put the cheese on the warm meat first). And then there's the actual rolling process.
Chipotle's burrito-rolling process:
For this story, I ate six burritos at three different locations. Each time, I watched intently as they rolled the burrito. Four of the six times, the roll was more of a fold, and ended up making the burrito almost square in shape, rather than long and circular. The square-shaped burritos lumped all of the ingredients into the middle, so the first few bites were dutiful filler bites in which I had to act like Bruce Willis drilling into that meteor before I finally hit the meat and the sexy toppings.
On top of that, there's the classic issue of the generous overfilling, which, in the tacos' case, can be fantastic as a hack. In the burrito situation, just ends up spilling onto that No Fear shirt you had to re-buy after the sofritas mishap. So yes, I am of the opinion that the last thing you should get at the burrito chain that changed America is a burrito. If this opinion were a very short tweet or on an ESPN morning show, I believe that would be called a hot take.
The thing with the queso:
In 2017, Chipotle launched queso nationwide, and the world was… not into it (this is a good breakdown of said problem). Basically, stocks went down, and Chipotle changed their queso recipe (and several reddit folks believe they might've changed it AGAIN). Now, as someone who was born and spent his first 12 years of life in Texas during the height of the Dean Fearing Southwest food craze, I believe good queso to be a birthright and also my favorite thing to make when I'm feeling sad about ruining all my No Fear Bungee Jump Team T-shirts. But this queso is… still not very good? It had an interesting color -- a pale yellowish orange, sort of like a Meyer lemon if you used the Clarendon filter -- and the consistency was sort of grainy, almost like a cheese porridge. I liked the heat that kicked in at the end, and I think Chipotle has excellent tortilla chips, but the queso still seems to be a work in progress.
An even smaller thing about the hot sauce situation:
Why does Chipotle use Tabasco as its hot sauce of choice? Tabasco is about heat; the flavor is secondary. Cholula or Tapatío or any number of other Latin hot sauces would be such a better call. Or use a local Colorado hot sauce maker and earn yourself some regionality cred. Come on now.
Final Verdict: But seriously now -- is Chipotle Actually Good?!?
Here's the thing. Chipotle is trying to be good. They are not a giant chain aiming for world domination through controlling the supply lines, shaving every fraction of a cent in the margins, and pushing slop. They have core beliefs and, for the most part, they try and stick to them. That is something to be lauded. But they are also a bit like the highly gifted kid actor who knew nothing but success in his early years, and then his voice changed and puberty made him awkward, and now getting parts is difficult and he just can't quite understand how and why things turned.
Chipotle was a national darling for so long, it couldn't fathom a backlash. It was sensitive, and self-conscious, and it suffered for those things. But then it finally grew up, and now it appears it's turned the corner on that. From a stability position, they feel like they're where they need to be.
But here's the other thing. You can be a "good" company and stand for things and have a good culture, and all of that, but your food still needs to deliver. And Chipotle's food could most easily be summed up by its Spartan, gunmetal grey interior. It all seems designed around the idea that it's An Efficient Means to an End. And that, for the most part, is what Chipotle is. It is a place you can eat a few times a month quickly, and be relatively satisfied. As for whether that's enough in this current competitive landscape, well, that's a question Chipotle will have to ask itself alone at home in front of the mirror.
Sign up here for our daily Thrillist email, get Eatmail for more food coverage, and subscribe here for our YouTube channel to get your fix of the best in food/drink/fun.