The Internet Responds to Chipotle's New Rewards Program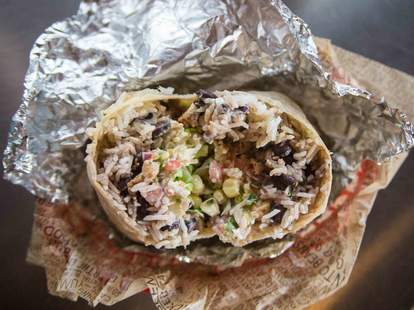 Chipotle is trying to revive flagging sales and bad press with Chiptopia, its first loyalty program, which rewards its loyal customers with perks like free burritos. What'd you think it'd reward them with, Chipotle stock? If that were the case, Chipotle would have to take money out of people's bank accounts, because it's been sinking like a stone.
But the only thing about Chiptopia that really matters is how it's being embraced by the brand's hordes of loyal fans. So we went looking on Twitter to see what people thought about this new rewards program, and this is what they had to say.
It's so lit, it's fire
That's... progress!
Goodbye money, hello free burritos
If chipotle thinks starting this Chiptopia Rewards Card will make me buy a burrito every day they are so right so goodbye money this summer

— Rox (@roxypetko) June 29, 2016
Shine on, you crazy burrito lover
Chipotle has finally come up with a rewards system. My time to shine has come people. #Chiptopia

— Elizabeth Gollihue (@ohmygollihue) June 28, 2016
Celebrate your independence from paying for burritos
Even smartypants like the rewards program
Eleven burritos a month is nothing
@ChipotleTweets There needs to be another level to the Chiptopia summer rewards. You're really under estimating my addiction to burritos

— Wakko Warner (@mase1317) June 29, 2016
She doesn't like a single thing about the program
It's basically "buy burritos, get free burritos"
First order of business: Juli doesn't like Chipotle
Heaven is now a place on Earth
If this Chipotle Chiptopia thing is real, some god above has answered my life. Lmao

— jazminbhombs (@jazminblo0m) June 29, 2016
Sign up here for our daily Thrillist email, and get your fix of the best in food/drink/fun.