Chipotle's Testing Out a New Meat Option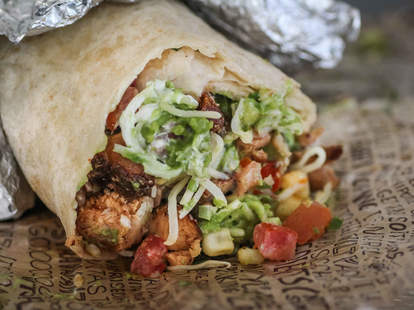 Brace yourselves: Chipotle may be releasing a brand new protein option. And it's good. Oh, it's really good.
According to The Kansas City Star, Chipotle began testing chorizo in Kansas City today.
The Mexican chain's take on the sausage is a blend of ground pork and chicken, plus paprika, toasted cumin, garlic, and chipotle peppers. The meat is packed into patties, which then get seared on the grill and crumbled before serving.
Chipotle introduced its tofu option, sofritas, last fall -- yet, menu changes have still been few and far between in the company's 22-year history, so this is pretty huge. It also comes on the heels of the chain's shortage of carnitas, its slow-cooked pork option, which has been out of stores for months now. But really, who needs carnitas when you have chorizo?
Chipotle corporate chef Nate Appleman, who was also behind sofritas, has been hot on chorizo for a while now. He told the Star, "I've been beating the drum for five years... It was one of the first things I worked on." Gothamist reported in 2011 that chorizo was being tested in New York, and the Star notes that it was on menu at some New York airports at that time.
Update:
Chris Arnold, Director of Communications for Chipotle, told Thrillist, "...[we] weren't entirely happy with the initial recipe. We think this recipe is great and fits well with the rest of our menu, and we're eager to see what people think about it in Kansas City." Pressure's on, KC.
As for expansion plans, Arnold told Thrillist the chorizo "will be available in all 33 Chipotle restaurants in Kansas City, and while there are no immediate plans for further expansion, Kansas City is likely a good barometer of how customers will respond to the chorizo in other markets."
Start praying for chorizo at every Chipotle... or go to Kansas City ASAP... because, seriously, just picture a chorizo burrito.
Lucy Meilus is a staff writer for Thrillist. She spends a lot of time in Chipotle, like too much time. Follow her on Twitter at @Lucymeilus and send news tips to news@thrillist.com.