Chipotle's experimental dishes that you'll probably never get to eat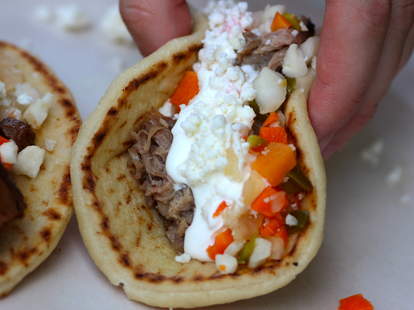 As delicious as it is, Chipotle limits you to a tiny menu comprised of burritos, bowls, tacos, and salads. Or a quesadilla, if you're comfy ordering off the kids menu. But there shall be more. Chipotle's constantly testing out new dishes, some of which they'll just tease you with the idea of, and others they may actually release for your devouring pleasure at some point. They recently revealed a choice few for tasting at their daylong Cultivate Festival in Denver -- check out what you might be taking down in the near future, aside from the organic chocolate milk on that kid's menu.
Currently only available in California, Washington, and Oregon, the sofritas tacos and burritos will likely be rolled out to the rest of the country soon. It's a surprisingly tasty mix of tofu braised with chipotles and poblanos, which give it a nice kick. They've likely named it sofritas because the phrase "tofu taco" is insulting to tacos.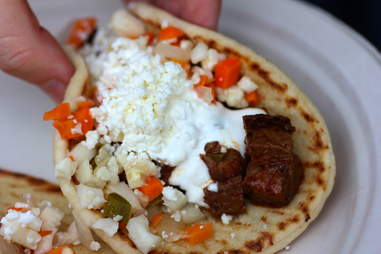 This gordita hasn't even been discussed as a potential addition to the menu just yet, which is a damn shame, because the grilled flatbread was soft and pillowy, and was layered with either steak (pictured) or braised pork, escabeche, sour cream, and plenty of queso fresco.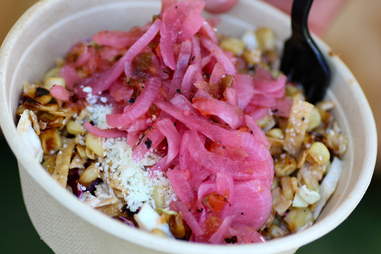 Carnivores should steer clear of the strictly veggie esquites bowl filled with pickled onions, charred corn, tomatillos, Cotija cheese, and shredded cabbage. Even if this overall dish never becomes a reality, adding pickled onions to the menu would be a strong move.
Hey wait, that's not a Chipotle dish! Well, that's half right. It's a number from their Asian concept Shophouse, of which there are currently threein the universe. This bowl of jasmine rice is topped by pork and chicken meatballs, green papaya slaw, and a flavorful green curry.

They're planning on taking their time opening up new Shophouse locations, so, if you want a bowl, your best bet is to shop for a house yourself in DC or LA.