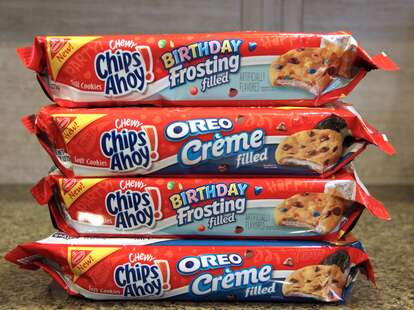 All photos by Lee Breslouer
Chocolate chip cookies: the treat everyone's grandma used to make. She'd whip up a batch, and they'd come out of the oven soft and delicious. We've got bad news for you -- your grandma was (is?) garbage, because she never was able to put frosting inside of soft, chocolate chip cookies.
Chips Ahoy! is the new, better version of your grandma, as they've just released two chewy chocolate chip cookie flavors: Oreo Crème filled and Birthday Frosting filled. Let's see how they taste.
Birthday Frosting filled
Flavor: These suckers were as soft as promised, practically melting in my mouth. And while the birthday cake aftertaste was pleasant enough, this was so cloyingly sweet, I can't see anyone wanting to eat more than a few of these. Bonus points for the tiny sprinkles.
Score: 6.5 out of 10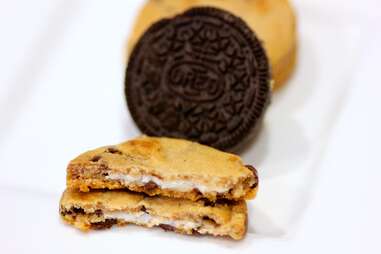 Oreo Crème filled
Flavor: It took a second for the Oreo filling flavor to hit my taste buds, but when it did... actually, I'm still waiting. I guess it needed another 20-30 minutes. Nope, still nothing. Don't get me wrong, I loved the crème filling inside, but it didn't really register as Oreo filling, which has that I'd-know-it-anywhere taste.
Score: 5 out of 10
Conclusion
Both are more interesting versions of eating a regular old soft chocolate chip cookie (we recommend finding someone's grandma to make you them), but one Chips Ahoy! has too much icing flavor while the other doesn't have enough.
Our recommendation is to buy both, and eat half an Oreo crème filled and half a birthday frosting cookie to achieve pillowy, chewy perfection.
Lee Breslouer writes about food and drink for Thrillist, and doesn't know the difference between frosting and icing, probably because they're the same thing. Follow him at @LeeBreslouer, because you can't make up a name that good.