How the Chocolate Lava Cake, the Hottest Dessert of the '90s, Lost Its Cool
"I would rather have you sit on my face after a brisk walk on a warm day than suffer through that fucking lava cake again." That line, undeniably the highlight of the 2014 Jon Favreau movie Chef, is tweeted at the titular character by Oliver Platt's villainous food critic, who swiftly adds that the cake is "irrelevant."
While his social media smackdown may have been fictional, the sentiment -- that chocolate lava cake is clichéd and passé -- is all too real. These days, the ubiquitous dessert, a single-serving warm chocolate cake with a runny chocolaty center, is most closely associated with kitschy Valentine's Day dinners and chains touting buy-one-get-one-free appetizer deals. The molten chocolate cake has become so common that, in 2013, food writer Mark Bittman once heralded it as "the Big Mac of desserts."
But the chocolate lava cake -- also known as chocolate truffle cake -- hasn't always elicited the same groans of "basicness" as a Pumpkin Spice Latte. In its prime, it was viewed as the pinnacle of fine-dining desserts, a complex dish aspiring chefs strived to master and established chefs clamored to put on their menus. "If creme brulee was the most popular dessert of the 1980s," wrote pastry chef Sherry Yard in her cookbook Desserts by the Yard, "chocolate truffle cake was the favorite of the '90s."
It came from the '80s
Two chefs claim to have invented the cake six years apart; both are somewhat correct. The first, legendary French chef Michel Bras, debuted his chocolate coulant (French for "runny") in 1981 at his namesake restaurant in Laguiole, France. Fast-forward six years later to the kitchen at Lafayette inside the Drake Hotel in New York City where a young Jean-Georges Vongerichten -- years before he launched his global restaurant empire -- created his version entirely by accident.
Bras tells Thrillist that the idea came to him after a ski trip with his children. "I wanted to translate the emotion evoked by coming home to find a mug of hot chocolate after a day of skiing," he says. The dessert, which he refers to as a "technical feat" two years in the making, involves baking off individual ramekins filled with chocolate cake batter swaddling a frozen sphere of ganache in the center. As the cake cooks, the ganache melts, resulting almost magically in a fully baked cake with a liquified center.
Lamenting that "translating an emotion into a dessert isn't necessarily easy," Bras says that the toiling and tinkering eventually paid off. Once he introduced the molten cake to his menu, it was, unsurprisingly, an instant hit. The dessert rapidly spread throughout the high-end kitchens of Europe, solidifying itself as a staple of nouvelle cuisine. "It reached a point where we were practically obliged to make it," Alain Ducasse revealed to the New York Times in 1991. (Ducasse, now a celebrated French chef, was cooking in Monte Carlo at the time.)
The lava cake goes viral
Moving to Restaurant Lafayette in 1987, Vongerichten, then 30, was making 500 moist chocolate cupcakes from his mother's recipe for a private party, but amateurishly failed to adjust for putting that many cakes in an oven, which significantly decreases the temperature.
"After we served them, the maitre d' came running to me shouting that the cake was not cooked," Vongerichten recalls in a phone interview. "So I cracked open an extra cake and sure enough, it was oozing in the middle. I couldn't believe I had just served raw cake!" But at the end of the night, he was invited into the party for a standing ovation. The Chocolate Valrhona Cake, named after the chocolate Vongerichten used, became a permanent fixture on the dessert menu the next day.
At just four ingredients, Vongerichten's recipe is one of simplicity. While Bras' temperamental coulant involves combining components at multiple temperatures, Vongerichten's only requires melting butter and chocolate together, combining that mixture with egg yolks beaten with sugar, and baking it off in the oven until the outside is cooked but the center is still a bit raw. As Yard told me recently, "One cake is like a triple Salchow with a twist, and one is more of a simple somersault." Both cakes are incredibly good, but Vongerichten's is more easily understood. Always paired with ice cream, his was the dessert that kicked off America's obsession.
"We didn't have Instagram then, but it was the viral dessert of the '90s." -- Sherry Yard
While the Chocolate Valrhona Cake was popular at Lafayette, it didn't quite take off until the chef put it on the menu of his restaurant JoJo in 1991. Within months, replicas of the lava cake could be found on the dessert menus of the era's most famous fine-dining establishments across New York City: Tom Colicchio served a version at the Mondrian, William Yosses whipped the cakes up at Bouley, and Jacques Torres made a number of them at Le Cirque after customers started asking for it. Some chefs made it according to Bras' method, but most mimicked Vongerichten's approach, choosing the under-baked center over a melted ganache core.
The popularity of the chocolate lava cake wasn't just limited to the upscale kitchens of France or New York City. While the dessert proliferated in NYC, it also found a home in the hearts (and stomachs) of Los Angeles diners. Yard herself is largely responsible for bringing the dessert to the West Coast. She churned out thousands as the pastry chef at Wolfgang Puck's legendary Beverly Hills restaurant, Spago. She modeled the cake more after the version she had when Vongerichten was cooking at Lafayette.
"I knew when I put it on the menu, it was going to be an instant hit," says Yard. "It was always neck and neck with the creme brulee as the most popular dessert." And like New York, it quickly spread throughout Los Angeles. "We didn't have Instagram then, but it was the viral dessert of the '90s," says Yard.
The dessert goes to Disney
At the same time, the cake and its liquid center began to cement its place as the romantic dessert of choice. In a Lucky Peach article, food writer Rachel Khong theorized, "These cakes tend to appear on the menus of pricier restaurants, and pricier restaurants tend to cater to couples." The fact that chocolate -- an ingredient the dessert is anything but short on -- is considered by many to be an aphrodisiac is also germane.
Like with most fine-dining trends, the cake eventually trickled down to a more affordable price point, well on its way to Big Mac-ian levels of commodification. The first stop? Disney World.
The molten cakes arrived to the world's most popular theme park in 1997, but weren't initially sold alongside Mickey Mouse ice cream bars and churros. They could only be accessed by visiting the park's pricier (and more upscale) establishments like the Flying Fish, a reservation-only restaurant located inside Disney's Coney Island-themed resort. It wasn't until 2002 that the chocolate lava cake would be served on paper plates instead of fancy porcelain at Disney's Epcot Center.
A year after the cake made it Disney debut, it surfaced in the casual-chain world. Chili's added the Molten Chocolate Cake to its menu in 1998, and nothing, not even Y2K, could quell demand. A spokesperson for the chain says that Chili's has never taken the cake off of its menu in the nearly 20 years since it sold the first one. The 1,200-calorie sugar-bomb is the restaurant's best-selling dessert; on average, the chain goes through 11,500 cakes per day -- that's nearly 4.2 million cakes per year. Given the popularity of the chocolate cake, Chili's now serves a salted caramel version, too.
Other chains jumped on the lava cake bandwagon around the same time: Applebee's started selling (and still sells) its Triple Chocolate Meltdown, and California Pizza Kitchen slapped the Molten Chocolate Lava Cake on its menu. In 2004, the dessert completed its trajectory from fine-dining phenomenon to plebeian pastry when Walmart started hawking versions of the cake in its frozen aisle.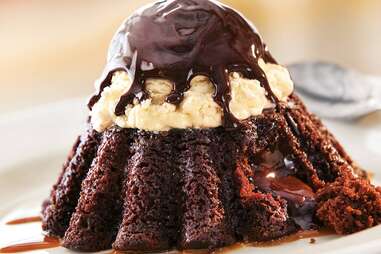 The lava cake will never die
Just because chefs heading up trendy kitchens eventually came to view the cake with disdain instead of admiration as they once did doesn't mean the rest of the country stopped loving it. Bras' coulant is so beloved that he has kept it on the menu since he first added it 36 years ago, though it's appeared in more than 100 different variations, made with everything from different chocolates to fruit to, yes, vegetables. Vongerichten says that customers will riot if he ever takes it off of the menus at his restaurants and that he himself still eats one a week.
Yard says with a regret-tinged laugh that she wishes she had patented the cake back in the day. "When I had it that first night at Lafayette," she says, "I knew it would become wonderfully ubiquitous." The chocolate lava cake is as much part of the American dessert cannon as, say, cheesecake, apple pie, and chocolate chip cookies. Just in case you still questioned its place as a dessert staple, Starbucks immortalized the cake as a Frappuccino in 2016.
The cake isn't going anywhere anytime soon, either. There is an entire store in Seattle dedicated to the concept. Called Hot Cakes, the self-proclaimed "molten chocolate cakery" sells one thing: cakes with liquid centers. And while it has yet to creep back into fine-dining spheres, there has been a recent, albeit small, resurgence of the molten cake thanks in part to Instagram. Restaurants like Spot Dessert Bar in New York City have added variations of the cake that involve trendy ingredients like matcha and Funfetti. The cakes are extremely photogenic, especially when cut open to reveal the Boomerang-friendly cascading liquid center.
Vongerichten is still in awe of just how popular the cake has become. "It's like a Caesar salad… it's on every menu," he says. "I never dreamed that a dessert with just four ingredients would have such an impact."
For Bras, when I ask if he thinks Vongerichten ripped him off, he simply replies, "Did he copy me? I couldn't even tell you. I do know that, however, at one time, a cook from JoJo had worked at my restaurant in Laguiole!"
While other desserts have come and gone, the chocolate lava cake is forever -- put that on a bumper sticker.
Sign up here for our daily Thrillist email, and get your fix of the best in food/drink/fun.
Khushbu Shah is a senior Features editor at Thrillist and has eaten approximately 37 chocolate lava cakes in the process of writing this story. Follow her switch to vanilla @KhushAndOJ.