What It's Really Like Trying Out for 'Chopped'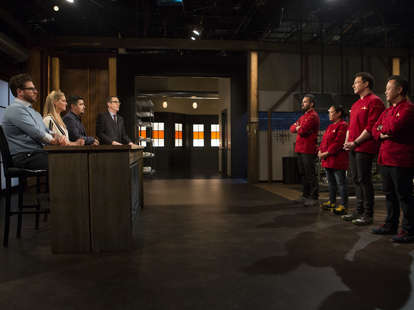 Courtesy of Food Network
Courtesy of Food Network
On a Sunday afternoon last summer, while I was watching the Food Network with my friend Kallan, she asked me why I had never tried out for Chopped. I had just finished working as a line cook at a two-Michelin-star restaurant in New York and was now working as a private chef. Chopped? I watched the show all the time, trying to figure out what I would make with the mystery basket. It was a fun game to play from a distance, removed from the pressure of time and the camera. But did I have what it takes for the real thing? And if so, how did I even apply?
The application has A LOT of questions
After about 30 seconds of Googling, I found the online application and figured what did I have to lose?
Was I a US citizen? Yes. Had I ever committed a crime? No.
Then the questions became more focused:
What was my family situation like? Where was I from? What inspired me to become a chef? And so on...
I wrote about growing up in New York and eating my way around the city with my family. I told them how living in France inspired me to start cooking. My specialties included classics ranging from coq au vin to paella to tagliatelle alla bolognese, but also included crudos and shredded Brussels sprouts. I told them about being a total dork in the kitchen. There was no food pun too silly for me.
The more I started answering the questions, the more I began to convince myself I had what it takes to win. Yes, other Chopped contestants may have had more restaurant experience and certainly more tattoos (I had none). But I could do this.
I then uploaded a picture and my resume, hit submit, and waited.
The call can come quickly
I didn't have to wait long before I got a call. The day after I had applied, I was out to dinner at Momofuku Ssam Bar in New York. I got up to go to the bathroom and checked my phone. One voicemail from an unknown number. There it was: "We've received your application for Chopped and would like to talk further." I squeaked out with excitement and shouted, "I'm going to audition for Chopped!" The people behind me in line just rolled their eyes. Whatever. I was going to try out for Chopped!
The on-camera interview takes a long time
The interview was scheduled for the following Thursday. I showed up at the casting offices in Tribeca, dolled up and ready to talk. Be yourself they said. There are no wrong answers. For about an hour, we talked. Or rather I did into the camera. I told the interviewers about my best dishes, my love for cooking, and why if chosen to compete, I would win. I was scrappy I told them. And a huge food nerd. I even sprinkled in a few silly puns and made them chuckle. I was golden, I thought. Pick me!
Those 50-plus minutes would get whittled down to two and sent off to the Food Network producers. If they liked me enough, I'd make the cut. How could they not?
The wait to hear back can be a long time
A little over a month later, I received an email. They liked me… but spots were few and far between, especially for local New York chefs. Would I agree to be a standby chef?
Being a backup makes you wish some terrible things
In every Chopped episode, there are four contestants. And they come from all over the country. Flights often get delayed or canceled. People get sick. Things come up. Heck, even if everyone makes it to tape, someone could get a bad case of stage fright or chop off a finger. That's where the standby comes in, and that's how a standby becomes a contestant.
As a standby, I had to show up and be prepared just like the real contestants. The night before I sharpened my knives and laid out my shoes and comfortable clothes. I set the alarm for 4:30am. As I attempted to fall asleep, I couldn't quite quell my nerves. I knew the chances were slim. "In several cases, standby chefs have stepped in to compete (and in some cases won!)," the email said. Screw the odds. I convinced myself I had a shot.
We met near the Chopped studio at the crack of dawn. It was pitch black out. As time passed I started to identify the other contestants. It was easy. Shoes are a dead giveaway for people in the industry. I counted four sets of chef shoes. I sighed, everyone had arrived.
All five of us were then ushered across the street to the studios. The four real contestants were brought one place, I waited in another. They brought me breakfast. I read a book. An hour passed and then another. The butterflies slowly faded away. No accidents. No competition jitters. Everyone made it through the first round. I wouldn't compete.
There's always another tryout
I went on to be a standby a second time that season. And once again, after showing up and waiting several hours, I was sent home.
Not being able to compete on Chopped only encouraged me to apply for more competition shows on the Food Network. Finally they asked me to interview for a new show: Cooks vs. Cons. This time I made the cut. Look up Season 1, Episode 3, "Taco Takedown," and see for yourself.
I still hold a torch for Chopped. I reapplied for this upcoming season. Standbys have a better chance of making it on the show round two, they said. Well, folks, keep your fingers crossed. Tune in and hopefully soon you'll see me become the next Chopped champion.
Sign up here for our daily Thrillist email, and get your fix of the best in food/drink/fun.