During the holidays, we eat a lot of things we don't necessarily like, just for tradition's sake, like peppermint taffy and whatever that thing your Great Aunt brings every year is (pork cheese?!). But sometimes, you just want to switch it up, so why not start with these Christmas mainstays from around the world. Who knows, maybe a little salted cod is just the perfect complement to Aunt Jackie's, um... soufflé?
Recommended Video
Feast Like Harry Potter at this Pop-Up Brunch
DIP IN THE POT (SWEDEN)
Basically the Swedish version of "hot ham water", "dopp i grytan" is pretty much ham au jus. Once the Christmas ham's been cooked, all its juices are reduced and served up fondue style, with a communal pot set up so everybody can dip bread in it.
VITEL TONÉ (ARGENTINA)
Known as vitello tonnato in Italy, where it's served year-round, Argentinians bust out the vitel toné for Christmas, because nothing says "feliz navidad" quite like a dish of cold veal slices covered in tuna-flavored mayonnaise.
STOLLEN (GERMANY)
A traditional, dense fruit cake that's kind of pronounced like a certain Russian dictator, stollen's basically a less-desserty variation of the traditional American fruitcake, that, at about 5lbs per loaf, packs some serious heft. That's probably why people only eat it once a year, as it must take 364 days to digest.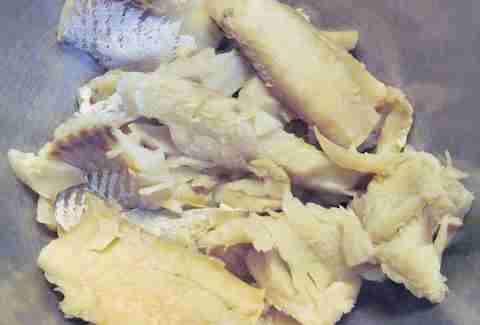 SALTED COD (PORTUGAL)
The sugar cookie of the sea, codfish finds itself on plates throughout Portugal and Brazil, typically salted and served up with olive oil/garlic sauce, or some variation thereof.
COLA DE MONO (CHILE)
Chile's awesome answer to eggnog makes up for its lack of potential salmonella poisoning with a glass full of potent aguardiente (high-octane grape liquor), milk, coffee, and cloves. The name literally translates to "monkey's tail", and not the presumed "soda that will give you a sleeping disease".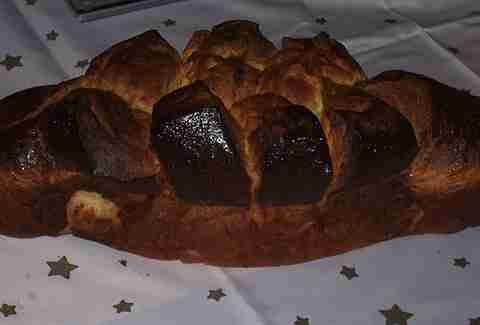 COUGNOU (BELGIUM)
Since there is no better way to celebrate the birth of the savior than by creating an edible effigy of a baby, dismembering it, and giving it to children with hot chocolate, Western Europe's Low Countries celebrate Jesus's birthday with this baby-shaped sweet bread.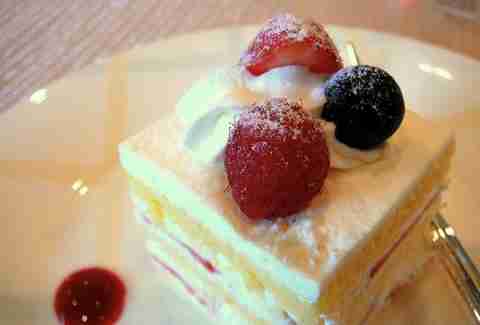 THIRTEEN DESSERTS (FRANCE)
In Provence, where everything is apparently more delicious, the Christmas feast ends with "The Thirteen Desserts", where there's a dessert representing each of the 12 apostles and one of the Jesuses. They range from dried fruit to sweet cake. We're guessing Judas is raisins.
HALLACA (VENEZUELA)
If every Christmas present you opened contained a bunch of pork, beef, chicken, capers, olives, and other awesomeness coated in cornmeal like a tamale, Christmas would never include disappointment just because you got a stupid Grubby instead of Teddy Ruxpin. These plantain leaf-wrapped boxes ensure that most Christmases in Venezuela are happy, even if the next thing you unwrap is a Wooly What's-It -- BECAUSE THEY DON'T EVEN TALK! GAWD, MOM-UUUH!
MINCE PIES (GREAT BRITAIN)
In the countries of Great Britain, Santa doesn't dig milk and cookies. He drinks sherry with these little sweet spiced pies made of fruit, sugar, and straight-up beef fat. Then he probably says "bollocks" to the whole present-delivering thing and grabs a pint down the way. British Santa is awesome like that.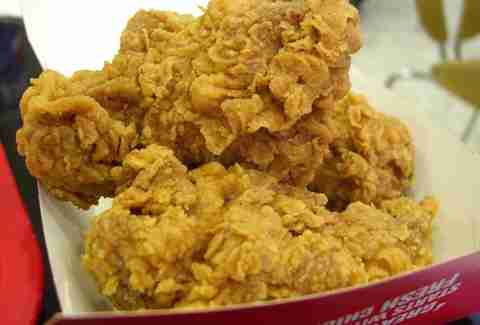 KFC (JAPAN)
In a land where only around 1% of the population celebrates Christmas, the go-to feast of choice comes from a dude who actually looks like Santa... if Santa was a Southern plantation owner with glaucoma. Christmas demand for KFC is so high, in fact, that people order it two months ahead of time and endure extreme lines.
REINDEER (FINLAND)
While their neighbors to the south are content to simply devour effigies of Christmas icons as newborns, the Finns straight up slaughter Donner and Blitzen's cousins, roasting ultra-lean reindeer in commemoration of the holidays. Merry Christmas, little Annika. Pleasant dreams!
Andy Kryza is Thrillist's national eat/drink senior editor, and spent many holidays wearing paper crowns and eating haggis. Follow him to the promised land via Twitter at @apkryza.