These are 7 of the most underrated food cities in America
What makes a great food city isn't necessarily Michelin stars or food trucks per capita. While NYC, LA, and Chicago have always shined brightest, and upstarts like Austin and Portland might be the kings of meals on wheels, there are a ton of cities out there where tradition and innovation mix into unique melting pots... full of melting food.
So, to shine light on some of our country's more shrouded food scenes, we asked seven experts to give us the deets on why their cities are considered underrated, and what spots you should be sure to try when you visit.
ASHEVILLE
"Even if there's some debate as to whether it's overrated or underrated, most people seem to agree that Asheville has a surprising amount of quality restaurants for a city of 85,000 people.
"Part of the credit for that goes to Asheville's abundant area farms and food producers, as well as an active chef community. It's pretty easy to commit to buying local when that means loading up on plenty of stellar beer, cider, sake, meat, trout, moonshine, cheese, and produce.
"Even leaving aside the sudden restaurant explosion of West Asheville and the burgeoning River Arts District -- where New Belgium will soon build its second brewery -- there are still plenty of options on Biltmore Avenue alone: must-try restaurants include Rhubarb by longtime Blackberry Farm chef John Fleer. A block away is Cúrate tapas bar, run by El Bulli alums Katie Button and Felix Meana. Farther down the road is Seven Sows Bourbon & Larder with modern Southern fare. Just beyond that is Wicked Weed Brewing with its ridiculous barrel-aged beer program. On the outskirts of downtown Asheville, the newly opened King James Public House is swiftly becoming one of the best places in the city to grab a late-night bite. For cocktails, don't miss Nightbell (from the Cúrate crew), The Imperial Life, and MG Road."
-- Mackensy Lunsford, food writer at Asheville Citizen-Times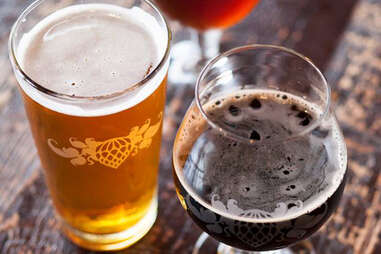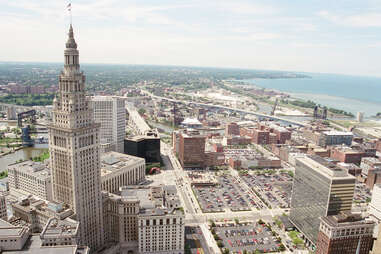 CLEVELAND
"Cleveland has been punching very far above its weight in the food and craft beer scene in recent years. Having traveled all over the world and been a food and beer tourist on most continents, I am still thrilled when the plane touches down here in Cleveland, and I'm back in this Mecca of local food and local beer.
"Cleveland is a post-industrial frontier town with affordable real estate and a culture of collaboration between chefs and brewers alike. Being surrounded by some of the best farmland in the country, there is little distance between farm and table, and thus farmer and chef. In my Ohio City neighborhood alone, I can walk out my door and, within a 15min walk, find 50+ chef-driven restaurants and bars. With two openings slated for this Spring, we'll also have six brewpubs all within the surrounding blocks.
"Forbes magazine just wrote a piece about Cleveland being the new Brooklyn. And while they meant it as a compliment, we're actually much more a new Cleveland with our own authentic and edgy flavor."
-- Sam McNulty, founder of Market Garden Brewery
DETROIT
"Being in Detroit puts you in ridiculously close proximity to some of the most authentic, best-tasting food you'd normally need a passport to enjoy. With the proper research/guidance, it's totally possible to travel the culinary world in 20mi, leaving you with a TON of leftover cash to blow on the important things... like even more food.
"Despite the expanse of cuisines, Detroit's a pretty close-knit food community. Everyone tends to know one another, which leads to a good mix of collaboration and friendly competition. Overall, we're a pretty welcoming bunch. Just don't come on a Monday. Seriously. Everything's closed on Mondays."
-- Philip Bator, founding partner at Catholic League Champions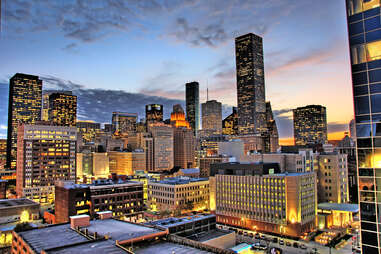 HOUSTON
"The thing I love about Houston's food scene is the opportunities. Most importantly, for the dining guest there's the opportunity to experience one of the most exciting times in Houston's food scene. The second part of that is the opportunities young up-and-coming chefs, beverage professionals, and restaurateurs have.
"And I love hearing that someone has never heard of our restaurant. It sounds crazy to say something like that, but, for me, it means that there are a lot of great places out there that I probably haven't even heard of that I need to check out. There are so many new, burgeoning neighborhoods that you can spend weeks exploring, and others that haven't changed in forever and are still putting out delicious food and drink. Whether it's grabbing a taco at our favorite truck conveniently located across the street from our favorite ice house and then catching an in-store performance at Cactus Music, or ordering the entire menu at our go-to Korean BBQ."
-- Seth Siegel-Gardner, chef/founder of The Pass & Provisions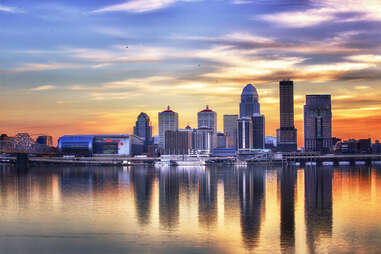 LOUISVILLE
"Louisville may be a recent discovery on the national scene, but it has been a regional hot spot as far back as the Civil War days, when locally famous joints like Mazzoni's would rush fresh oysters North from the Gulf in boxcars filled with ice on the old Louisville & Nashville Railroad. Some mistake us for "Southern" because of the influence of the Appalachian diaspora here and migration from rural farms, but Louisville is actually an urban industrial city first populated by German, Irish, and Italian immigrants from the Northeast (akin to Cincinnati, St Louis, and Milwaukee).
"As it was then, so it is now: Louisvillians love to eat, drink, dine, dance, and gamble, offering a tempting getaway to the more dour Scotch-Irish who came over the Cumberland Gap to populate Kentucky's rural counties. In modern times, an established foodie community has stood ready to rapidly embrace modern trends from bistros in the '70s to regional Chinese in the '80s; with the '90s came brewpubs and microbreweries and waves of immigrants and refugees drawn by our long tradition of welcoming new arrivals, and they brought with them a remarkable array of international fare.
"In the past decade, aggressive efforts to reinvent downtown and inner-city neighborhoods have gifted us with hot new restaurant zones like NuLu (East of downtown), making creative use of 19th-century buildings with impressive gastropubs and farm-to-table eateries that have drawn national attention. So has our close connection to bourbon whiskey, including the city's much publicized "Urban Bourbon Trail" that connects fine eateries that also graciously serve Kentucky's adult nectar."
-- Robin Garr, editor at Louisville Hot Bytes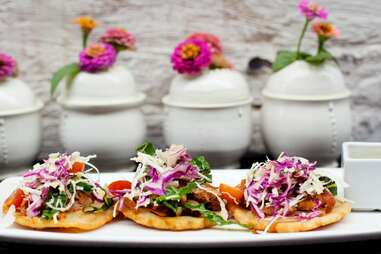 Don't miss: Tuna "old fashioned" bourbon ceviche at Seviche, the spicy sorghum, bourbon Blood Money cocktail at RYE, Yucatec salbutes at Mayan Cafe, and Kentucky/Asian-fusion brisket at MilkWood
MINNEAPOLIS/ST. PAUL
"Minneapolis is underrated because everywhere in the Midwest is underrated! Oklahoma City, Omaha, Madison... We're underrated because the coasts have all the people and all the media outlets, but we have all the farms. Duh.
"We are the Lyons of the USA, the breadbasket (Patisserie 46 -- led by John Kraus, USA captain of our team competing in Coupe du Monde de la Patisserie -- is the best bakery in the country), the egg basket, the pork basket. Enjoy importing charcuterie from Italy and France, New York City? We make our own Mangalitsa Lardo, and we eat it so fast we don't export it. We are the dairy basket too! We put grass-pastured, single-farm milk in our lattés as a matter of course -- you coast dwellers with your homogenized, tasteless milk are leading degraded lives, and you don't even know it.
"We drink beer so good you would die, like America's only real farmhouse ale, Olvalde. What does farmhouse ale mean? It means we can grow and malt barley here, on black-dirt-rich land, just like Europeans did 200yrs ago. Here's why Minneapolis and St. Paul are the most underrated American food cities: we have the good stuff, we enjoy and support it so much we don't let our artisans export it, so you don't even know about it... and we have the time to kick back and relish it."
-- Dara Grumdahl, staff writer at Mpls.St.Paul Magazine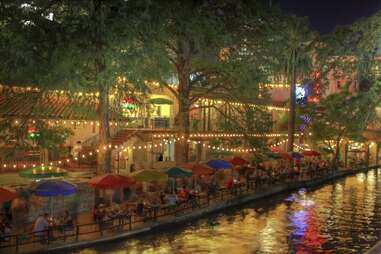 SAN ANTONIO
"San Antonio is a really interesting mix of very traditional food experiences -- traditional Northern Mexican and South Texas cuisine, Southern food, more formal experiences at some of the old-fashioned dining and social clubs, and this really vibrant scene of emerging new chefs that are riffing off some traditions and forging into entirely new territories. We have amazing access to growers and producers in the Hill Country, as well as this really vibrant world of wild game.
"The San Antonio food scene is very collaborative and supportive. It allows for a lot of experimentation and for entrepreneurship because there is a lot of cool, fairly affordable space available. We feel like we're just starting to poke our heads up on the national scene, but as soon as people come here they are blown away by what's happening with our chefs, markets, and producers."
-- Elizabeth Fauerso, chief marketing officer at Pearl Brewery
Don't miss: Beer can fried-chicken at The Monterey, the mezcal/fernet Midnight in Mexico at The Esquire Tavern, lamb osso bucco at Paesanos, and anything from Taco Taco Cafe
Dan Gentile is a staff writer on Thrillist's national food and drink team. He resides in Austin, TX, a city whose food scene sucks. You would hate it, so don't move there. To see all the fun stuff you're definitely not missing, follow him at @Dannosphere.