Your Next Dinner Party Needs This Warm Coconut Crab Dip
Anita Jaisinghani, author of 'Masala,' shares her recipe for this crowd-pleasing, South Indian appetizer.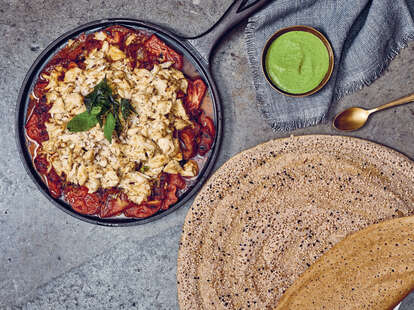 When deciding what to cook, Houston chef Anita Jaisinghani taps into what she needs—not merely what she craves. She'll check the weather and be mindful of the season. Let's say it's a really hot day. She won't make something too rich, because it might just sit in her belly. She'll aim to buy ingredients that were made closest to where she lives, and in order to retain their vital energy, will avoid refrigerating them too long. And If she's in a bad mood, she'll take a break from cooking altogether to avoid things tasting funky.
These are the simple Ayurvedic principles that allow Jaisinghani to feel her best, and they lay the foundation for her new cookbook, Masala: Recipes from India, the Land of Spices, out now. "Our state of mind is just as important as the food we put into our bodies," she says. The chef maintains that with a tactful use of spices, you can keep an eye on health, digestion, and flavor all at once.
The cookbook derives its name from a Hindi word, masala, that's often maligned, mistaken time and time again at Jaisinghani's Pondicheri Café for the Italian American "marsala." It refers, quite simply, to any blend of spices and seasonings. An Italian pesto can be a masala, as can the Turkish ras el hanout or Spanish sofrito. "Masala is a word that can be used across the borders," Jaisinghani says.
One of the book's recipes, a beloved Coconut Crab Dip, features a masala within a masala. Jaisinghani's tomato-based spread, flavored with black mustard seeds and kari leaves, is also enhanced with garam masala, the spice blend most Indian kitchens have tucked away in a cabinet. It's then topped with lumps of fresh, jumbo crabmeat.
The recipe is inspired by the crab samosas that were served at Jaisinghani's bygone restaurant, Indika. "We would sell hundreds a day," she explains. "In our 15 years, we could never keep up." Jaisinghani wanted to create something a bit healthier. The chef took the South Indian-inspired samosa filling out of its pastry vessel and baked it into a dip, served alongside a dosa.
"Crab is something you don't want to mess with too much, so it's a very quick cook," Jaisinghani says. "I would serve it as an appetizer if you're sitting around with friends, or if you're at a table, it can be the first course you eat together."
The recipe begins with the popping of mustard seeds, which Jaisinghani considers "the most unique technique of Indian food that everyone should adopt," regardless of the seed. Heat up a small frying pan with any oil until it's almost smoking, but not quite. Throw in the seeds. If the oil is at the right temperature, they'll start to sizzle and pop. Turn the heat off.
This process of tempering takes about two seconds, and using that same pan, you can continue on with the rest of the recipe. "It really opens up the flavor and scent of the spice," Jaisinghani says. "Mustard seeds in particular contain a chemical called myrosinase, which you can't taste when they're cold."
The kari leaves are quick to follow, adding a pine-lime flavor. They're also referred to as curry leaves, but Jaisinghani prefers this spelling to make the distinction that kari leaves and curries are not intrinsically connected: Sometimes they go in a curry recipe, and sometimes they don't.
"When I first came from India, it was a flavor that I missed so much, because I couldn't find them anywhere. So I would bring them back dried in my suitcase," Jaisinghani says. "They're like lemongrass in that you can't duplicate lemongrass in food." Kari leaves, which are a very hardy plant, are fairly easy to grow in many parts of the U.S.
Once you've added the leeks and tomatoes, you'll finish things off with garam masala— Jaisinghani recommends trying your hand at the homemade stuff. It's a matter of combining whole pods of spices like cardamom and anise, toasting until fragrant, then grinding into a powder. "If kept in a dark place, it'll keep for three to six months. It'll depend on the quality of the cinnamon you bought," she explains. "But I would just continue to sniff it. If it smells really fragrant, it's still good."
In Masala, Jaisinghani deftly explains the order of spices. Those like turmeric, mustard seeds, coriander, and chili powder are usually added at the start, as they benefit from the cooking process. Garam masala—along with other aromatic spices, like cinnamon and mace—are finishers. "They tend to kind of dissipate if you add them at the beginning," Jaisinghani says, so you need to preserve their aroma.
The chef's final word of advice: Never waste a second peeling your ginger. She says, "I've been doing this for over 30 years, and it always tastes just the same."
Coconut Crab Dip
Garam Masala
Yield: Makes 1 cup
Ingredients:
¼ cup green cardamom pods
6 large cinnamon sticks
5 star anise pods
5 black cardamom pods
1 teaspoon whole cloves
4 whole mace flowers
1 whole nutmeg
Directions:
1. Preheat the oven to 300°F.
2. Combine all the spices in a small bowl. Spread them on a baking sheet and toast in the oven for 3 to 4 minutes, until fragrant. Let cool and grind in a coffee grinder to a powder.
Coconut Crab Dip
Yield: Serves 4
Ingredients:
Crab
1 pound fresh jumbo crabmeat
½ cup fresh or frozen grated coconut
½ cup coconut milk
Juice of ½ lemon
1 teaspoon sea salt
Tomato masala
3 Tablespoons coconut oil
1 teaspoon black mustard seeds
15 to 20 kari leaves
8 to 10 garlic cloves, sliced
2 cups sliced leeks, white and green parts
1 teaspoon red chile powder
1 cup canned ground tomatoes, or 2 cups diced fresh tomatoes
1 teaspoon sea salt
½ teaspoon garam masala (see above)
Fresh herb sprigs for garnish
*Dosas, uthappams, naan, or crusty bread for serving
Directions:
1. Preheat the oven to 400°F.
2. To make the crab: In a large bowl, gently combine the crabmeat with the grated coconut, coconut milk, lemon juice, and salt and set aside.
3. To make the masala: In a medium frying pan, heat the oil over high heat. Pop the mustard seeds, then add the kari leaves and cook for a couple of seconds. Immediately add the garlic and leeks, decrease the heat to medium-high, and cook for 4 to 5 minutes, until the leeks are translucent. Lower the heat; add the red chile powder, tomatoes, and salt; and simmer for 5 to 7 minutes, until the fat in the masala has risen to the top or to the edges, it is an orange red in color, and thick, chunky, or semidry. The time will vary based on the water content of the tomatoes. If the tomatoes start to stick to the bottom of the pan, add a few table- spoons water. Turn the heat off and stir in the garam masala.
4. Spread the tomato masala evenly on the bottom of a baking dish. Place the coconut-crab mixture on top, letting the edges of tomato masala peek out. Bake for 10 to 12 minutes, until bubbly, and top with fresh herb sprigs. Serve with a crispy dosa, uthappams, naan, or crusty bread.
Reprinted with permission from Masala: Recipes from India, the Land of Spices by Anita Jaisinghani, copyright © 2022. Published by Ten Speed Press, an imprint of Penguin Random House.