Freshmen of the Class of 2018: you're now in college. There are NO PARENTS around to hold you back from making seductive-yet-respectful advances on your fellow coeds. Congratulations! That said, there is a slight downside: your parents used to feed you, something you are now solely responsible for. But worry not, kids! Your Weirdly Young Uncle Dave is here to school you on how to simultaneously eat & flirt like the Big Man on Campus™ (BMoC™) at your college dining hall.
From first card-swipe to last forkful, this here foolproof-ish Thrillist guide to definitely picking up girls at the cafeteria will keep you super-fed, probably-laid, and mostly not-that-fat during your first semester. Come get some.
A note to naysayers & wannabe players
You're probably thinking, "Dude, the dining hall is a weird place for romance, and, besides, picking up girls is going to be even easier than it was in high school." Stop thinking that, because you know you didn't pick up girls in high school. Be honest with Uncle Dave. And yourself.
But forget about the past! Your future is now, and it's waiting for you in the dining hall, that fluorescent-lit home of fro-yo fantasies, mediocre mystery meats, and exhilarating, continually-consensual love.
Got it? Good. Pep talk over. Here comes your nutritionally balanced dose of scholastic sexy.
Dress for success
Your first move, my fecund froshes, is to get dressed. Unlike "formal" settings, like the Olive Garden and church, ladies love a man who puts his comfort on a pedestal at the cafeteria. So do you, my dudes. By choosing a comfy outfit like the one in this interactive graphic below, you'll send a suave, sophisticated, self-confident message, probably. 
*Please note that pants, while irritating, are still required in most food service facilities. I know: it's a bummer.
 
Study (the menus) hard
At any given meal, at least one dining hall on campus is going to be serving something horrifying; it's basically an NCAA rule. Luckily, most schools that aren't Hogwarts publish the upcoming day's menus on the World Wide Web. Find some time in your busy schedule of playing Xbox Live to CHECK THOSE DAMN MENUS. Otherwise you'll end up choking back hot dog gumbo at one hall while the other does a "Paris"-themed dinner that draws all the French-able hotties. MON DIEU, NON!

Know the sexy food groups Alright, now that you've got clothes AND intel on the bill of fare, it's time to talk turkey. Err... talk diet strategy, which should not involve turkey, because it's not sexy and contains tryptophan. For a complete breakdown of the cafeteria's coitus-inspiring cuisine, check out the chart below, assembled with very-real data sourced from vague memory & thin air just moments ago.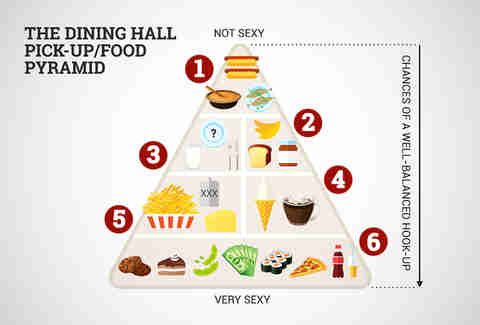 *This pyramid was totally probably evaluated by the FDA at some point. I swear.

Gather with purpose No matter what's on the menu, every dining hall has hot spots to hit on hotties. Hover over the interactive map below for a detailed breakdown on all the stations you'll need to visit on your journey to a meaningful, yet emotionally noncommittal, college coupling:
The soda fountains are a perfect place to showcase your poise, confidence, and mixology prowess. Offer to whip up a Hi-C Spritz (two parts fruit punch, one part club soda; garnish with whatever) or a Long Island Iced Tea (iced tea with smuggled-in liquor) to reveal your skills. And never, ever underestimate the aphrodisiac appeal of milk, young grasshopper.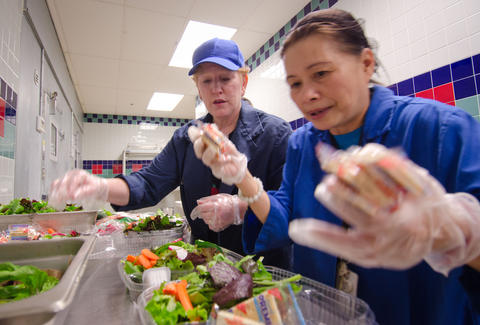 At the sandwich counter assembly line, aggressively demand extra roast beef to show you're a guy who cares about his physique. That's protein! If they decline, it's best to start yelling loudly & lobbing petty personal insults at these hourly workers who are just trying to serve you. Who the hell do they think you are?! Someone who's very impressive and worthy of the sex, that's who.
Sit in an enormous group
Once you've not-creepily scoured the dining hall for eligible mates and piled your tray high with eligible plates, your hard work is done, right? WRONG, freshman! Now's the time to crank up the heat! (And eat. It's time to eat, too.)
Since you definitely came to the dining hall with your entire dorm floor, you've already got, like, twenty people to sit with. This is good; being surrounded by a seemingly random group of strangers with whom you have nothing in common shows that you are a Very Cool® BMoC™.
Meet & greet while you eat
Uncle Dave's gonna let you in on a little secret: after shotgunning beers (ONCE YOU'RE 21!), chewing amongst strangers is one of the most sensual activities you'll ever do in college. Use this morsel to your advantage by spitting hot-fire freshman game at a nearby student/love interest as you devour condensed mashed potatoes.
Some of my own high-success-rate, higher-learning-themed lines to get you started:
"Girl, I hope you're majoring in physical therapy, because I sprained my neck just trying to look at you."
"I ain't just a freshman, I'm a fresh man, man. Like the Jay Z song, you know? Do you like music?"
"Want a hot dog? I got a bunch."
"That university lanyard looks good on you, but it'd look even better on the 3M hooks from Bed, Bath & Beyond I installed in my dorm room. We should have sex."
Final step: romancing the common room
If you've followed all of this guide carefully, you sealed the deal back at the dining hall thanks to some super-slick BMoC™moves at the Dumping Grounds. You're basically making out right now, which is awesome.
Nice work. But if you need a little more time to present yourself as a viable sexual partner to your preferred mate, that's cool too -- and Uncle Dave's got just the move. As you're leaving the dining hall, sidle up from behind, then very, VERY smoothly, repeat after me: 
"HEY! How are you? I'm [YOUR NAME HERE], and I've been watching you eat! Ha just kidding -- not in a weird way. But seriously, I watched you eat. Anyway, the common room in my dorm is actually pretty laid-back... do you want to maybe chill there for a while and watch Suits? The R.A. replaced the remote's batteries because they were dead last week, so it'll be pretty sweet."
Hear that? That's the sound of a heart melting, frosh. You did it.
 
Conclusion
As Mark Twain once probably said, "Don't let school get in the way of your education, and don't let either get in the way of the damn stir-fry counter during the dinner rush, because that's where the potential sexual partners will be." You're gonna learn lots in college, Class of 2018, but no "classroom" or "professor" will ever teach you that. Godspeed.
Dave Infante is a senior writer for Thrillist food & drink and met his girlfriend in a dining hall. Not really! Man, wouldn't that be a great ending to this guide? Follow him on Twitter: @dinfontay.