We're Spending More at Restaurants Than on Groceries for the First Time Ever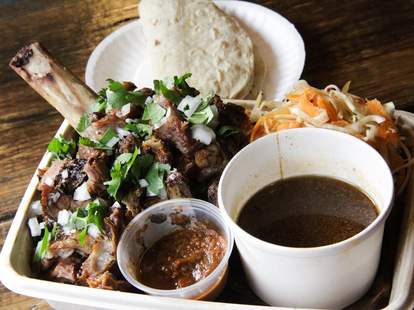 Starting to feel badly about the number of times you've used your stove since you moved in? The U.S. Department of Commerce has good news for you: you're not a slacker, you're just keeping up with the times.
According to Bloomberg, data from the Commerce Department shows that restaurant and bar sales have outpaced grocery sales for the first time since 1992 (when the department apparently began charting this intel). The trend has been chalked up to a generational shift  -- Morgan Stanley has deemed the younger crowd more willing to splurge on "food away from home" while the National Restaurant Association believes millennials view dining out as a "chance to connect." Although Gallup surveys indicate older shoppers in the 51-69 age range are still clinging to the supermarket, all signs point to a more restaurant-focused future. Good thing there are so many excellent ones.
Kristin Hunt is a Food/Drink staff writer for Thrillist, and is definitely contributing to this trend. Follow her to Seamless order histories at @kristin_hunt.