Nowadays, you can feast on a balanced supper of Twinkie burgers and cronuts, but in simpler times, man had to make do with more basic foods, like something called a turnip. In an effort to better understand our culinary history (and Nana), we attempted to plot out a typical dinner from each decade in the 20th century. You'll be informed, you'll be amused, and you'll be glad you never had to eat anything called "liver loaf".
1900s
CHICKEN PUDDING
A dish that had been in America's cooking repetoire since long before the turn of the century, chicken pudding was still holding steady into the 1900s. And it wasn't a chicken and gelatin blend. Rather, it was chicken swimming in seasoned, creamy batter. Vegetables like mashed turnips might've served as complements. And for dessert, you could devour a layered ice cream orb, or "bombe".

1910s
ROAST BEEF & FRANCONIA POTATOES
Hearty stuff like beef (it really was for dinner!!) and Franconia potatoes (spuds marinated in the meat juices) filled many American bellies in the '10s. We also sometimes cribbed Yorkshire pudding from the British as a doughy side dish, before washing it all down with strawberry sponge cake.
1920s
CHICKEN À LA KING
Gatsby might've been noshing on champagne-soaked caviar, but for the average Prohibition-era person, something like Chicken à la King (aka a cream-sauce covered dish of poultry and veggies over rice or pasta) was a little more typical. Some people even believe it was invented around then, possibly at NYC's original Delmonico's. Salads were also a big deal -- the Caesar was first dished in '24. As for sweets, this decade opted for the splashy pineapple upside-down cake.
1930s
CREAMED CHIPPED BEEF
Owing to that whole "Great Depression" business, the '30s were a pretty lean dinner time. This basic dish -- beef covered in a white sauce, usually served over toast -- was one entree most people could make without breaking the bank (and it was significantly more appetizing than another option: dandelion salad). Sugar cravers made baked apples, which were simply cored and then baked with some cinnamon, butter, and sugar.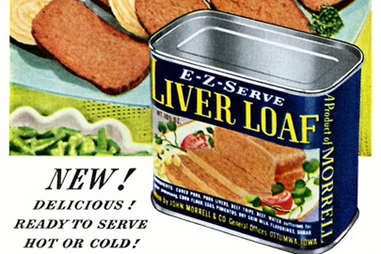 1940s
LIVER LOAF
Overall, the '40s weren't nearly as dire as the previous decade (especially once that war production cash flowed in), but families weren't whipping up five-course meals during the WWII ration years. Instead, they'd go with a centerpiece like liver loaf (it has "B vitamins that help keep you smiling with glowing health!" said an ad from that era) paired with veggies like buttered spinach. When dessert was an option, it might be a simple sherbet or banana drop cookies.
1950s
TUNA NOODLE CASSEROLE
With the war rations and Great Depression officially behind us, the 1950s became a veritable casserole city. Tuna noodle was a signature, and since it had veggies, it sometimes spared kids from a common(ly reviled) side dish of the era: lima beans. If you got dessert, it was almost definitely gonna be a Jell-O "salad" with a whipped topping. In fact, these treats were so in vogue that Jell-O took things too literally and marketed gelatins with actual salad flavors, like celery. You don't see them around today for a reason.
1960s
BEEF BOURGUIGNON
In case you lost your meticulous notes from Julie & Julia, this was the decade when everyone became obsessed with Julia Child. Her inaugural cookbook dropped in '61, and from then on, everyone wanted to make French cuisine at home. Julia's signature dish was beef bourguignon, and there were plenty other dinner ideas in her 726-page bestseller Mastering the Art of French Cooking. Regardless of your haute French recipe of choice, the tunnel of fudge cake was the confectionery icon to beat.
1970s
SLOW COOKER GOURMET
By the time the '70s rolled around, people were starting to jump off the French food train and search for something new (though they made some allowances -- cocaïne quiche blew up in the disco age). Enter the Crock Pot, which debuted in '71 and quickly became a kitchen essential. Stews, casseroles, and other slow cooker meals were a common sight on dinner tables. Afterwards, families might treat themselves to slices of carrot cake.

1980s
SLOPPY JOES
These guys did pretty well in the previous decade, and Joe fever raged on into the '80s. Manwich had a pretty big moment, but plenty of people whipped up their own homemade sauce-bomb sammies, too. The health-conscious who wouldn't pair 'em with French fries might've served some tri-color pasta on the side. And seeing as this was the decade that saw the Cheesecake Factory emerge as a legit chain, it's no surprise a slice of cheesecake was a common treat.

1990s
FAJITAS
They certainly existed earlier, but fajitas exploded onto the scene in the '90s, when they started appearing on chain restaurant menus around the country and inspiring chefs at home to heat up a skillet. If you were lucky, there might've been cookie cake leftovers from your soccer team party for dessert! (Spoiler Alert: You were never lucky. That stupid midfielder had, like, five slices!)
Kristin Hunt is a food/drink staff writer for Thrillist. Some of her strongest friendships are built on cheeseburgers. Follow her at @kristin_hunt.