13 companies with the best, most insane food perks you definitely don't get
Almost every job comes with a few food-related perks, from absolute basics like a fridge where you can store your lunch (you have two days left on that pizza according to this infographic) to more high-end luxuries like the employed-person equivalent of food stamps: paychecks.
And while you may think you've got it made with a job that puts food on the table, you're sadly mistaken. These 13 companies have perks that include starting each meeting with a pint of home brew, 330p snack catering, and 2 million pounds of deliciously cooked meat each year. With food and drink like that, they must receive resumes from thousands of literally hungry job-seekers. Let's show you why:
WHOLE FOODS
What they do: Sell mostly mind/body-altering herbal supplements, and also produce and stuff
Perks: Two to four-week volunteer trips to countries like Kenya to see how they source products, free holiday foods (pies! turkeys!), seven-day health immersion programs with nutritionists, and 20% off groceries (30% if you stay away from the dark side of the food court).
GOOGLE
What they do: Make adorable logo illustrations
Perks: Google keeps local/ seasonal menus at all of their cafes (roughly 50000 new menus per year!), and hires really serious chefs like one from the U.S. Olympic basketball team, a three-star NY Times-lauded chef from Nick & Toni's, and award-winners from the CIA. They also tend on-site gardens and beehives, and cook nearly 2 million pounds of meat every year.
ZAPPOS
What they do: Supply the shoes you're probably wearing
Perks: They recently took over the old Las Vegas City Hall building and outfitted it with the 12000sqft Z-Bistro, where workers can score free grilled cheese and fruit at any time of day, a ton of meals that fit even a shoestring budget ($3 hot breakfast, $2 pizza, $5 monster burgers), and a make your own trail mix bar. Plus, the last snack machines in the world where you can actually buy something for just a quarter. If that's not enough, they've got a rooftop coffee shop with a dedicated ping-pong room.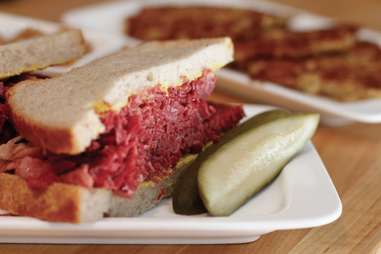 TAGGED
What they do: Social networking for the Facebook-averse
Perks: Lunch (like that pastrami from Shorty Goldstein's), dinner from some of SF's finest (Original Joe's), and 330p snack catering. Plus Cronut delivery, kegerator happy hours, a monthly wine club, and office-brewed TaggenBrau beer at every all-hands Friday meeting.
BIG ASS FANS
What they do: Cool down big ass spaces
Perks: Once a week, management takes a small group of employees and their significant others out for dinner at a nice restaurant (hopefully none of them are the worst people in the restaurant). And after one employee bragged about being the best chef at the company, they made her prove it in a company-wide cooking contest where they paid for the ingredients and sent the winner on a free trip to NYC.
VISTAPRINT
What they do: Print everything from business to Christmas cards
Perks: Twice a month, the Lexington, MA campus invites food trucks like Roxy's Grilled Cheese Truck to dish out free cheesy benefits. They also host a weekly food/drink social hour called The View that unfortunately has nothing to do with Jenny McCarthy, but fortunately has nothing to do with Barbara Walters.
STORM8
What they do: Make games like iMobsters and Bubble Blitz Mania that have been downloaded 600 million times
Perks: Unlimited snacks and drinks, catered lunches, dinners including sushi and steaks, and special treats like pork belly burgers from Big Chef Tom of Food Network Star.
GUARANTEED RATE
What they do: Hold the coveted position between the 7th and 9th largest retail mortgage companies in the country
Perks: Their cafe is made from a restored timber loft where they serve meals by chefs who've spent time in some of Chicago's top kitchens (Revolution Brewing, Pump Room, North Pond). They've also got a rooftop deck with panoramic views of the Windy City.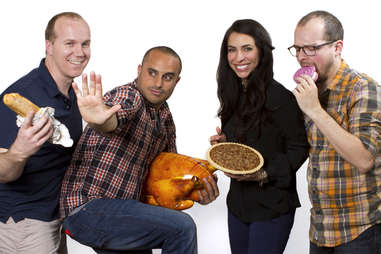 GOLDBELY
What they do: Deliver amazing gourmet food nationwide
Perks: Give and you shall receive is the philosophy at Goldbely -- employees get unlimited free delivery from notoriously awesome restaurants like Lou Malnati's pizza (we ranked it number one in Chicago).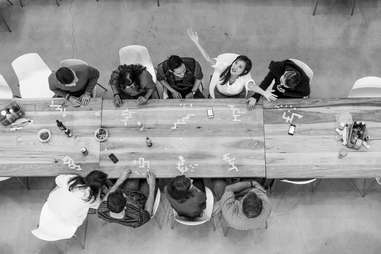 PINTEREST
What they do: Really cute stuff
Perks: Lunch and dinner catering, whose arrival is announced by ringing what we can only assume is the most twee lunch bell ever rung. Guacamole contests. "Coffee mate" mentoring program to help separate the cream from the crop of new recruits.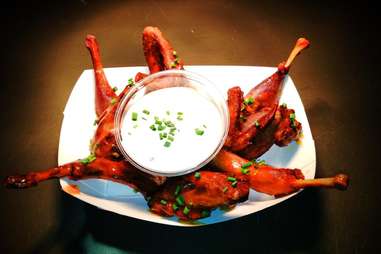 FACEBOOK
What they do: Let you know which friend of yours just had a baby (spoiler alert: it's all of them!)
Perks: Three meals a day, five days a week, for free. Their main campus is rocking two cafes, a BBQ shack, burger bar, pizza stand, taqueria, salad shop, and sweet shop. And their culinary team's got about 59,500 more Facebook friends than you do (60k!).
FUTURE ADVISOR
What they do: Manage online stock portfolios
Perks: Instead of on-site catering, FA actually buys their employees three meals/day worth of groceries.
LINKEDIN
What they do: Help you get a job at one of these bad-ass companies
Perks: Discounts at Whole Foods, fridges stocked with coconut water, and an executive chef from a Saveur-lauded Napa restaurant dishing out fried chicken and Carolina pulled pork, as well as a lot of healthy dishes that will remain nameless. And to work off that fried chicken, they've got company bikes you can take out on nearby trails in beautiful Mountain View, CA.
MILLERCOORS
What they do: Brew Miller, Coors, and drink beers with us
Perks: New employees run the gauntlet of a beer appreciation course capped off by a gourmet brew-paired dinner in the Miller beer caves. In addition to the opportunity to get speluncky, Chi-town employees are treated to a pub that covers a full floor in their office. There are also homebrew classes, plus monthly Brewers Unleashed sessions in which sud-smiths from around the country let employees try rare and experimental beers.
Dan Gentile is a staff writer on Thrillist's national food/drink team who recently purchased a very nice toaster oven and is excited about exploring the world of crispy reheated food. He also enjoys hating mustard. Follow him to pots of gold/Twitter at @Dannosphere.