All photos by Phil Mansfield
Without basic cooking skills, even the simplest dishes can blow up in your face, and then your face won't look very good because it'll be covered in chicken marsala and failure. So to help improve your cooking skills to non-destructive levels, we asked a group of instructors from The Culinary Institute of America, as well as some highly regarded pros and star chefs from the Austin FOOD & WINE Festival, to share some stupidly simple tips. Read on to learn the importance of salt, acid, and cleaning up after your damn self.
SMASH YOUR GARLIC
"To make peeling garlic cloves easier, cut off the tips from both ends and lay the side of the chef's knife on the garlic clove. Press down lightly on the knife to crack the garlic clove. The papery skin will come loose." -- Chef Joseph Klug, assistant professor of culinary arts
GET SOME KNIFE SKILLS
"Basic execution of knife skills is important. Not just for looks, but uniformly-cut items cook evenly. We have a saying at the CIA, 'If it looks the same, it cooks the same.'" -- Chef Bryan Tobias, lecturing instructor of culinary arts
DON'T ADD ALL THE INGREDIENTS AT ONCE
"Layer the flavors. Try not to add all of the ingredients at once. It does make a difference. Most raw foods have a significant amount of water apart from the flavor components. By treating each component separately, we are better able to manipulate the individual characteristic of the ingredients. For instance, in making a simple potato leek soup, we could add all of the ingredients together and cook. Or we could add the leeks, and then sweat them, which brings out the natural flavors and sugars of the leek. After we have done that, we add the potatoes, stock, etc. This simple technique may require a little more time, and many people overlook it in an effort to shorten cooking times." -- Chef Tony Nogales, assistant professor of culinary arts
HAVE EVERYTHING READY
"Prepare a 'game plan' with a priority of tasks, recipes, preparation steps, tools, and ingredients. Together this is known as 'mise en place' (pronounced 'meez in plahss'). It means having everything ready before you start cooking, including having ingredients measured out. If properly 'mised', you shouldn't have to step away from the stove except to wash hands and take pots to the sink. At the CIA, it's one of the first things freshmen learn." -- Chef Bryan Tobias, lecturing instructor of culinary arts
LEARN YOUR FAMILY'S CUISINE
"Learn to cook the cuisine that you grew up with or from your culture -- this way there is a connection with a family member who can hopefully advise you." -- James Corwell, former CIA instructor
SALT AND ACID ARE YOUR FRIENDS
"Learn to balance flavors with proper use of salt and acid (lemon juice, lime juice, balsamic, rice vinegar). Seasoning should never taste 'salty'. Salt is used to activate your taste buds and allow you to taste unmuted flavors (think of a raw sliced tomato without, and then with just the smallest pinch of salt; acid is used to brighten). The simple, yet correct use of the two will elevate any home dish to that of restaurant quality." -- Phillip Lee, Scratch|Bar (LA)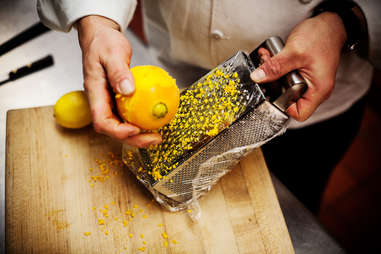 ZEST WITH A GRATER
"For zesting lemon, lime, or orange, place a small sheet of plastic wrap over the teeth of a box grater. Grate the peel down to the pith (the white under the peel). Peel off the plastic and remove the zest from the plastic. No need to scrape the zest out from between the teeth of the box grater anymore." -- Chef Joe DiPerri, associate professor of culinary arts
SALT!
"Salt is the one ingredient I believe must be in the kitchen! It makes the food taste like what it is, the way it's supposed to taste when it's fresh and close and good. I believe food is how our families/communities/neighborhoods talk to each other, and salt are the stories. We need salt!" -- Monica Pope, t'afia (Houston, AF&WF chef)
DON'T FORGET TEXTURE
"Pay attention to texture. Serving a smooth guacamole? Top it with crunchy pepitas. Making a salad of crunchy raw vegetables? Add some creamy goat cheese." -- Rick Bayless, Frontera Grill (Chicago, AF&WF chef)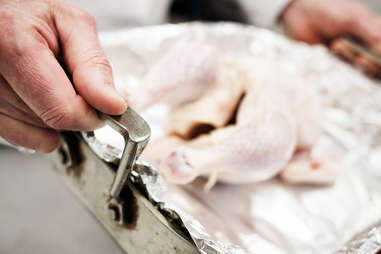 COVER YOUR CHICKEN
"When cooking chicken in your oven, cover your roasting pan with non-stick aluminum foil. Cleaning will be a breeze." -- Chef Pierre Baran, lecturing instructor of culinary arts
LEARN ONE DISH WELL
"Learn one really good dish (or simple menu) start-to-finish. Maybe even take a class to learn it, then make it your own specialty. Keep notes when you make it and have a standard grocery list, to make it your 'go-to' thing. It can be simple (e.g., strawberry crepes) or very complex (e.g., Beef Wellington). Practice and perfect this one move and use it often. Rather than trying something new every time, you will have one great thing in your roster." -- Chef Cynthia Keller, associate dean of culinary fundamentals
USE GOOD SALT AND PEPPER
"First off, use good kosher or sea salt. Most people still use iodized salt that we'd never use in the kitchen. And use black pepper. Most still buy ground pepper, when fresh ground makes a night-and-day difference." -- Alex Reznik, Ditmas Kitchen (LA)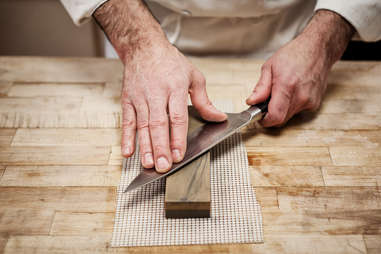 KEEP YOUR KNIVES SHARP
"Take your knives to a professional knife sharpener once a year. Knife sharpening is a skill that takes time to develop. Most home cooks don't have enough practice time (frequency) to hone those skills, but can maintain the knife's edge once it is sharp. If you have knives sharpened once a year by a professional, you will have a leg up. Sharp knives minimize accidents and help show off basic knife skills." -- Chef Tony Nogales, assistant professor of culinary arts
USE THE THREE ELEMENTS
"You need three elements to balance a dish: salt, acid, and fat. I always finish a grilled steak with a squeeze of citrus like lemon or orange. This adds the needed acidity and brightens the flavor of the meat." -- Tim Love, Lonesome Dove (Dallas, AF&WF chef)
CLEAN AS YOU WORK
"One of my most important tips for a less-experienced cook is to clean as you work. When you leave your workspace a mess with leftover ingredients, trash, etc., you tend to forget what it is that you're working on and it's more of a challenge to move forward. Clean up as you go, and you can focus more on the dish in front of you rather than the clutter around you!" -- Richard Blais, The Spence (Atlanta, AF&WF chef)
Dan Gentile is a staff writer on Thrillist's national food and drink team. He is the proud owner of one small pouch of very fancy salt. Follow him to well-seasoned tweets at @Dannosphere.