The Best CoolHaus Ice Cream to Reach For at Midnight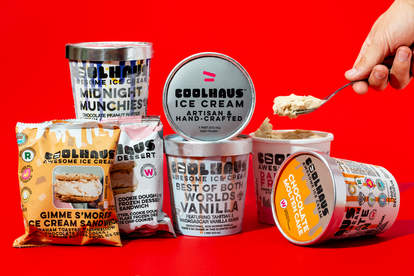 Cole Saladino / Thrillist
My late-night creep is half of a CoolHaus ice cream sandwich. That high-gloss foil paper is my kryptonite, luring me to my chewable nightcap. Quietly I run my serrated knife down the center of two cookies stuffed with velvet-on-the-tongue goodness. Then, I put a rubber band 'round the leftovers and hide it behind frozen peas and the year-old trays of cranberries -- moving my fingers slow to avoid waking the house with the crumbling sound.
I'm often asked about premium ice cream brands and whether my long-time favorite still slaps. Nowadays, putting my seal of approval on one flavor alone is foolish. Instead of answering that question directly, my response is, "Have you checked out CoolHaus?" First off, my local bodega stocks the LA-based company, and the products are under $10. But more importantly, the women-led enterprise has something for everyone.
Let me take it a step further and answer what I know will the second part of our conversation, "Which treats should I buy?"
Cole Saladino / Thrillist
Hands down, Dirty Mint is one of my favorite CoolHaus flavors. The grassy undertone reminds me of dew on the lawn. I'll take a mint-imalism sammie, please. But here are some other flavors that call to me from my midnight freezer.
Cole Saladino / Thrillist
The one pint for not sharing
'Cmon! You know you can knock out the entire carton in seconds. Take a pause before the brain freeze -- Best of Both Worlds Vanilla ice cream (it's gluten-free, folks).
Cole Saladino / Thrillist
The pints and sammies for the chocolate monsters
Chocolate fanatics are a rowdy bunch. Give them the good stuff and nothing less. Midnight Munchies brings the texture for eaters who love the crunch, and Molten Cake gives you deep, dark madness. Beware! 
 
Meanwhile, the Double Chocolate Peanut Butter sammie makes sense for those who can't stand a total black-out.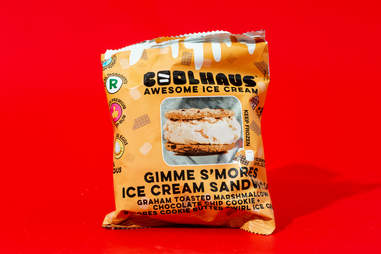 Cole Saladino / Thrillist
The sammies that make you feel like a hype man
Ever taste a bite of deliciousness that made your dance? Yeah, sing, boogie, and hype up a friend. Pump up the volume on to that '90s Busta Rhymes joint, and chew on Frank Berry and Gimme S' mores sammies.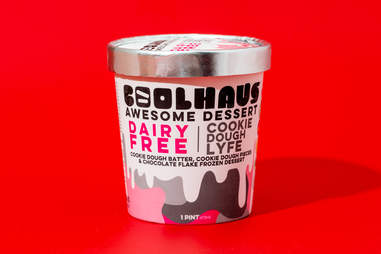 Cole Saladino / Thrillist
Dairy-Free 
Dairy-free ice cream has come away from blah, one-note scoops. These dessert treats are more than just coconut milk and frozen bananas. My vegan or lactose-intolerant friends get to have fun, too.
Cookie Dough Lyfe is the new black. The sweetness is next-level goodness, and the nostalgia of licking the mixing bowl reigns supreme.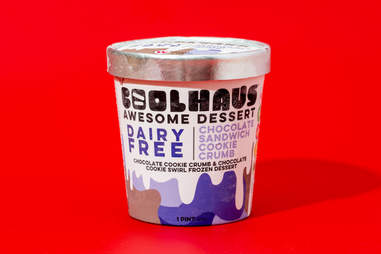 Cole Saladino / Thrillist
And all the cookies and milk snack fans should lean into this flavor: Chocolate Sandwich Cookie Crumb.
This story supports the inaugural 100 Course Meal. The elaborate gastronomic adventure that artfully merges theatrics, technique, and flavor will be held at Downtown LA's Hudson Loft on December 6-8. The event has officially sold out, but you can still
enter for a chance to win
a pair of tickets to this unforgettable dining experience.
Sign up here for our daily Thrillist email, get Eatmail for more food coverage, and subscribe here for our YouTube channel to get your fix of the best in food/drink/fun.
Nicole A. Taylor is the executive food editor at Thrillist. Ice cream is her drug of choice, and she likes it nutty with no chaser. Follow her on Twitter.