Which Companies Are Behind Costco's Kirkland-Brand Booze?
The price tag may be cheap but the quality might shock you.
Design by Jason Hoffman for Thrillist
Design by Jason Hoffman for Thrillist
It's no secret that Costco makes great pizza, but there's one hidden truth that the retailer doesn't want you to know. Which companies are making all of its deliciously affordable Kirkland booze? If you've ever shopped for inexpensive gin, vodka, tequila, or other spirits at Costco, you've probably wondered the same thing.
You could search this free Alcohol and Tobacco Tax and Trade Bureau database to find out which importer/producer the booze is sourced from, but it's complicated. Many brands have multiple distilleries and can make private label booze. And so, in the absence of absolute certainty, we wanted to explore a few educated opinions: the general internet consensus plus the thoughts of Stuart Jensen, a longtime bartender and co-owner of Denver's Curio Bar.
Read this handy guide on who makes seven of these best-selling spirits for Costco, and if they're worth your hard-earned money. If you think Kirkland just pours Grey Goose into a vodka bottle, well, you might not be too far off.
Kirkland Signature Vodka
Price: $19.99
The internet's opinion: The most persistent rumor is that Grey Goose produces it (Costco also hawks a less expensive American-sourced vodka). And while the manufacturer of Kirkland's Signature Vodka does distill the vodka from Grey Goose's same water source in Cognac, France, according to a comprehensive article in Munchies, Goose told the publication that it gets its water from an exclusive well.
The expert opinion: "I'd be lying if I didn't say it's from France, and that the way the bottle looks skewed my thinking," Jensen says. "The only wheat based vodka coming out of France is Grey Goose. It does seem to have less sweetness on the palate than I usually get in Grey Goose, but I'd probably guess that it's a vodka from Bacardi [which also owns Goose]." Most importantly, he thinks this is one bottle worth seeking out. "$20 for a handle? That's a stellar deal."
Editor's note: a spokesperson for Bacardi stated that they are not the supplier for Kirkland vodka.
Kirkland Signature Blended Scotch Whisky
Price: $17.99
The internet's opinion: Who makes Kirkland whisky? It's a tricky question. You've probably never heard of Alexander Murray & Company, but according to Market Watch Magazine, as of 2016, Costco sells 100,000+ cases of its scotch per year. Alexander Murray works with about 12 distilleries in Scotland like Caol Ila, Tomintoul, Dalmore, Mortlach, Glenrothes, and Tullibardine to fill up private-label bottles at Costco, Trader Joe's, and Total Wine. Which juice ends up in the Kirkland bottle? The rumor is that it's Tullibardine. But! As The Scotch Noob points out, Alexander Murray has "definitely bottled Macallan before, and is reported to have contracts with both Diageo and Edrington." Diageo owns brands like Johnnie Walker. Edrington produces Cutty Sark (and Macallan). Take your pick.
The expert's opinion: Be aware that the smell of this scotch is…not ideal. "There's something funky in there," he says. "That smells very strange." Based on his knowledge of the scotch market, he says it's likely sourced from Diageo or Bacardi. "This is reminiscent of a Dewar's White Label, but it has a bit more color on it," notes Jensen. He notes that it could also be a blend from one of Johnnie Walker's distilleries, but he leans towards Dewar's. Overall, he didn't mind the taste, and said if you can cover the scotch in a cocktail like a Penicillin, it'll be fine—though his overall recommendation is to spend a little more money on another brand.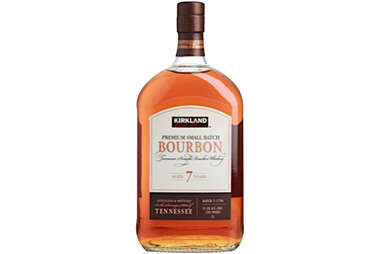 Kirkland Signature Premium Small Batch Bourbon
Price: $29.99
The internet's opinion: While you may read online musings about how Jim Beam makes the juice for this small batch bourbon, that's old news. That's because Costco's bourbon is no longer from Kentucky—this is delicious Tennessee whiskey, and some internet sleuths believe it's likely from George Dickel.
The expert's opinion: "It doesn't taste all that much like Dickel—I don't get that much spice on it," he notes. "It has that spicy charcoal on the back end, so I wouldn't be surprised if it's seen charcoal filtration, or charcoal mellowing, as they like to call it." But just because it doesn't taste exactly like Dickel doesn't mean they don't produce it. Distilleries have the ability to tweak the recipe to tailor it to Costco's requirements. "Dickel's been selling quite a bit of whiskey to other companies. You can buy barrels from them. Bob Dylan's bourbon is a 10-year-old Dickel product," he explains. This is the priciest bottle we picked up at Costco, and Jensen says for that price you might want to instead consider Old Grand-Dad, Old Forester, Buffalo Trace, or Eagle Rare.
Kirkland Signature Original Spiced Rum
Price: $14.99
The internet's opinion: It doesn't take much sleuthing to figure out which distillery is behind a booze when all you have to do is look at the label. This particular one states that the rum is distilled on the island of St. Croix, which narrows it down to two distillers: Cruzan or Captain Morgan. And yet, the booze rating site Proof66 says the spirits producer LeVecke Corp. makes the rum. The answer is probably that both Cruzan and LeVecke are involved in production. We agree with the reviewer at Best Tasting Spirits, who says that "the rum is shipped to California where LeVecke Corporation adds natural flavors and caramel color before bottling at 92 proof in a 1.75-liter bottle."
The expert's opinion: "It's a little buttery on the nose," Jensen says. "I'd assume this comes from Cruzan—it smells like Cruzan, too." He says that the rum's artificial vanilla extract flavors read a bit too medicinal for his tastes. But since spiced rum drinkers often cover up the booze with Coke anyways, this bottle is a steal at a mere $14.99.
Kirkland Signature Añejo Tequila
Price: $19.99
The internet's opinion: I've never had the pleasure of typing three words that go together as well as these: Ed Hardy Tequila. What does that have to do with Costco tequila? It all goes back to the NOM. As Tequila.net explains, the NOM is a unique identifier on bottles of tequila to let people know that the booze within is authentic. It also tells you which distillery the tequila comes from. One distiller can make multiple brands of tequila, and it just so happens that Kirkland's is from the same source as the Ed Hardy Tequila (NOM 1472). Other tequila sourced from that distillery includes KAH (the skull tequila!), Santos, Sol Dios, and Tonala.
The expert's opinion: You'd think knowing the NOM would make this easier. It doesn't. Jensen guesses it's sourced from Hornitos, but he's more interested in discussing why this añejo is different from others on the shelf. "It's not terrible, but it's a little hot and thin for an añejo," he says. "The fact that it's this thin makes me question if there's a diffuser [involved in the production]. It's a way of speeding up the process of making tequila, and you end up with a product that's thin and tastes more along the lines of an 'agave vodka' than a tequila. It's missing some of that depth, complexity, and agave flavor." He gives it points for the charred oak and vanilla notes, but says if you're looking to make cocktails with tequila, try a blanco.
Kirkland Signature Blended Canadian Whisky
Price: $18.99
The internet's opinion: We might never be able to confirm who manufactures the booze for sure, but the purple label sure makes it seem like Costco is inviting comparisons to the popular Canadian whiskey Crown Royal. One downside: the Kirkland bottle doesn't get you one of those velvet purple bags associated with Crown. But with the money you save by buying Kirkland you can color in a brown paper bag with purple marker, you creative DIYer, you!
The expert's opinion: While Jensen says this this "has a little more spice than in a Crown Royal," overall it's "thin, dry, and high pitched." He admits he's not a huge fan of Canadian whiskeys on the whole, but his guess is that it's produced by Crown Royal. Overall, he notes that for a "6-year-old product, it's probably a much better deal than anything else you're going to buy in a Canadian whiskey." He bets that if you enjoy mixing Canadian whiskey with Coke or 7Up, you'll be quite happy with this bottle.
Kirkland Signature London Dry Gin
Price: $18.59
What the internet says: It's rare that a distributor advertises on its website that it's sourcing booze for Kirkland, but DC Flynt MW Selections does just that, showing off that it not only creates this gin, but plenty of vino for Costco. The style of the bottle certainly recalls Bombay Sapphire, but there's no general internet consensus to its producer.
What the expert says: Despite the similarity in bottle style, Jensen points out that the Kirkland gin features botanicals not found in Bombay, including rose and cardamom. "It's a little more floral for something called a London Dry, but certainly juniper-forward and bone dry," he notes. It reminds him more of a Diageo product than something sourced from the Bacardi-owned Bombay—so something you might find from Tanqueray or Gordon's. "Diageo has a boatload of gin distilleries, so I can see them producing something like this there," he says.
He says this is an ideal spirit for any citrusy cocktail like a Tom Collins or a Bees Knees or a classic gin and tonic. In fact, this (and the vodka) are his favorite Kirkland spirits overall—especially because of its versatility in a number of gin cocktails. And considering this bottle is 1.75 liters, you'll be mixing it into cocktails for quite some time.
Lee Breslouer is a Thrillist contributor.