At Cracker Barrel, Thanksgiving Comes But Once A Week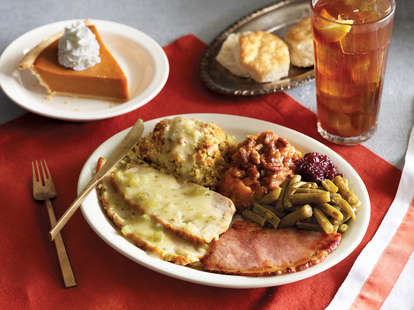 Courtesy of Cracker Barrel
I've always been a big fan of Thanksgiving. Family and friends, football, crisp weather that strikes a perfect balance between wading through a pool of your own sweat and feeling as if every bone in your body has been replaced by thin, jagged icicles. The occasional pumpkin beer that doesn't completely suck, a random Thursday off work, parades, the Geller Cup -- it's all great stuff. But Ross and Monica's freakish troll trophy aside, none of that stuff would even matter if it weren't for the real star of the show: the food.
We're talking stuffing, gravy, cranberry sauce, mashed potatoes, biscuits, green beans, yams, mac and cheese, pumpkin pie, apple pie -- I live for it. It's the best meal of the year. You know it, I know it, and you know who else knows it? Cracker Barrel Old Country Store. They love it so much they don't even wait until November to toast the turkey gods. Apparently any old schmo can order up the full spread -- a piping hot pile of turkey, gravy, cornbread dressing, cranberry sauce, two country vegetables, buttermilk biscuits and/or corn muffins -- every Thursday starting at 4pm.
You're telling me there's a place where Thanksgiving happens every single week of the year? What kind of culinary fantasy world is this? I obviously had to check it out.
To my dismay, I quickly discovered that my hometown, New York City, is -- surprise, surprise -- a Cracker Barrel deadzone (don't let the "Cracker Barrel Deli" in Staten Island fool you, you'll be very disappointed). No bother. Armed with a ZipCar, Google Maps, and a cleared Thursday night schedule, my fiance Emily and I set out for Mt. Arlington, New Jersey, a suburban enclave about an hour west of the city that neither of us knew existed until that very evening. Our ETA was 8pm, perhaps a bit late for the regular CB crowd, we guessed, so we called ahead to make sure they still had the special in stock.
"What did they say?" I asked as Emily hung up the phone.
"He said, 'Well yep, yes we sure do. But you better hurry!'" she said, adding that he sounded "very cheerful."
At about 8:15 we strolled in through the shop, made our way past the Christmas ornament displays and Rutgers paraphernalia, and were seated at a two-top smack dab in the center of the cavernous, knick knack-strewn dining room. To my right sat a mother and her high school-aged daughter, the latter zoned into her phone. A handful of other families sat behind us, most with teenage kids, a few smaller ones toddling around. A young couple were tucked into the corner and two 30-something guys in trucker hats and stained John Deere t-shirts shared an awkward meal near the far wall. To my left, a single middle-aged gentleman sipping a soda with a paperback in his hand. He looked to me like a regular and my assumption was immediately confirmed when the waitress came over to take his order.
"Hi Susan, yes, I'll do the special," he said, beating her to the punch. "Green beans and mashed potatoes, biscuits."
"OK," she said and smiled. "Thursday Turkey n' Dressing coming up."
The menu, honestly, is massive, and even though we clearly knew what we wanted, we were still sorting through "Country Vegetables" (AKA sides) when our server, a middle-aged woman with a warm, friendly face and blonde hair swept off her face into a high, loose bun, arrived. Her apron read Francine in embroidered lettering. I shot from the hip and got a seasonal Spiced Apple Tea because it seemed on-brand and because my pumpkin beer plans were thwarted by the fact that Cracker Barrel, it turns out, is as dry as a literal barrel of crackers. I guess you can't have it all.
By the time she dropped the drinks we had a game plan. Two turkey dinners: I'd get the mac and cheese, carrots, and biscuits, Emily would have the green beans, mashed potatoes, and cornbread. Francine approved.
"I love the carrots," she said in a thick outer borough accent. "They're soft and they're sweet. Yeah, you'll like them."
When asked if the Thursday special was a popular order, Francine answered with an emphatic yes.
"Oh yes, it's very popular. Very, very popular," she nodded. "I'm surprised we still have some left, tell you the truth. It's a great deal, too, comes with stuffing and then you get two sides on top of that."
"We can't wait," I said.
As Francine headed back to the kitchen, I noticed the mother and teen daughter duo next to us had started to dig into their meal: two Turkey n' Dressing specials. They were talking, laughing, and kid's phone was nowhere in sight. The solo diner to our left, still engrossed in his novel, had also started in on his gravy-smothered turkey.
Susan stopped by his table. "How's everything tasting, Gary?" He put down his book, looked up mid-chew, and gave her a silent two thumbs up.
Cracker Barrel service is known for being speedy but nothing about the experience feels like fast food. On the contrary, the vibe meant to be laid-back, comforting: all rocking chairs, sweet tea, and country-fied geniality like a Sunday afternoon fish fry. The place was covered floor-to-ceiling in antiques -- wooden washboards, straw brooms, tin signs advertising Dr. Pepper or some long gone soap brand. Two decorative shotguns hung above a massive stone fireplace crowned by a pair of black-and-white portraits of an elderly man and woman. It felt familial, like you were eating in someone's beloved multi-generational home (albeit one that happened to keep their cleaning tools affixed to the walls).
"He's a picker, got a big warehouse down in Tennessee. I think his parents were pickers. Everything's numbered," Francine said of Dan Evins, Cracker Barrel founder and the man behind the iconic decor. "I gotta be honest with you, though," she said with a slight giggle. "I've only been to one other Cracker Barrel ever. Can you believe it? I just know this because I saw a program on Channel 4."
Four unsuccessful attempts at beating that impossible peg board game with the golf tees later and dinner was served. The biscuits were fluffy and plump, melt-in-your-mouth without being greasy. The cornbread stuffing was perfectly textured, the small dab of tangy cranberry sauce refreshing and bright. Mac and cheese was creamy, salty and satisfying, the carrots indeed soft and sweet and the mash was whipped and airy. Gravy covered two slabs of white meat turkey and, while I'm usually dark meat ride-or-die, the breast was hearty and flavorful. We cleaned our plates. And then inquired about dessert.
"You don't have the pumpkin pie yet, right?" I asked.
"Nope, that's only for Thanksgiving," said Francine.
"You guys are open for Thanksgiving?" I asked, feeling like a turkey-stuffed moron. Of course they were open on Thanksgiving. Of all the nights to feature a Turkey n' Dressing special, the fourth Thursday of November seemed like a pretty crucial one.
"Is that really popular?" Emily chimed in.
"YES. Yes, yes. We do all the trimmings. You get a drink with it, and you get a piece of pie. It's a good deal," Francine explained. "Yeah, we're swamped. Lots of families, couples, and they love it, they just love it. And then it dies out at like 8 o'clock."
"I work it every year, except one year I got off because it was my birthday -- my birthday falls on Thanksgiving every seven years or something like that, November 27th," she continued. "That year, to my manager, he does the schedule, I'm like 'Listen, it's my birthday, I cannot work. I'm going to be so depressed and so cranky to the guests, you know? It's not going to be what they want.' And they gave me off," She chuckled. "But yeah, Thanksgiving, it's good, it's good here. When I'm working I just celebrate my Thanksgiving early because I don't come to work until 4 o'clock. I can watch the parade and do all that."
We settled on the peach cobbler, paid our bill (under $35 for an enormous dinner for two), and thanked Francine for her hospitality. On its website, Cracker barrel lists its mission as such: "Cracker Barrel provides a friendly home-away-from-home in our old country store and restaurant. Our guests are cared for like family while relaxing and enjoying real homestyle food and shopping that's surprisingly unique, genuinely fun and reminiscent of America's country heritage… all at a fair price." Nailed it.
OK, so maybe a random Thursday night in New Jersey doesn't exactly qualify as an all-out Thanksgiving holiday. But, and hear me out on this: It might just be even better. Instead of having to deal with the odd overindulgent uncle or make small talk with your second cousin's fifth husband's door-to-door knife salesman son or even maintain the lie that your famous apple pie came from your own two hands and not the Whole Foods by the train, you get to mosey on in any Thursday of the week at your leisure and be welcomed with a wide grin, syrupy glass of sweet tea, and a seat at the table. It's like the Disneyworld version of Thanksgiving -- it looks and feels like the real thing but exists in its own self-contained bubble. The holiday starts when you amble through that heavy swinging double door and ends the moment you step off that rocking chair-strewn front porch on the way to your ZipCar Subaru. It's magic, served with a side of soft and sweet carrots. And between the family vibes, lovable Francine, and that famous Thursday Turkey n' Dressing, we were left feeling pretty damn thankful. Also, just plain full.
Sign up here for our daily Thrillist email and subscribe here for our YouTube channel to get your fix of the best in food/drink/fun.