I Went to Cracker Barrel and Found the Chicken-Fried Heart of America
Tim Boyle / Getty Images
Tim Boyle / Getty Images
Cracker Barrel might be America's favorite Southern restaurant that's also conveniently located on the side of a highway in 42 states. Even though there are 630 locations across the US, to many people, eating at a Cracker Barrel feels like home. But what is it about the restaurant that people love so much? How did a place known for biscuits and golf tee-based mind teasers become a $3 billion company?
I hadn't been to a Cracker Barrel in 20 years, so I decided to stop by one in North Glenn, CO to find out what all the fuss is about. And I brought along my Southern girlfriend to act as a spirit guide. I was fixin' to get to the bottom of why America loves Cracker Barrel so gosh dang much.
Waiting to be seated is essential to the experience
A line of empty rocking chairs sits undisturbed on the patio of the North Glenn Cracker Barrel off of I-25. I can see mountains from the patio, and yet I'm still half-waiting for a Southern grandma to materialize and offer me sweet tea. But it doesn't matter if the parking lot overlooks a mountain range or a desert, a serene coastline or the plains, a truck stop or a Great Lake: every Cracker Barrel is a carbon copy of the next one, stretching into infinity. A few of the chairs even have "Colorado" written on them, but it's not fooling my Arkansan girlfriend Gina. "These rocking chairs say Colorado, but they mean rural Tennessee," she says.
She's right on two counts. The first Cracker Barrel opened in Lebanon, TN in 1969. By 1992, the company was publicly traded on the NASDAQ and worth a billion. And the chairs? A company in Springfield, TN makes 200,000 a year solely for Cracker Barrel.
It's 7:30am on a Sunday, and the parking lot is half full. There's no need to wait for a table at this hour, which Gina says is unusual. "You have to wait at Cracker Barrel for one to two hours sometimes," she says. "And sometimes just stare at the parking lot." Or play checkers. We haven't even made it to the gift shop yet. There's never a lack of things to do while waiting.
You can seemingly airlift a Cracker Barrel and drop it anywhere in America, and it'll be successful. But why? We walk inside to find out.
The Cracker Barrel Old Country Store can never be uncool
Owning a Hard Rock Cafe shirt in the '90s was the definition of cool. Wearing it was shorthand for, "Yeah, my stepdad took me to the Hard Rock in Phoenix, so I'm rad." But what was once cool can become uncool. Nowadays, when you wear a Hard Rock shirt, people figure you're about to go into a long-winded speech about how Foghat is way better than this new bullshit on the radio. Not cool.
Yet there was never anything cool about the Cracker Barrel Old Country Store, so it can never go out of style. It can just be what it is: a place for your least-favorite aunt to buy you a Christmas present you'll inevitably regift.
Cool or not, if you're 14 years old and on a road trip, you'll think you died and went to candy heaven. I can feel the presence of the ghosts of thousands of moms promising their kids candy only if they swear to be good. There are Pez dispensers, 20+ flavors of candy "stix," including rum & butter (which seems highly inappropriate considering its target audience), and bottles of Cheerwine.
There are also plenty of items for your religious grandma to treasure. Well, not mine, as they were Jewish, and the Scripture Tea and gospel music CDs lean decidedly Christian. But it rings true for Gina. We look at a huge rack of compact discs. In a store. In 2016. She picks up a CD.
"Little Jimmy Dickens!" she exclaims. "This is my grandmother's favorite artist."
"This CD looks like something that was made for a Mr. Show sketch," I reply.
Turns out that Little Jimmy Dickens (RIP) sang humorous novelty songs. He was the Mr. Show of his time!
I spy a guy in an Affliction T-shirt looking at camo hats; Cracker Barrel-branded food (sweet tea, apple butter) and cast-iron pans pack the well-lit space elsewhere. All this stuff is part of CB's secret sauce. The restaurant differentiates itself from every other roadside spot by offering a distraction from the family you've been cooped up in a Ford Taurus with for the last 12 hours. Even an Illustrated Bible Verses book is a breath of fresh air.
And then I see something that makes me do a double take -- are those Charles in Charge DVDs? Only inside a Cracker Barrel are the adventures of Scott Baio and Willie Aames still relevant and bankable.
America's dining hall
The hostess walks us into a wood furniture-filled space decorated with faux-rustic tchotchkes -- who in the Sam Hill is hanging a washboard on a wall? And a real, actual roaring fire. I later see an employee tending to it. It somehow feels homey. I ask who visits this location, and she says it's a mix of "travelers off the highway, especially in the summer," but plenty of regulars too.
I see grandparents, couples, and kids running around the dining room. A girthy man with a T-shirt that identifies him as a biker eats alone, multiple plates spread out in front of him like he's the King of Highway Restaurants. All the employees so far seem... happy? But not in a forced way. The place feels alive and homey (there's that word again) in a way that most chain restaurants don't.
Olive Garden's vibe doesn't quite mimic the experience of eating in a restaurant in Tuscany. But this Cracker Barrel could fool me into thinking I'm in Kentucky.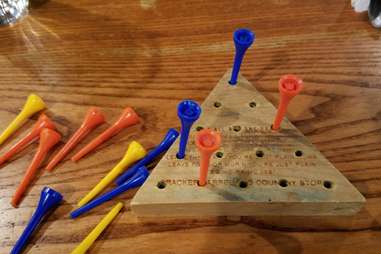 We sit at our table and I immediately suck hard at that golf-tee pin game (which is easily solvable, if you know the trick). Playing this game is like playing checkers with yourself, which is a solid euphemism for pretty much whatever you want.
There's a trick to beating it, but I don't know it, so I leave four pins, which according to the writing on the game, makes me an "eg-no-ra-moose." Gina gets three. We're two dummies who deserve each other. But I admit it's pretty fun, and for another moment I forget I'm in a restaurant.
That Cracker Barrel magic strikes again!
The food is Southern-fried Denny's, but better
I order a coffee and the Sunrise Sampler, which comes with two eggs, grits, buttermilk biscuits + gravy, apple butter (on request only), fried apples, hashbrown casserole, smoked sausage, country ham, and thick-sliced bacon. All that food is only $8.19. Incredible.
Anyone stopping by later in the day can order the same huge, Southern-style portions at low prices: chicken-fried chicken with gravy, and sides like mac & cheese and green beans. Hamburger steaks (?!). Chicken and dumplings. Sugar-cured ham. And don't forget those biscuits.
As we wait for our king's feast-sized breakfasts, Gina tells me that she would go to Cracker Barrel after church on Sundays in Conway, AR, "because that's what you did." Right off the I-40 highway, her family would routinely wait an hour to eat Southern comfort food from a chain restaurant. But they're in the South! Surely there was a less chain-y place to eat better comfort food, right? Surely! But that's just what you did.
The food arrives quickly. The coffee tastes like it's from one of our nation's finest gas-station shops, the eggs are fine, and the sausage exists. I'm disappointed. But then I eat a biscuit. And then I spread the apple butter on the biscuit. I take a forkful of piping-hot fried apples.
And then I get it. You can't get this at Denny's. I shove the fried apples into my mouth one after another, and then I polish off two biscuits with apple butter like it's nothing even though I'm not that hungry. If I needed to drive for five hours after this, there'd be enough food on the table to sustain me. All for $8!
If it ain't broke...
If I had to guess why Cracker Barrel remains a hugely popular, profitable enterprise without changing in seemingly forever, while TGI Friday's and Chili's constantly rebrand their menus and decor, it'd be because CB offers cheap, plentiful comfort food in a convenient location, along with numerous entertainment possibilities. CB will give you something to talk about with whomever you go there with -- especially if you want to talk about Statler Brothers CDs and Pioneer Woman cookbooks. And the people dining there do, like the many white-haired ladies being dropped off in front of the restaurant, waiting patiently while their equally white-haired husbands park the car.
Seconds after I pulled out of my parking spot, I was cut off by a guy in a Ford F-350 Super Duty. It felt like the most American thing, to be cut off in a Cracker Barrel parking lot by a Ford truck. I couldn't even be mad -- it just felt right. And that's why Cracker Barrel endures after all these years -- in a fast-moving, globalized world dominated by technology, there's still a place you can go to get Southern comfort food after church. It's got the same menu you remember from when you were a kid, the same games, and the same candy. It just feels right.
Sign up here for our daily Thrillist email, and get your fix of the best in food/drink/fun.
Lee Breslouer is a senior writer for Thrillist, and is now a fan of Cracker Barrel. Follow him to homemade biscuits: @LeeBreslouer.