9 ridiculously great uses of brisket
In some parts of Texas, putting anything other than salt and pepper on a brisket is considered blasphemy. But to the dismay of more traditional pitmasters (and Spinderella) there's a whole host of folks around the country (and Canada!) who're using brisket to nefariously awesome ends. Here are nine of them, from cider and bourbon to donuts and ice cream.
Khushbu Shah
Brisket mac and cheese sandwich
Meltkraft (address and info)
Philadelphia, PA and Brooklyn, NY
The brisket: Rubbed with paprika, cumin, coriander, salt, and pepper, then braised Passover-style in beef stock with a ton of veggies
The grilled cheese scientists at Meltkraft load their five-hour-braised brisket onto artisan country bread, then layer it with one-year cloth-bound cheddar and a scoop of mac and cheese, just in case you were craving more dairy and carbs.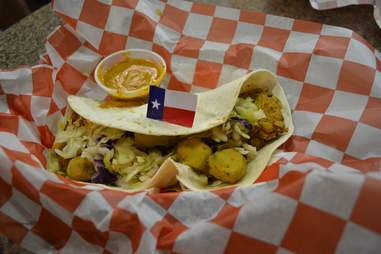 David Maez
Deep-fried brisket taco
State Fair of Texas (address and info)
Dallas, TX
The brisket: Hickory smoked, deep-fried, and taco-ified
The Texas State Fair is home to everything from fried Thanksgiving dinner to fried grilled cheese, so it was only a matter of time until they battered Central Texas's greatest export. First, the brisket is lathered up in chili-cheese Fritos, then it takes a quick bath in the fryer before being topped with verde sauce, melted cheese, slaw, corn, and fried okra.
Brisket donut
Glazed (address and info)
Houston, TX
The brisket: Origin unknown
Houston's mad donut-makers are eagerly awaiting the Houston Rodeo in March to unveil this slow-smoked monstrosity. The source of their meat has yet to be disclosed, but what we do know is that it's doused in sauce and caramelized onions, then rested atop a soft donut glazed in honey butter. So we kind of know a lot.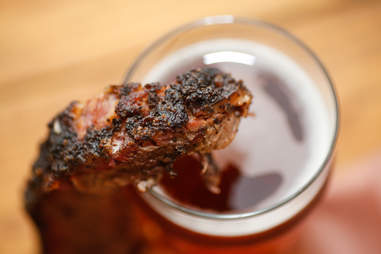 Dan Gentile
Brisket cider
Eastciders (address and info)
Austin, TX
The brisket: Burnt ends from Micklethwait Craft Meats
Old-school British cider-makers would often use meat to kickstart the fermentation process, so the UK expat behind Eastciders choose to go back to his roots, Texas-style, by feeding the yeast pounds of burnt ends. The resulting batch was intended to be a one-off Halloween offering, but was so tasty that they'll be making another round to bottle.
 
Brisket ice cream
Firefly (address and info)
Washington, DC
The brisket: Brined for seven days, then smoked
This off-menu special has sadly been retired, but for a limited time Firefly was dripping brisket fat into the base of their homemade ice cream, then finishing it in true Texas fashion with salt and pepper. This is our official plea to bring it back.
Rachel Freeman
Brisket candle
4 Rivers Smokehouse (address and info)
Winter Park, FL
The brisket: Wax
Thanks to the Texas-obsessed 'Qers at 4 Rivers your house can now smell like the pits... in a good way. Despite the beef base and the warnings not to eat it, our taste-tester reported that the candle actually tastes more like pork. God rest her soul.
Smoked brisket poutine
Sarcoa (address and info)
Ontario, Canada
The brisket: Smoked for 16 hours
Waterfront views of Lake Ontario are great and all (considering it's a Great Lake), but they're much better when washed down with a pile of cheese curds, fries, and brisket soaked with jus.
JW Walthall
Brisket piñata
Dallas, TX
The brisket: 7lbs, hopefully of very low quality
Celebrating Mexico, Texas, and the Final Four, Conan stuffed a donkey piñata full of what we can only hope was not very good brisket, then shot it via a catapult reportedly borrowed from Mark Cuban's bedroom into a basketball hoop, proving that although white men might not be able to jump, they do know how to operate heavy machinery.
Dan Gentile is a staff writer on Thrillist's National Food and Drink team. He pledges allegiance to the brisket, of the United States of Texas. Follow him to a pound of moist meat at @Dannosphere.