The Summer heat rages on, and when you sweat, you lose valuable water electrolytes body weight. The only way to beat the heat is to pack on the pounds, which is why we present this week's most glorious food creations from the wide-world of Thrillist, complete with calorie counts. This week was a tight race, but tread carefully: the big boys at the bottom of this list are well over 1,000 calories:
Recommended Video
Tuna Eyeball with Timothy DeLaGhetto and Ben Sinclair
6. Homemade Twinkies (!?)
The Buttered Tin, St. Paul
Approximate Calorie Count: 175 each. But, like, you'll be wanting more than just one...
Twinkies are back, which is fattening wonderful news in and of itself, but to celebrate, The Buttered Tin is making their own versions of Hostess Twinkies (the "Lowertown Twin-Key") and CupCakes (the "TBT Ho"). For the Twin-Key, they bake super-spongey cake batter in Twinkie-brand baking sheets, then stuff them with three little squeezes of a heavy cream/sugar whipped cream. Healthier than the Twinkie? Jury's still out. But they sure do look like the little suckers!
Watch the whole process of how they're made (and the CupCakes!), right here
5. Breaded, Deep-Fried Bacon
Tavern at the Beach, San Diego
Approximate Calorie Count: 655. Considering it's deep-fried bacon... not too bad!
Applewood-smoked slices of bacon that are double-battered, deep-fried, and served on a wooden plank with Jack honey mustard sauce for dipping. This is progress, people.
You've gotta see what exactly a "Keg in a Blanket" is...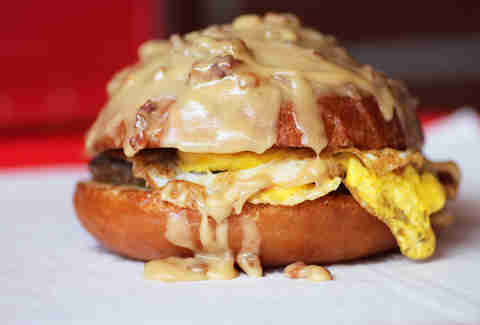 4. The Bronut
Griddler's Burgers & Dogs, Boston
Approximate Calorie Count: 816 (1,196 with fries!). Because why not start your day off with half of your daily recommended calorie intake?
You've heard about the Cronut. Hell, you're probably bored of it by now. But you'll never get sick of this baby, designed for the bro inside of us all: a toasted hole-free donut (more for you!) loaded up with a 1/4lb Angus patty and a fried egg, then dunked in warm maple-bacon glaze, then sided with chipotle-drizzled sweet potato fries. Plus, it has nothing to with your frat brother's hernia problem. Phew!
It's hard not to drool when you watch this thing being made, bro
3. The John Belu-Cheese Burger
The Escondite, Los Angeles
Approximate Calorie Count: 939. The Pringles really give it that extra bump.
Served only on Tuesdays, and helping you cultivate a belly like only its late, great namesake could, this beauty's a massive burg stuffed with bleu cheese, then deep-fried, doused in Buffalo sauce, and topped with Pringles "for crunch." And now we finally know what god was doing on that seventh day when he told us he was just "resting."
This place has some of the craziest burgers OF ALL TIME, and we've got pictures of seven other ones, right here
2. 25-Topping, $7 Pizza
SoulFire Pizza, Frisco (TX)
Approximate Calorie Count: 1,160. But look at all those veggies!.
This place is a counter-service pizza joint that will add on whatever toppings you like for about seven bucks. We really had no choice but to load it up with all 25 toppings that they had on offer, including pepperoni, Canadian bacon, beef, Italian sausage, pork sausage, bacon bits, and chicken. And those are just the meats.
This thing barely even fit in the oven...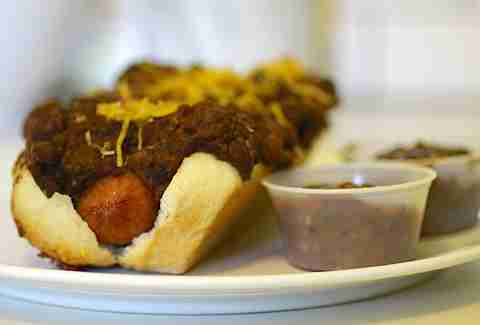 1. Brisket Chili Cheese Dog
Castle Cauldron, Portland
Approximate Calorie Count: 1,330 Yeah, that's a lot of brisket chili...
A monster dog, piled high (and wide!) with their brisket chili, then sprinkled with cheese and served with salsa. This thing practically has its own zip code. You'll need to start a weight-lifting regime right away to clear your arteries in anticipation actually be able to lift it.
Seriously, click here for a picture of this thing that shows its true scale...