The prodigal son returns, and by "prodigal son" we mean "Fat Kid Fridays"... and by "returns", we mean "flies back in your face with an incredibly generous assortment of crazy foods that will both shock and amaze you". Now, this week, we've got some seriously superlative eats, some of which are so titanic that we recommend having a spotter on hand as you scroll through them. Get ready for a cake made of grilled cheese, a pizza made of Thanksgiving, and a sandwich made of pure deliciousness (and other stuff).
Here's to Fat Kid Fridays.
Recommended Video
Get 5 Katsu Sandwiches in One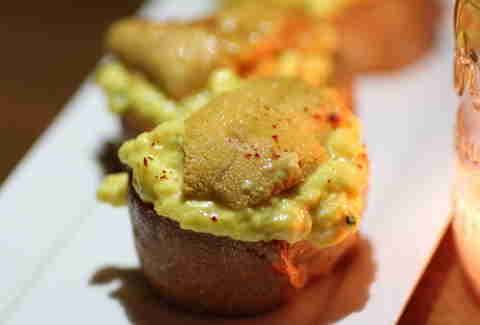 6. Toast with Uni & Egg
Republique, Los Angeles
Approximate Calorie Count: 663
You know how, most Saturday mornings, you'll have a slice of toast and some scrambled eggs and it's pretty awesome? Well, some dude in LA decided to take that idea and turn things up, like, 10 notches by adding some uni (sea urchin) into the mix, sliding it on top of buttery sourdough bread and pepper-accented soft-scrambled eggs. Might not work as well with that stack of pancakes, but we won't fault you if you try.
You've gotta check out their charcuterie board, too -- it's got duck liver mousse!
5. Shake 'n Bacon Brew
Texas Motor Speedway, Fort Worth, TX
Approximate Calorie Count: 898
With all the rhyming you'd expect from a cauldron of whatever those witches in Hocus Pocus were making, the Shake 'n Bacon Brew is probably even more enchanting than your wildest dreams -- and it won't steal your soul... only your heart. It's made by combining 6oz of Ugly Pug Black Lager, a big ol' scoop of vanilla ice cream, bacon-infused maple syrup, candied bacon bits, and a veritable mountain of whipped cream, and's topped off with EVEN MORE BACON BITS. The eye of newt didn't make it through R&D.
Check out the step-by-step process of making this magic elixir, right here...
4. Cannibal Dogs 2.0, "Tiger Style"
Gotham West Market, New York
Approximate Calorie Count: 984 for two dogs
No, these are not robotic canine-eating canines that've recently been upgraded to look like tigers... as the name would suggest. They're actually awesome hot dogs topped with spicy tripe chili, hot Chinese mustard, scallions, and cilantro. But we understand your confusion.
You can get them and many more greats -- like Ivan Ramen -- at Gotham City Market...
3. The Beast of Midtown East
The Pullman Kitchen, New York
Approximate Calorie Count: 1988
This behemoth bills itself as a "grilled cheese", but it's so much more. Two slices of rye are topped with muenster and cheddar, two waffles are topped with pepper jack, and they're all collectively layered with slices of thick-cut bacon & kale, Brooklyn Cured ham, tomatoes, spicy pickled peppers, and a piece of fried chicken.
See all the ingredients that go into the Beast, right past this link...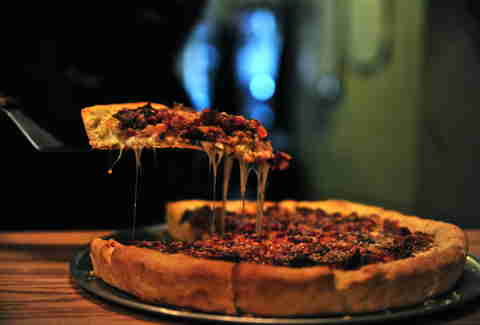 2. The Pilgrim Pie
Denver Deep Dish, Denver
Approximate Calorie Count: 2655
DON'T THROW AWAY THOSE THANKSGIVING LEFTOVERS! Actually, you probably already did, because it's December 13th and they'd be totally gross now. Well, give the Pilgrim Pie a go anyway, maybe? This sucker's made of a cornmeal pizza crust topped with mozzarella and smoked turkey, which're then buried beneath house-made corn souffle, sausage stuffing, and cranberry corn relish before being dusted with Parmesan and baked to perfection.
A lot of love goes into this guy. And a lot of other stuff, too. Check it out here...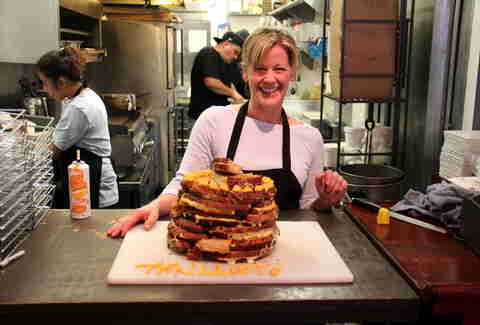 1. The Grilled Cheese Cake
The American Grilled Cheese Kitchen, San Francisco
Approximate Calorie Count: 18901
When Marie Antoinette famously said, "Let them eat cake," she probably meant this awesomely gargantuan grilled cheese cake from SF, because there'd definitely be enough to feed the entire country through its Revolution. This incredible tower of dairy power is composed of roughly 30 grilled cheese sandwiches (havarti, cheddar, and jack on sourdough) that're being held together with Cheez Whiz. And they're totally willing to add jalapeños or bacon into the mix too. Get it for your next Bastille Day party!
You know you wanna see it being built...
Adam Lapetina is a food/drink staff writer at Thrillist, and wholeheartedly believes that the best things in life are fried. Read his musings on Twitter at @adamlapetina.