With 2013 drawing to a close, and New Year's resolutions surely looming, we thought we'd help you defy the specter of salad one last time by providing you with some choice eats courtesy of Fat Kid Fridays. This week's edition contains two varieties of fried chicken, one variety of fried ham, and a totally-not-half-baked variety of fried BEER. Oh yeah, and it's on a burger. With this we wound you, salad specter!
Recommended Video
Is This $2k Gold Pizza Worth It?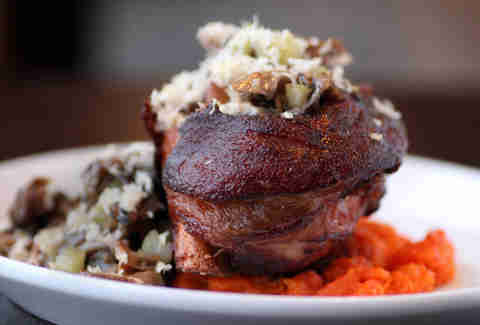 4. Deep-Fried Ham Hock
The Radler, Chicago
Approximate Calorie Count: 703
When a ham dish is made by a dude who's won BaconFest awards twice, you drop your Sriracha-Bacon Lollipop and listen up. This particular beauty is made with, well, a deep-fried ham hock cooked to a perfect level of smokiness, and sided with horseradish, carrot mash, roasted mushrooms, and pickled celery.
Check out the rest of their Teutonic eats right here...
3. Ramen Wings
Hot Sauce and Panko, Los Angeles
Approximate Calorie Count: 806
That's using your (Japanese) noodle (-based dish)! The LA-based heat-slingers at Hot Sauce and Panko have moved into the weird wing game with these ramen noodle-covered fried chicken wings that're served with a chili pour-on sauce, the directions for which are in the name! Talk about convenience!
They've also got a bacon & egg waffle taco, and some bacon jam. Yup.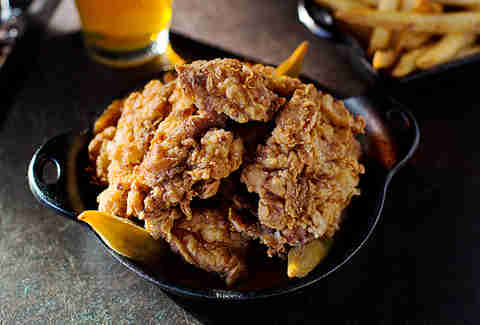 2. Smokey Fried Chicken
Plan Check Kitchen + Bar, Los Angeles
Approximate Calorie Count: 931
Because no Fat Kid Friday would be complete without two instances of fried chicken, here's the other instance of fried chicken. This time, the chicken's smoked before being crisped up and plated with smoked milk gravy, yam preserves, and spicy pickled okra. What? We've got a self-imposed imaginary quota to uphold! Also we love fried chicken.
You've gotta see this place's cocktails to believe them...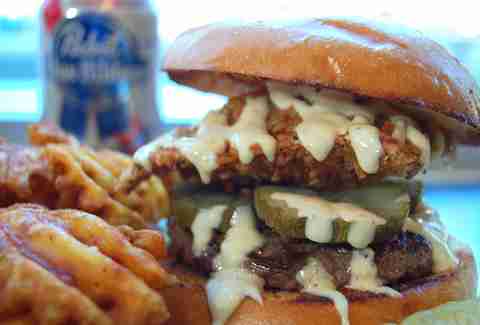 1. The Beerger
PYT, Philadelphia
Approximate Calorie Count: 1288
You know how you usually have a beer with your burger? Well, in the very American interests of convenience and frying stuff, burger innovator PYT in Philadelphia has taken some frozen PBR and STUFFED IT INTO A WONTON RAVIOLI with cheddar cheese, rolled it in garlic, onion, and sesame pretzel crisps, and then stuck that thing on a toasted, buttered bun with a burger. And then drizzled it with mustard-dill aioli. Progress!
We've got the scoop on how it gets made, complete with a photo guide...
Adam Lapetina is a food/drink staff writer at Thrillist, and was totally the person who introduced Pizza to Bagels back in the day. Read his musings on Twitter at @adamlapetina.