You could've taken on one of those New Year's resolutions, but, in a year when Japan already made a grilled chicken burger covered in chocolate sauce, Mountain Dew Cheetos, and Shrimp Mayo Doritos, why would you bother doing that?! 'Merica's gotta keep up.
Fat Kid Fridays return in full force for 2014, and if a burger smothered in pizza-toppings and a mac & cheese brisket sandwich are glimpses into our future, it's going to be the best year ever. At least for your tailor's profits.
Recommended Video
The Best Cheap Wrap in Washington, DC
5. Maple Bacon Doughnut
Voodoo Doughnut, Denver
Approximate calorie count: 897
The gloriously crisp, marbled bacon is, by far, the healthiest part of this maple-glazed doughnut log. 
The other doughnuts are even crazier...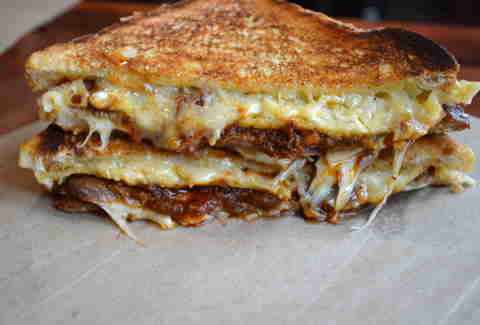 4. The Valley Thunder
Melt Kraft, Brooklyn
Approximate calorie count: 1,065
We would've been content with a brisket/grilled cheese sandwich, but the added heap of creamy, melting mac & cheese really takes the grilled cheese game to another level.  
We have more grilled cheese goodness where that came from...
3. Chicken and Waffles
Roscoe's, Los Angeles
Approximate calorie count: 1,353
You know how sometimes you eat a bucket of fried chicken and think that might've been a bit too much? It's not, because you could eat half a deep-fried bird that's paired with a buttermilk waffle, a shot of syrup, and an ice cream-scoop-sized glob of butter. 
The other most iconic American foods aren't bad either...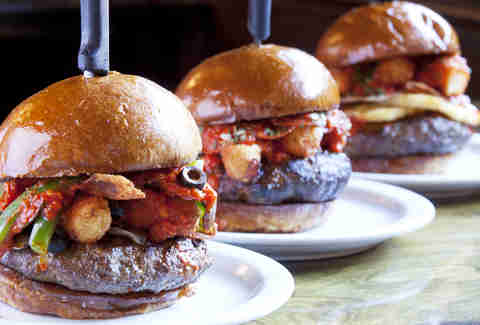 2. The Pizza Burger
Slater's 50/50, Southern California
Approximate calorie count: 1,453
With a hefty half-bacon/half-beef patty, the SoCal chain's basic burger is far from a slender thing, but then they went and threw fried mozzarella sticks, Italian sausage, and roasted marinara sauce between a garlic/Parmesan brioche bun. It's bacon-pizza-burger overload... if that existed. 
The burger special is very limited...
1. Cheddar Cheese, Sausage & Biscuit Dip
Chef Jet Tila, The Charleston
Approximate calorie count: 5,815
It's not like you're going to eat all the dip (because there's so much else on the table, you have to spread out your fattening over a few thousand calories of other things). But you could. And since this is basically a dip-able version of your favorite hangover breakfast food, you should. 
We've got a step-by-step guide to making this and other Super Bowl snacks here... 
Liz Childers is a food/drink editorial assistant at Thrillist. She prefers her vegetables with bacon fat, her chicken fried, and her ramen with a bowl of extra chili paste. Follow her @lizchilders1.