For you, eating is not a science; it is an art. Gluttony is not a vice; it is a virtue. Calories are not meant to be nervously counted; they are meant to be proudly celebrated. YOU are the reason for Fat Kid Fridays. And this week, we've got a doozy for you. The calorie competition was the tightest race we've had yet:
Recommended Video
Tuna Eyeball with Timothy DeLaGhetto and Ben Sinclair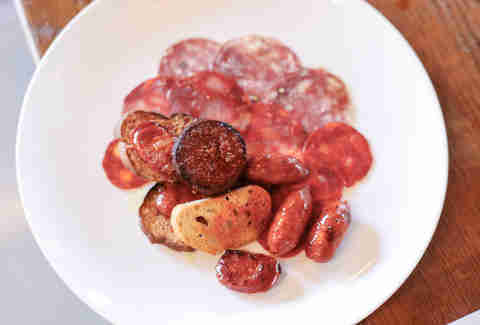 6. Chorizo Four Ways
Barlata Tapas Bar, Austin
Approximate Calorie Count: 409. But only if you eat ALL of that bread.
You know when those times you're presented with a fancy shmancy antipasto spread, but all you really wanna do is push all the froo-froo veggies to the side and get to the chorizo? Barlata does the work for you, giving you exactly what you want, and nothing that you don't. Four different kinds of chorizo, and the teensiest bit of bread. That ratio seems about right.
Octopus in adobo sauce is just a click away...
5. Pop-Tart Ice Cream Sandwich
Carl's Junior Locations Everywhere
Approximate Calorie Count: 480. No. 5 on the list?? It's practically good for you!
This might be the simplest idea of all time. It might also be the greatest idea of all time. Chop a Pop-Tart in half, throw a scoop of French-style vanilla ice cream in between the halves, and cry in the corner of the room as you regret that you weren't the one to come up with this idea enjoy. Fruit filling, sweet melty ice cream, flaky pastry crust; this thing has it all.
But how do you take the perfect bite? We'll tell ya, right through here...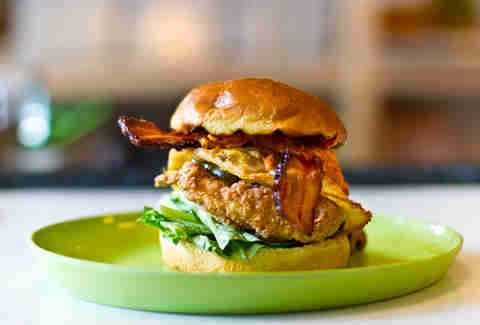 4. Fried Chicken Sandwich
Chick-a-Biddy, Atlanta
Approximate Calorie Count: 658. But look at all that lettuce!
Fried all-natural pastured poultry topped with bread & butter pickles, pimento cheese, bacon, and a fried egg is laid down on a bed of lettuce and then plopped into a grilled bun. That's the easy part. The hard part? Fitting this behemoth into your mouth. Don't you dare reach for that knife and fork...
Check out some of the sexiest wings you ever did see, right this way
3. Alligator Po' Boy
Nola Grill, Frisco (TX)
Approximate Calorie Count: 877 (1,093 with fries). And it tastes like chicken!
Don't be fooled: those are NOT shrimp. Shrimp won't bite ya like one of these guys will... At Nola Grill they load up an enormous French bread roll with lettuce and mayo, then toss in a man-sized portion of deep-fried alligator, then side it with fries and dipping sauces and stick a toothpick in it. Just make sure you bite it before it bites you...
This place has FOUR OTHER KINDS OF PO' BOY?!?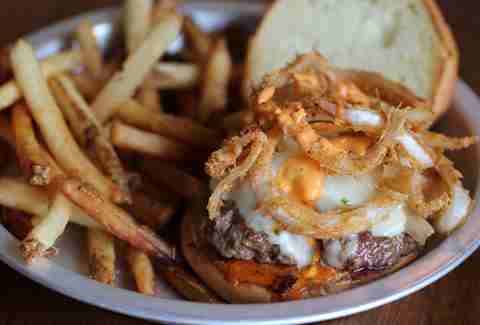 2. The Cranker
Town Hall Lanes, Minneapolis
Approximate Calorie Count: 910 (1,136 with fries). It may cause you to roll down the lane, yourself.
Start with an already-massive burger, top it with jalapeno, potato (!), deep-fried onions, horse jack cheese, and Sriracha cream, then side it with fries, and what do you get? You get fat. In a good way. And also in a hurry. Good thing this place is also a bowling alley, so you can "work off those calories" (ha! Bowling!).
And what does their "bacon-crusted" burger look like?
1. Porky Cake Batter Ice Cream Sundae
Harman's Eat + Drink, Denver
Approximate Calorie Count: 922. 50% of your recommended daily calorie intake just on dessert? Yes, please!
Oh, this? Just a bowl of cake batter ice cream topped with caramelized pork belly bites (look at the size of those things!) and chicharrones tossed in cinnamon and sugar, then doused with bacon-caramel sauce.
They also have Thai fried chicken and truffled pork rinds...