Fat Kid Fridays, August 2nd Edition: This week's most ridiculous eats, ranked by calorie content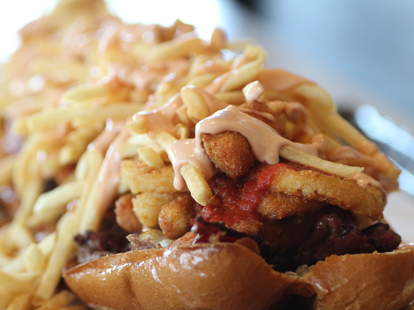 Fat Kid Fridays is back with another you-sized helping of ridiculous eats. This week? Well, let's just say that it's not every day that you have a footlong dog stuffed into an entire baguette and a chicken Parm the size of a large pizza, and neither of them takes home the crown. We've had a lot of gluttonous winners recently, but nothing even comes close to this week's winner, a beast that broke our previous record calorie count by OVER TEN THOUSAND CALORIES. What. Is. This. Thing?!?!? Read on to find out: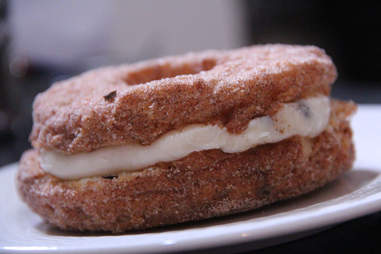 6. The Do-Cro
Potito's Bakery, Philadelphia
Approximate Calorie Count: 481. Because breakfast is better deep-fried.
The Cronut is a pretty crazy idea in itself, right? What if you take a deep-fried cinnamon croissant, cut it in half, and then slather it with classic chocolate chip ricotta cannoli filling, then top it with even more shaved chocolate and cinnamon sugar? That is downright revolutionary (#PhiladelphiaJokes).
And these aren't the only Cronut imposters Philly's cranking out...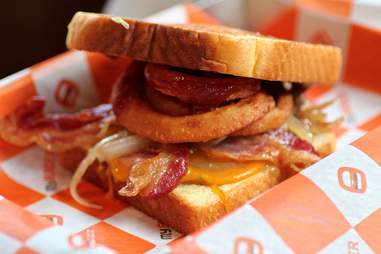 Drew Wood
5. Texas Toast Bacon Cheeseburger
My Burger, Minneapolis
Approximate Calorie Count: 722. Everything's fatter bigger in Texas!
This isn't technically on their menu, but when we begged My Burger to put an Original Single between two slices of their buttery Texas toast, they obliged, because it sounded awesome, and then we added bacon, cheddar, and a side of onion rings (WITHIN the toast), before finally dousing it with BBQ sauce. And it was beautiful.
This was only #4 on our ranking of their top eight burgers. Check out the other seven...
Aaron Miller
4. Overflowing Dessert Skillet
Boxwood T+G, Dallas
Approximate Calorie Count: 774. Bring a bib. Or several.
Start with a cast iron skillet, fill it with cookies, add ice cream, load it all up with as much whipped cream as gravity will allow, sprinkle it with crumbled Heath bars, and drizzle it with chocolate/caramel sauce. Good luck trying to squeeze this in as "dessert"; this baby's a full meal.
You've gotta see their bone-in pork chop...
Dave Baldwin
3. This Is Exactly What It Looks Like...
Formaggio Kitchen, Boston
Approximate Calorie Count: 1,116. Fits like a glove.
Possibly the simplest, most ingenious creation ever to grace Fat Kid Fridays, this sucker's just a half-pound, foot-long hot dog jammed into a baguette that's been lubricated with BBQ sauce and caramelized onions. Good luck wiping THAT image out of your mind... Trust us, it tastes much better going down than it felt going in.
Heaping pile of BBQ'd chicken? Heaping pile of BBQ'd chicken.
2. Chicken Parm the Size of a Pizza
Quality Italian, New York
Approximate Calorie Count: 1,962. So it's one day's worth of awesome.
It may be the size of a pizza. It may be served on a pizza tray atop a pizza rack and sliced with a pizza cutter at your table. It may have more Parmesan and tomato sauce than any pizza you've ever had. But this fella is not, in fact a pizza; it's just the largest chicken Parm you have ever seen, a 14in behemoth that is meant for two. But they've never seen anyone finish it AND LIVE! alone. Up for a challenge??
Even if you fail to conquer it, you can drink away your sorrow with their graffiti'd cocktails
1. The Big Fat Fatty Sandwich
Fat Sal's, Los Angeles
Approximate Calorie Count: 14,281. Roughly equivalent to a week's worth of sustenance for the average grown-ass man.
When you come across a sandwich that costs $50 and weighs in at 9lbs, you've just gotta cut to the chase and list ingredients. 27in of French bread slathered with butter. Five cheeseburgers. An entire package of bacon. Five fried eggs. 1.5lb of steak. 6oz of cheddar. 1.5lb of pastrami. 6oz of mozzarella. 10 chicken fingers. One order of mozzarella sticks. One order of onion rings. A bowl of homemade chili. Several ladles of marinara sauce. One order of jalapeno poppers. One basket of French fries. One cup of garlic aioli. [APPLAUSE.]
You might want to have your cardiologist on call while you watch it being made, step by step