We all know someone who is a complete and total idiot dieting, like a complete and total idiot. But we at Thrillist know that food is meant to be enjoyed. And you can't enjoy food when it's blanched kale over a bed of quinoa. Blanched kale over a bed of quinoa with bacon, however? Getting warmer. Getting you the warmest: this list of the week's craziest foods, which includes quite possibly the tallest burger we've ever come across, plus an eating challenge that includes salad. Hey, maybe kale and quinoa do have a place in Fat Kid Friday after all. (In the shadow of a 4,000 calorie sandwich...)
Recommended Video
Thrillist's Best (and the Rest): The Truth Behind the Saddest Cookbook Ever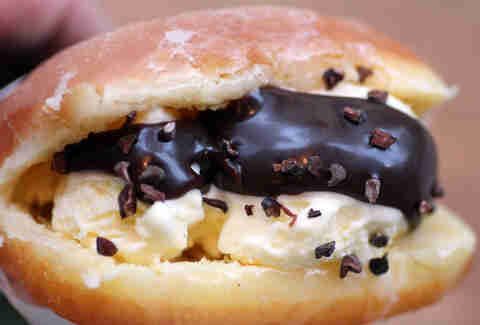 6. Donut Ice Cream Sandwich
Firecakes Donuts, Chicago
Approximate Calorie Count: 546. So you're saying it's healthier than a bacon, egg & cheese??
Breakfast sandwiches don't have to be savory. Proving this fact: the Donut Ice Cream Sandwich. It starts off with a raised, honey-glazed donut that's cut into halves and then stuffed with chocolate espresso or vanilla bean ice gelato before being doused with chocolate & caramel sauce and finally sprinkled with cocoa nibs. They even serve it in a coffee sleeve so you can eat it without getting glaze all over your fingers. You may call it "dessert", but we call it "a balanced breakfast".
Maple-glazed pineapple and bacon donuts, plus cider-glazed apple fritters, right this way...
5. Deep-Fried Gator Bites
Box Park, Miami
Approximate Calorie Count: 577. Tastes like chicken, if your chicken is 16ft long and could eat you.
These lil' gators are Steve Irwin's godkids and legacy marinated in hot sauce and buttermilk before being breaded, deep-fried, and served with a spicy Datil pepper sauce that practically demands to be sexily drizzled over them. Because you may not be able to wrestle a gator into submission, but you sure can subdue one when it's deliciously deep-fried on a plate in front of you.
Cured meats and pate and terrine, OH MY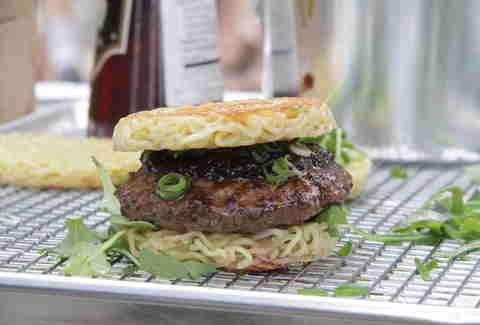 4. The Ramen Burger
Smorgasburg, Brooklyn
Approximate Calorie Count: 673. But good luck making this in a dorm room...
Looks pretty simple, right? A juicy burger topped with a sweet marmalade-like sauce and scallions, laid on a little bed of arugula before being wedged between two perfectly normal bu-- OH MY GOD, THOSE ARE RAMEN PATTIES. This baby just debuted in NYC, and it changes everything, combining a great American symbol of freedom (the burger) with a stolen great American symbol of being a cheap/lazy bum (ramen noodles). But don't try this at home, folks. These aren't just any noodles: they have to go through a special treatment that makes them bunnable.
But who got the very first one?!?
3. The Southern Pie
Slice & Pint, Atlanta
Approximate Calorie Count: 769. But only if you eat it all by yourself. (You're eating it all by yourself.)
This place brews their own beer, but the revolutionary thing is that they use some of the yeast from said beer to make their ridiculously tasty pizza dough. This particular pie gets topped with Spotted Trotter sorghum-infused pork belly, fried green tomatoes & Pimento cheese from the owner's grandmother's recipe. It may come from the South, but does anyone not like the look of this?
They also have these things called candied-bacon knots (!) that look like this...
2. 16-Topping Burger
Empire Burger, Atlantic City
Approximate Calorie Count: 1,463. Bring a ladder.
You'd better start looking at some pics of Jessica Rabbit, because your jaw's gonna need to be on the floor to even attempt fitting this guy into your mouth. It's a bun holding a double cheeseburger that's laid on top of a golden-fried crab cake (!), then piled with sauteed mushrooms, bourbon onions, jalapenos, mac 'n cheese, bacon, a handful of Buffalo-doused shrimp, lettuce, tomato, ketchup, mayo, mustard, raw onion, relish, and pickles. It may be very tall itself, but it'll only make you rounder...
Extreme close-ups of mac 'n cheese? Extreme close-ups of mac 'n cheese.
1. The Intimidator Challenge
Ricky Bobby Sports Saloon & Restaurant, Fort Worth
Approximate Calorie Count: 3,844. DON'T YOU DARE SKIP THE SALAD.
This restaurant isn't just named after one of the cultural masterpieces of at least the last millenium (and a replica racecar out front!), but it also has beautiful waitresses wearing skimpy outfits, and it also also has this: The Intimidator Challenge. It's a half-pound patty, two slices of pepper Jack, a half pound of BBQ-drenched pulled pork, two chicken tenders, three strips of bacon, a smoked sausage, an onion ring, and a chicken wing on top, plus a whole pound of chili cheese fries to lay next to it. Oh, and there's a bun hiding under there somewhere, to match the little hat-looking one on top. If you eat the whole thing (plus a mandatory salad, obvi) in 10mins flat, you get your picture on the wall and a free Ricky Bobby hat!
Watch her try to take this thing down, right through here