Being a fat kid is like being a pioneer. For thousands of years, humans have walked the Earth starving, ribs poking out, searching for their next meal. That's boring, and just so played out. But Progress has happened, and we now have the luxury of picking and choosing our meals to best optimize our nutrition long-term health happiness. We've chosen the pick of the litter for you this week, and this list is all about said pioneers, from people who realized they could put a hot dog on a donut bun or wrap it in a bacon-stuffed pancake, to those whose spark of genius was to put a burger between spaghetti cakes, or INSIDE OF A FREAKING PIZZA.
6. Chocolate Pretzel/Nutella Doughnut Ice Cream Sandwich
Black Dog Gelato and Glazed & Infused, Chicago
Approximate Calorie Count: 598. But is it breakfast, or is it dessert??
When a gelateria like Black Dog hooks up with a wacky doughnut-ery like Glazed & Infused, fat things happen. This time, that takes form with this glazed chocolate/pretzel doughnut that's cut in half and then stuffed with Nutella ice cream, before being topped with an extra little pretzel for fat-flair.
Lemon/Blueberry French Toast? Toffee/Milk Stout?? Apple Fritter/Salted Peanut Butter?!?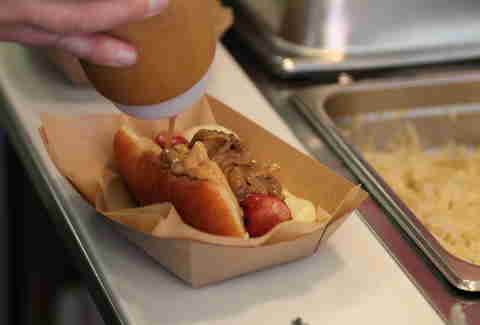 5. Doughnut-Bun Hot Dog
Currywurst, Los Angeles
Approximate Calorie Count: 687. But do you dare to dunk it into your coffee?
Here at Fat Kid Fridays, we love world's firsts, and the geniuses at Currywurst have one: a Vienna dog thrown onto a (non-glazed) fried doughnut-bun that's been warmed on the grill, then loaded with grilled onions (or sauerkraut) and a sweet and spicy mustard. We like this new frontier so much that we'll eat our way to the next one.
It's not every day you get to watch a doughnut-bunned hot dog being made...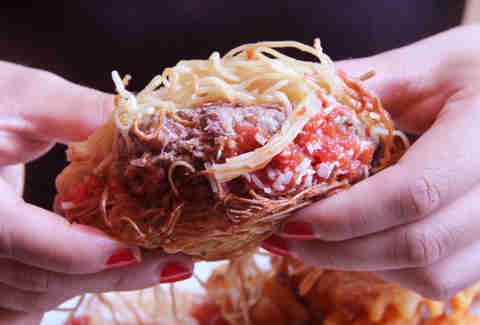 4. The Spaghetti Burger
PYT, Philadelphia
Approximate Calorie Count: 842. You might be sort of a meatball yourself after a few of these...
You've heard about the Ramen Burger, but how about the Spaghetti Burger? The same folks that brought you the Lasagna Bun Burger are now rubbing down two 2.5oz patties with a Parm-and-basil blend, then pressing those patties around a fistful of shredded mozz, ladling some red sauce over it, sprinkling with Parm, and plopping it all onto a crunchy noodle bun that's toasted to order. Plus, they serve it according to a centuries-old Italian tradition: sided with waffle fries!
Step-by-step guide, right this way...
3. The Stoner
Banger's Sausage House and Beer Garden, Austin
Approximate Calorie Count: 870. Duuuuuuuuuuude.
Part of Banger's new late-night menu aimed at a certain, um, elevated clientele, The Stoner's a banger (sausage) wrapped in a bacon-stuffed pancake, then topped with a fried egg, shoe-string potatoes, and Sriracha maple syrup. Aka someone is finally sanctioning your late-night snack by serving it at a real live restaurant!
Got the munchies?...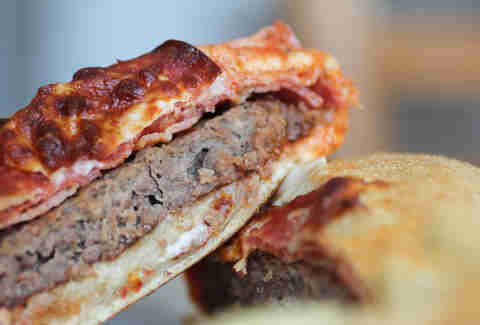 2. Pizzaburger
Boston's, Various Locations
Approximate Calorie Count: 923. Pizza is unhealthy, burgers are unhealthy, but Pizzaburgers are super healthy delicious.
Start with a beef patty, top it with bacon, cheese, and sauce, and then roll it up in dough and bake the whole thing until it looks like a circular calzone. A burger wrapped in pizza. To put this gloriousness into context, this would be like if you were somehow able to wrap your John Starks in-game used jersey around that lock of hair Sally Lutz agreed to give you so you wouldn't take her to the homecoming dance, and somehow the final product wasn't just an itchy ball of stale sweat-smell.
We taste-tested it. Wanna see how we graded it?
1. Mac 'n Cheeseburger
Burger Radio, Denver
Approximate Calorie Count: 1,169. And it's also the tallest.
This? Just a definitely-not-mouth-shaped cheeseburger topped with a slab of homemade mac 'n cheese, three strips of bacon, tomato, and onion on a grilled bun. Plus, they're hooking up a secret burg just for Thrillist readers called the Thrilled Cheese, which replaces that grilled bun with two grilled cheeses. This is one of those numerous moments when it pays to be a Thrillist reader, and by pays, we mean "makes you wonder if you should stop by urgent care".
What's in an Emergency Bacon System burger???