Friday the 13th means you've really gotta watch your back (and your mother's back, crack-stepper), but thankfully, very few superstitions revolve around keeping you fit. On this day, food might just be the safest thing for ya. Sure, you may have to throw a little salt over your (LEFT) shoulder now and then, but who's to say that salt doesn't just happen to land on a 16-inch sandwich? Or on the rim of a behemoth Bloody Mary? Or on a... pizza-sized pancake?!? See what's making people fat this week.
Recommended Video
Please Don't Hang Up: The Best Things to See, Eat, and Do in Milwaukee
6. Spaghetti Ice Cream
Dolce Gelateria, New York
Approximate Calorie Count: 555. Honestly, that's probably better than regular spaghetti!
We must really be scraping the bottom of the fat kid barrel here. That's just a ho-hum bowl of spaghe... OH MY GOD THAT SPAGHETTI IS MADE ENTIRELY OF GELATO AND IS ACCOMPANIED BY A CHOCOLATE GELATO "MEATBALL" AND TOPPED WITH MIXED BERRY "RED SAUCE"! Yup. And they also have a "vodka sauce" option that's topped with a strawberry- and mango- flavored sauce. The world as you know it has been flipped on its head. Deliciously.
See how it's made right here. You know you're curious...
5. Cronut Bacon Breakfast Burger
Devil Dawgs, Chicago
Approximate Calorie Count: 818. Who knew dainty little Cronuts could be so heart-stopping?
Cronuts are cool and all, but Cronuts ain't got nuthin' on this baby: a breakfast sandwich that takes a maple-glazed "crognet" (good luck suing THAT, lawyers), slices it in half, throws in a steakburger, American, and spicy remoulade, and then sprinkles the whole thing with bacon bits. They call it The Demon Delight, and it has been known to absolutely demolish a hangover or two.
There are four more hangover-helper breakfast sammies on this handy list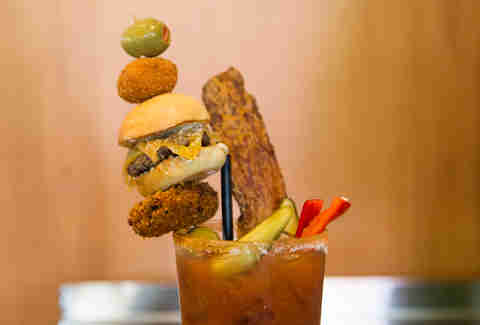 4. John Howie's Ultimate Bloody Mary
SPORT, Seattle
Approximate Calorie Count: 908. It's all in the celery.
"A DRINK?! How am I supposed to get fat from that??" "Well, aspiring-to-be-portly reader, drinks can actually be quite excessive in the fatness department, especially when they include tempura-fried bacon, a Wagyu slider, pickled everything (carrots, onions, green beans... asparagus), deep-fried jalapenos, fried mozzarella, your choice of 32 hot sauces, peppers, a PEPPERONI STRAW, and celery (for fatness, obviously), in addition to the usual Bloody ingredients." "Thrillist, you're perfect for me." "Why yes, yes we are."
Get every angle on this beast, right here
3. Chicken and Waffle Wings
Hudson Hotel, New York
Approximate Calorie Count: 916. Bar "snack".
You may have heard about Popeyes' Chicken Waffle Tenders, but NYC's Hudson Hotel is fancying this concept up with actually-delicious wings that've been battered, rolled in waffle bits, deep-fried, then piled atop an actual waffle before being doused in maple syrup. They're the sweetest wings you'll ever taste, both in the desserty way and in the AWESOME way.
They also have chicken Parm wings? They also have chicken Parm wings.
2. 16in Sicilian Steak Sub
Dino's Cafe, Boston
Approximate Calorie Count: 1,158. You'll need at LEAST three plates.
Any self-respecting deli will serve you a cheesesteak-style sammie (this one's got shaved steak, grilled balsamic-glazed portobello mushrooms & roasted plum tomatoes), but few delis will serve you a cheesesteak-style sammie that's on a 16in roll far too large for your standard plate. Plus, there are 14 other options, and each is only nine bucks! That's, like, very few dollars per inch! (Math.)
Check out other crazy-economical eats, right this way...
1. Pizza-Sized Pancake
City Diner, New Orleans
Approximate Calorie Count: 1,253. With syrup: you don't even wanna know...
This is a pancake that is the size of a pizza, and it's served on a pizza tray. It has an area of 153.94sq inches. It only costs $2.99, plus an extra $.99 if you want to add on blueberries, strawberries, bananas, or chocolate chips. No, that picture is not a close-up. If anything, it's a far-away. This thing is HUGE. Better order syrup by the bucket...
Check out some of the OTHER biggest meals in New Orleans