Fall starts this weekend, and while the trees shed those precious leaf-based pounds, you should be packing them on so you don't have to worry about feeding during your hibernation period. Wait, what? Humans don't do that? Huh. Anyways, to help you choose the most efficient way to get your fill in preparation for the colder weather, we've rounded up some of the craziest colossal-calorie-count cuisine, from fried deviled eggs to a jalapeno-, cheese-, and special sauce-laden four-patty monster burger. Settle down in your cave and be content, friends.
Recommended Video
This Burrito Is Wrapped in a Cheesy Shell
6. Chorizo-Topped Fried Deviled Eggs
School House Pub, Austin
Approximate Calorie Count: 706
Truly the devil's work, these bad boys are essentially kinda like Scotch eggs, except COMPLETELY INSANE. Coated in breadcrumbs and then fried, the eggs're topped with whipped-up yolks, mustard, and mayo, and then dotted with spicy crumbled chorizo for good bad measure. Get it? Because they're deviled.
And these are only the tip of the metaphorical iceberg...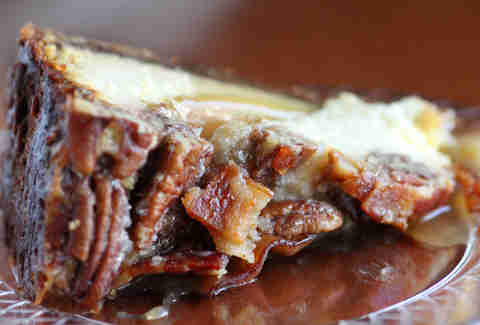 5. Bacon-Pecan Cheesecake
Bacon Takedown, Chicago
Approximate Calorie Count: 769
The Bacon Takedown in Chicago spawned some pretty impressive specimens of baconery, but we've gotta hand the grand prize to the bacon-pecan cheesecake -- it's a vanilla cheesecake that's been slathered with crispy, smoky bacon and encrusted with a mix of graham crackers and chopped brown sugar pecans. Delicious? Yes. Kosher? Ask your rabbi.
Scope out the rest of the Bacon Takedown's awesome offerings here
4. Honey Butter Fried Chicken
Honey Butter Fried Chicken, Chicago
Approximate Calorie Count: 813 (for two pieces of chicken w/ honey butter)
With a name like Honey Butter Fried Chicken, you know the place's gotta be good. Their eponymous menu item gives you two pieces of white/dark meat chicken that's then coated and deep-fried, spiced to your liking, and served up with a pat of honey butter to apply to either their hexagonal corn muffins, or... THE CHICKEN?! Yep, we think that's a better usage too.
We've even got a sweet GIF of that butter-chicken combo in action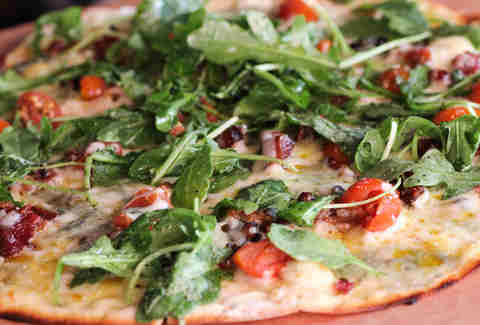 3. BLT Pizza
Taverna Rossa, Dallas
Approximate Calorie Count: 972
The BLT is already the Duke of Sandwich-town, so it's no surprise that when it's turned into a PIZZA that it becomes even more regal. This guy's got a chewy thin-crust base that's topped with olive oil, blue cheese, fresh basil, a bed of arugula, cherry tomatoes, and -- best of all and true to its namesake -- thick-cut bacon, making this undeniably the King.
This place's got even more awesome pizzas
2. Chef Rick's Favorite Burger
Bistro Marquee, Portland
Approximate Calorie Count: 1068
Cows and pigs are good friends, so it makes sense that this collab between them tastes like all that is right with the world. Chef Rick's Favorite Burger is a pre-made option at Bistro Marquee, which allows you to customize your burg -- Chef Rick likes the right stuff. It's made with a 1/2lb burger that's topped with caper aioli, fried onion straws, and a huge slab of charred pork belly for good measure. Share it with your friends! Or, you know, don't.
They're doing this burger AND some killer fried chicken
1. The P. Scary Burger
P. Terry's, Austin
Approximate Calorie Count: 1233
P. Terry's in Austin already has some great burgers -- so much so, that we named it our favorite burger in the entire city. But things got a little crazy when we asked them to quadruple their traditional burger offering to make the P. Scary, the four-patty behemoth you can see up top. The burgers are charred on the grill, alongside off-menu jalapeno peppers and onions cooked in bacon fat (bacon included), then topped with American cheese, mustard, and special sauce before being stacked on a warm bun. This burger is not for the faint-of-heart.
And we've got a photographic montage of its step-by-step journey to delicious completion