Nations rise and fall, entire empires come and go, and yet Fat Kid Fridays persist. As long as there are people out there, restaurateurs from around the world will find a way to feed our hungry mouths and even hungrier imaginations. So, without further ado, we present an especially epic FKF. Just how epic is it? Well, there're three colossal burgers on the list... AND THERE'S STILL SOMETHING WITH MORE CALORIES THAN ALL OF THEM. Read on to take in the craziest eats from this week, ranging from an Asian omelette to a, well... just check out that pic up top.
Recommended Video
You Can Now Get Artisanal Twinkies Delivered to Your Door in NYC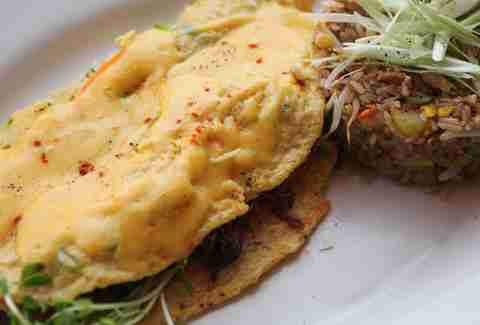 6. Egg Foo Yumelette
Eat Street Buddha Kitchen & Lounge, Minneapolis
Approximate Calorie Count: 682
We pity the egg foo' who doesn't partake of this awesome Asian-inspired omelette from Minneapolis's Eat Street Buddha Kitchen & Lounge -- it's got slow-braised beef short ribs, Asian veggies & spices, all wrapped up in a huge fluffy egg-hug. If you're gonna take this thing down, you're gonna need to bring your A-team A-game.
There's plenty more awesome Asian eats where that came from...
5. Monte Cristo Donut
Donut Bar, San Diego
Approximate Calorie Count: 1020
Sure, there are now plenty of donut burgers saturating the market, but what about enveloping other sandwiches in a delicious, cakey pastry? Standing at the vanguard of history is Donut Bar, which's taken the ingredients of a Monte Cristo -- Black Forest ham, Emmentaler -- and combined them with American cheese and cran-raspberry compote in a giant, powdered sugar-topped donut. Alexandre Dumas would be pleased.
We've got a step-by-step journey through the creation of this behemoth right here...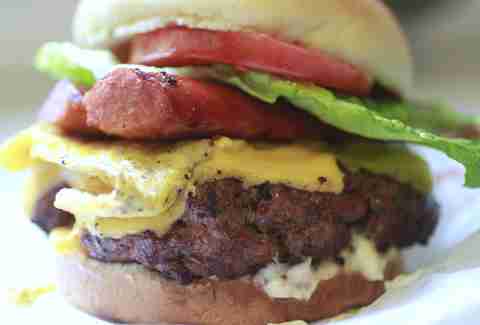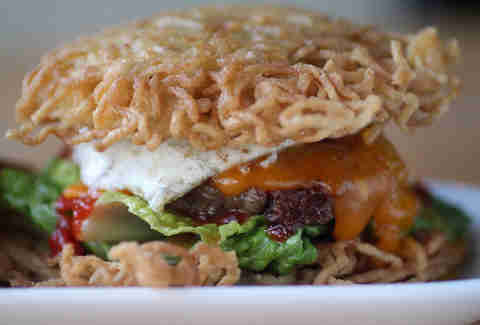 3. Ramen Burger
Buzz Bar, Chicago
Approximate Calorie Count: 1410
Buns're being made out of all kinds of things nowadays (crazy kids!), but none have captured the public's eye quite like ramen burgers. This one's unique in that the ramen buns are BUTTERED before they're griddled, and the Kobe beef burger within's topped with a fried egg, gooey sharp cheddar cheese, sun-dried tomatoes, arugula (for your health), and Sriracha sauce. Kinda reminds you of college, huh?
In other unusual-bunned news, this place is also doing a donut burger...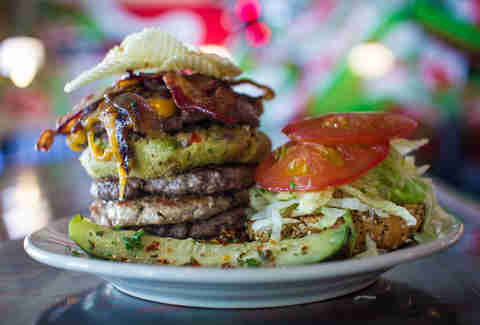 2. The Cinco Burger
TAG Burger Bar, Denver
Approximate Calorie Count: 2001
OK, kids -- I hope you brushed up on your Spanish, because if you did, you'll be able to figure out how many patties are on this gargantuan burger... Spoiler Alert: It's FIVE. In order of assembly, they are: bison, turkey, lamb, veggie, and beef. But that's not all it has to offer! This towering monument to the American appetite is topped off with cheddar cheese, grilled onions, bacon, secret sauce, and Ruffles potato chips. Muy, muy guapo.
See how it's all assembled right here...
1. The Big One
Twins Sliders, Los Angeles
Approximate Calorie Count: 2355 (2205 sans Twinkie)
10 add-ins. Eight scoops of vanilla ice cream. When something has this many calories, it ceases to be food, and instead becomes a challenge to the universe. The aptly named "Big One" from Twins Sliders in LA is a milkshake to end all milkshakes -- it's got Oreo crumbs, brownie bites, Cap'n Crunch, crushed graham crackers, crushed M&Ms, mini marshmallows, Cinnamon Toast Crunch, Butterfingers, peanut butter cups, and chocolate chip cookie dough, all blended together with ice cream & milk and topped with a Twinkie. If Kelis had this, she'd need a bigger yard.
We've got an exclusive tell-all on how it's made, right here...