After a week's absence, Fat Kid Fridays are back -- in a very big way. Last week was all about the donuts, but this week seems to be about fried chicken. Whether it's between two waffles or just smack dab in the middle of a huge tray with biscuits and all the traditional fixins, buttermilk-battered poultry is so hot right now, literally and metaphorically, son! So get readin' and check out all our most scintillating offerings, from the aforementioned bird to a legit gourmet cotton candy.
Recommended Video
Spinach and Artichoke Dip Pizza, the Ultimate Party Appetizer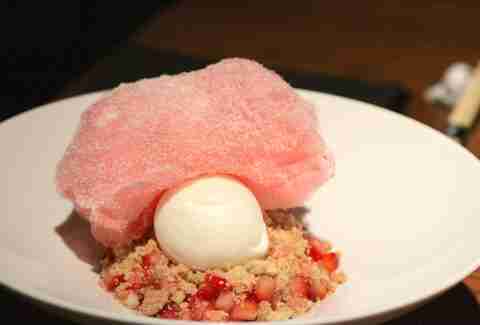 5. Strawberry Orange Blossom
TAO Downtown, New York
Approximate Calorie Count: 661
We're willing to excuse the fact that this dessert sounds like a Powerpuff Girl, because it's got cotton candy on top. COTTON CANDY. THIS IS AT A REAL RESTAURANT IN NEW YORK. If your mind isn't sufficiently blown by that fact, consider this: the rest of the dessert is composed of strawberry chunks topped with a dollop of strawberry/orange creme custard and dusted with honey-milk POWDER. Good job, Professor.
Noodles and GIFs abound in our full story...
4. The Unholy Mole Burger
Fischman's Wagyu Wagon, Chicago
Approximate Calorie Count: 904
Forget about Homeward Bound. THIS is the animal partnership story to end all animal partnership stories: this burger's got a huge Wagyu beef patty covered in melted cotija and Chihuahua cheeses, topped with roasted poblano peppers, and -- la piece de resistance -- cuddled up against some fried pork rinds for good measure. Oh, and all that is topped by a 17-ingredient red mole sauce. Kinda makes you want to cry... just like Homeward Bound.
This mobile eatery's also slinging, of all things, a burger topped with spiced apples! See it all here...
3. Pumpkin Spice Cookie Milkshake
Custard Cakes & Creamery, Philadelphia
Approximate Calorie Count: 1035
When Fall is in the air, sometimes all you want is a hot pumpkin drink to warm you up. But with this recently unseasonably warm Fall in the air, you might opt for something slightly cooler, like this killer frosty treat that includes blended cookies in a pumpkin-spice base, as well as chunks of actual pumpkin. Take your pumpkin pie on the go! Or, you know, just sit there.
Get the lowdown on more pumpkin-filled goods right here...
2. Chicken & Waffles Grilled Cheese
The Pullman Kitchen, New York
Approximate Calorie Count: 1184
If you consider yourself some sort of comfort food explorer, searching for the next big discovery, look no further: the culinary jungles of New York have spawned something that's sure to impress -- two griddled cornbread waffles holding a huge buttermilk fried chicken slab, pepper jack cheese, and a slathering of Vermont maple syrup for good measure. Science, man!
Feast your eyes on their other crazy sandwich offerings here...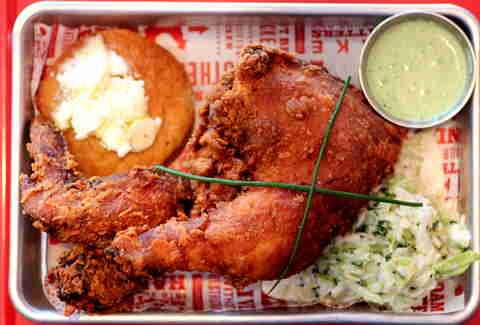 1. Fried Chicken Platter
Proposition Chicken, San Francisco
Approximate Calorie Count: 1224
There're definitely some adventurous things on this list, but when it comes down to it, you can't beat the classics. Proposition Chicken in SF is frying up some positively golden chicken dinners, like this one, sided with a buttermilk biscuit, honey butter, and spicy cole slaw. This place also does their chicken in sandwiches or salads... but c'mon -- who can argue with that view?
Choose your own fried chicken adventure...