Friends, Romans, countrymen, lend me your stomachs -- and please put down that huge pillowcase filled with Necco Wafers, because pretty much everyone agrees those things are gross. Fat Kid Friday is here, and it's got everything your sugar-addled brain needs to achieve the perfect savory yang to candy's yin, from a pretzel fit for a giant to a burger with deep-fried Twinkies instead of buns. Also, please don't lend me your stomachs. That was just a Shakespearean allusion and I already have a stomach of my own.
6. Pig Ear Cheetos
The Church Key, Los Angeles
Approximate Calorie Count: 613
Chester Cheetah would be looking a little porkier if he were repping these pig ear Cheeto-imitators from Los Angeles, which're made of shredded-up pig ears (duh) that've been deep-fried and dusted with non-neon orange cheese powder. Eat too many of these and you might not be able to reach top speeds of 70-75mph (assuming you are a cheetah).
This place is also whipping up cocktails tableside -- check out the full story to see how they do it...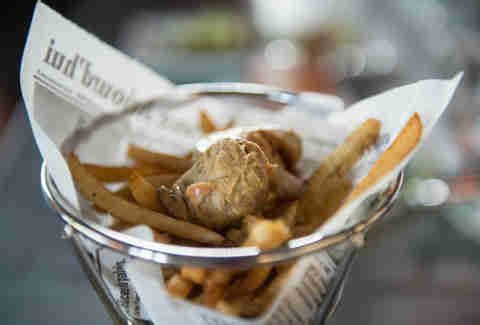 5. Frites et Foie
Le Zinc, Seattle
Approximate Calorie Count: 708
Frites et Foie, which either translates to "fries and fat" or "fat fat fat fat", comes straight outta Seattle with some European-style fries topped with a dollop of goose liver (foie gras) and sided with bone marrow aioli for dipping. This is officially the Frenchiest thing since Gérard Depardieu bathed in Cognac on Bastille Day. Which actually never happened, that we know of. So I guess this takes le cake?
Scope out some more Seattle bar snacks, including bacon-wrapped mussels, right here...
3. Giant Pretzel
Reichenbach Hall, New York
Approximate Calorie Count: 1023
This giant pretzel from New York is juuuuuust right if you're Shaquille O'Neal or Xerxes from the movie 300, but if you're a totally normal-sized human being, you may need a little help taking it down. It is also served with a side of house-made yellow mustard for dipping, but it should be noted that most parts of the pretzel couldn't even fit into the tiny dipping cup.
More insane pub grub awaits you on the other side of this link...
2. Stuffed Chili Burger
On The Bun, Chicago
Approximate Calorie Count: 1145
The place that churns out this stuffed chili burger in Chicago is owned by the waffle-slinging team of, uh, Waffle, and it turns out that golden nook-and-crannied deliciousness isn't the only thing they excel at. This here burger's stuffed with sharp cheddar cheese and jalapeños, covered in sliced avocado, and blanketed by a fried egg -- all between artisanal pretzel buns that sop everything up. And that may be the sexiest use of the word "sop" ever. Don't Google it.
Oh, you KNOW there's a burger with waffles for buns...
1. Twinkie Burger
PYT, Philadelphia
Approximate Calorie Count: 1441
From the verge of extinction to thriving as burger-holders -- the story of Twinkies has been a true roller coaster ride, and a testament to the American spirit... and hunger for robust, cream-filled treats. PYT in Philly has pioneered a new job for these Hostess sponge cakes by flattening them, battering them, deep-frying them, and using them as buns for what is perhaps the novelty sandwich to end all novelty sandwiches. Also on this burger: American cheese, bacon, the collective ogling eyes of every adventurous eater this side of the Mississippi.
We've got a step-by-step photo guide to how this is made, right here...