A cricket and mealworm dinner that's actually delicious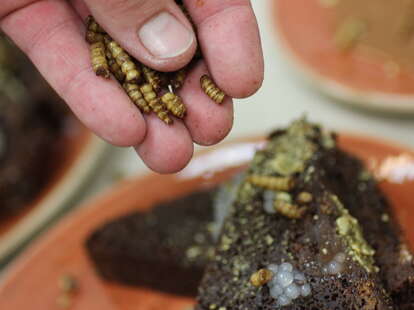 All photos by Lee Breslouer
Normally if you hear crickets at dinner, it's because no one's saying much at the table. But one magical evening last year, the chefs at Kachina Southwestern Grill in Colorado got a number of people to chomp down on actual crickets as part of a four-course Bugs & Beer dinner. And with crickets gaining attention as the next superfood, perhaps this is how we'll all be eating in the future.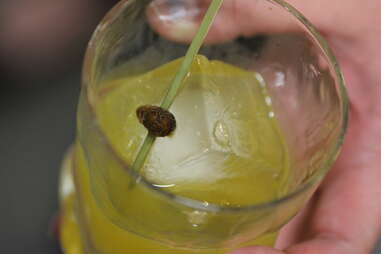 The meal began with a mango mezcal margarita, a fairly normal-looking cocktail, with the exception of the silkworm inside the ice cube. We bet the fly suspended in amber from Jurassic Park wouldn't taste good in any cocktail.
"Excuse me, waiter? There appears to be a toasted cricket on my guacamole tostada. Oh, that's on purpose?" It sure is. Turns out crickets have a finish similar to a prawn, which is found on many a tostada. Not surprisingly, these apps were snapped up quickly.
Steps to making a perfect Summer salad: local organic greens, fresh watermelon radish, and a whole bunch of candied crickets.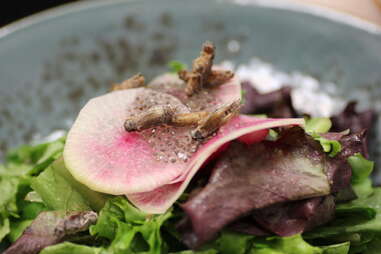 The salad's topped off with a chia seed vinaigrette, a dressing packed with nutrients that just happen to resemble bug eggs. The chef figured that'd be a nice touch. He's a cheeky fellow.
For the main course, the bugs were sneakily hid inside this compound butter made with mealworms, which were procured from a local Asian market. For the other bugs, they bought a bunch in bulk from HOTLIX, a company that specializes in bug candy.
Mealworms were soaked in mezcal for 24 hours before they were pureed and turned into the compound butter that tops the roasted beef tenderloin. The chef believes if you weren't told mealworms were involved in the making of the dish, you wouldn't be able to tell.
Finally, a dish without bugs! Just kidding, this incredibly delicious chocolate cola cake is covered in mealworms too, along with honey-lavender tapioca pearls (there're those "eggs" again), and caramel pepitas.
By this point, everyone was so stuffed from the crickets, they had to just doggybag the mealworms and eat them later.
Lee Breslouer writes about food and drink for Thrillist, and hopes eating insects is not the next big food trend. Follow him at @LeeBreslouer, because you can't make up a name that good.