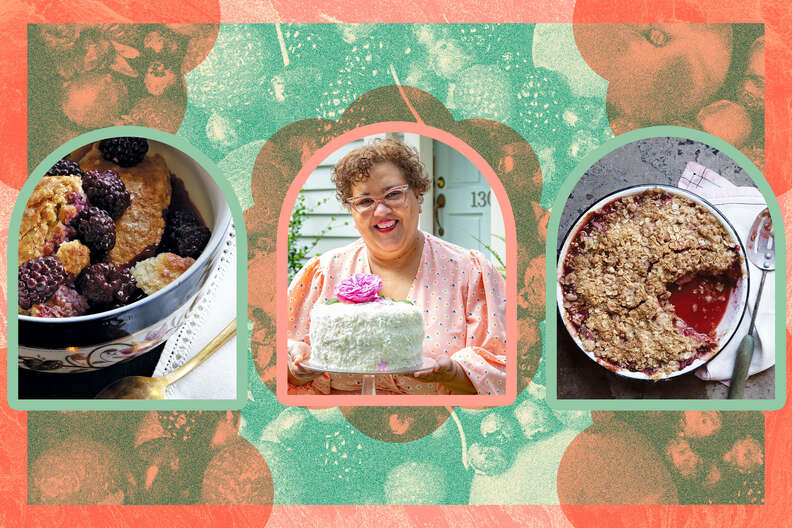 Photos by Squire Fox, Design by Grace Han for Thrillist
Crisps. Crumbles. Cobblers. These three words form the triumvirate of summertime desserts. They're ideal for when the berries and peaches are overflowing, but you don't have the energy to make anything fussy. A simple dessert that's low-effort yet rustically beautiful is just the ticket.
"In a word—yum!" says Cheryl Day, the owner of Back In The Day Bakery in Savannah, Georgia and author of The Back in the Day Bakery Cookbook. Day loves to bake a pie, but understands how these desserts provide an easier alternative for those of us intimidated by rolling out dough. "They're such easy desserts to make. You don't have to be a perfect baker to make them, they're all pretty simple."
There's minimal prep required for this trio—no chilling, no resting, and no rising. For the most part, you're tossing your fruit in some sugar and spices before smothering them in an easy-to-prepare topping. When it comes to choosing the fruit for your crisp, crumble, or cobbler, Day opts to use whatever is in season.
"If I had to pick a favorite, I would definitely pick blackberries," she says. "There's just something very nostalgic about blackberries for me personally and using them is very easy." But you can't go wrong with peaches, plums, or blueberries, either. Apples are ideal when fall rolls around.
But these desserts are often confused for one another. So here are the three quintessential summer desserts and their distinguishing features. Whichever one you make, serving it warm with a scoop of vanilla ice cream is absolutely mandatory.
Why crisps and crumbles are easily confused
Both crisp and crumbles are deep dish desserts with a streusel-like topping and, depending on what region you're in, you might hear people label the desserts differently.
But the main difference is that a crumble will have more of a cookie or broken pie crust dough on top, says Day, while a crisp is typically defined by having oats on top resulting in a, yes, crisper texture.
A crumble's topping tends to be more pebbly and dense, a little bit more cake-like. The crumble was presumably created as a result of food rationing during World War II. Staples like flour and sugar were scarce and expensive, making it difficult to make luxurious desserts like cakes. So, crumbles were sort of a compromise dessert that allowed people to have a wartime indulgence.
A crisp's topping is less dense than a crumble, and there's room to play around with it. Day, for instance, adds cornmeal to her crisp toppings, which makes the texture ever so slightly more interesting. Day also likes to ramp up the crunch factor of her crisps by adding a neutral oil, like vegetable or grape seed, in addition to butter. Nuts are also a great option.
For a cobbler, it's all about the rustic top
Cobblers are divisive desserts and you'll be hard pressed to find a consensus across regions of the U.S. about how they're made. But, from Day's point of view a cobbler is a deep dish dessert with the crust on top.
"Some people will argue that they have a bottom and a top crust," she says. "But I think, if it has a bottom crust, it's a deep dish pie." Sometimes, that crust is made of a pancake-like batter but it's usually a biscuit topping (either rolled out in a sheet or in pieces stuck together).
"It's meant to be a very imperfect, working dessert," she says. "So I like to either use biscuits or I'll cobble my dough, like you think of the streets in Savannah or England—the cobbled streets—which creates a very rustic top."
Day is also a fan of the regional dessert known as a sonker. Popular in Appalachia, a sonker is similar to a cobbler, but it has a double crust and is served with a vanilla-milk sauce that is liberally poured on top. Sonkers tend to be deeper than cobblers and are historically meant to feed crowds of people. These also vary from household to household.
Ready to get baking? Below you'll find a recipe for strawberry rhubarb crisp from Day's cookbook.
Strawberry Rhubarb Crisp Recipe
Excerpted from The Back in the Day Bakery Cookbook by Cheryl Day & Griffith Day (Artisan Books) Copyright © 2012
Serves 8 to 10
Topping
Ingredients:
1 cup unbleached all-purpose flour

½ cup packed light brown sugar

¾ cup old-fashioned rolled oats

2 tablespoons yellow cornmeal

2 teaspoons ground cinnamon

¼ teaspoon fine sea salt

8 tablespoons (1 stick) cold unsalted butter, cut into ½-inch cubes

1 tablespoon canola oil
Filling
Ingredients:
2 cups strawberries

4 cups 1-inch pieces peeled rhubarb

1¼ cups turbinado sugar

3 tablespoons unbleached all-purpose flour

1 tablespoon cornstarch
Directions:
1. Position a rack in the lower third of the oven and preheat the oven to 350°F.
2. Butter a 9-inch deep-dish pie plate and line a baking sheet with parchment.
3. To make the topping: In a medium mixing bowl, stir together the flour, brown sugar, rolled oats, cornmeal, cinnamon, salt, butter, and oil with a fork until completely blended. Set aside.
4. To make the filling: In another medium bowl, combine the strawberries and rhubarb with the turbinado sugar, flour, and cornstarch, stirring to coat the fruit.
5. Pour the fruit mixture into the prepared pie plate. Sprinkle the topping evenly over the fruit mixture. Place the pie plate on the prepared baking sheet.
6. Bake for 40 to 45 minutes, until the fruit is bubbling around the edges and the top is golden brown and crispy. Let cool slightly.
7. Serve the crisp warm. It is best served the same day, but it can be covered with plastic wrap and refrigerated for up to 3 days.
Lia Picard is an Atlanta-based journalist writing about food, travel, and a variety of other topics. Her work appears in
The New York Times, The Washington Post, Wine Enthusiast
, and
CNN Travel.