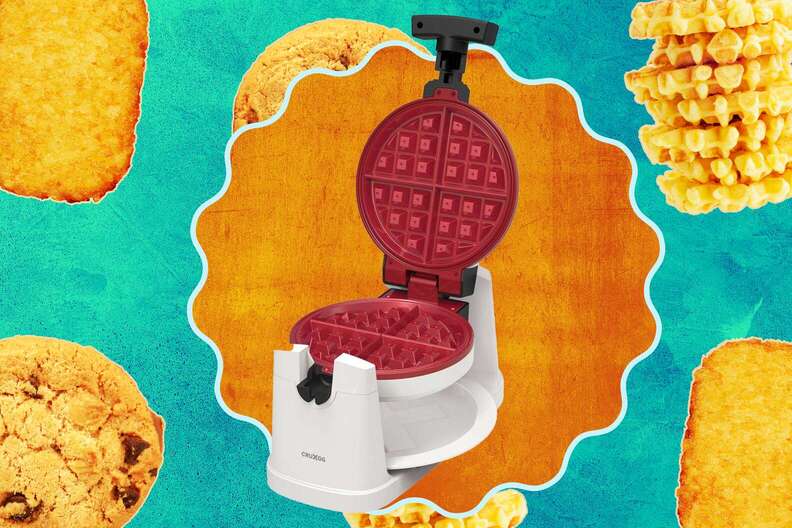 Design by Chineme Elobuike for Thrillist
Design by Chineme Elobuike for Thrillist
Listen, a waffle iron can be used to iron out a plethora of foods, and that is a miracle of science. To waffle a food is to increase surface area that touches heat, thereby increasing the potential for a seared crunch. Plus, who doesn't love tiny, repetitive compartments to fill with sauce?
Well, we've found the ideal gadget to make all your waffling aspirations a reality. The best part is that it comes from a group that is also trying to better the world around them. The ROTO Waffle Maker was created thanks to a partnership between Crux and Ghetto Gastro (CRUXGG) at Target. Ghetto Gastro is a New York-based collective of chefs and food enthusiasts that have strong ties to the Bronx specifically. The group's mission has been to address food injustices that directly impact the lives of people of color, seniors, low-income families, folks who have previously been incarcerated, and disproportionately affected communities experiencing higher rates of Covid-19.
"Often people have a hard time wrapping their heads around exactly what we do because when they hear that we are in the food business, the first thought that comes to mind is a chef with a restaurant," says Ghetto Gastro chef Pierre Serrao. "For us, it's all about the business outside of restaurants. Through our experiences as a collective, the main takeaway is there are other non-traditional pathways in the industry to achieve financial success. We use food as a tool to really connect and build long-term relationships with people from all walks of life."
The collective focuses primarily on food insecurity, with a focus on creating food and the tools you need to make it as affordable and accessible as possible. Their intention with this line of small appliances is to provide kitchenware with purpose. The designs are user-friendly and built to embody contemporary minimalism. More impressive, however, is their giveback program. CRUXGG donates 5% of proceeds to charitable partners working to end food insecurity.
"Doing our part to combat that has been baked into our business model since the beginning—we aren't overnight activists," explains Serrao, who co-founded the company with Jon Gray and Les Walker nearly 10 years ago. "Jon and Les grew up in the same neighborhood of 5th City, or Co-Op City, in the north Bronx and connected over an appreciation for the culinary arts as adults. Jon and I met at the gym in Long Island City in 2013 over a conversation about food and the rest is history."
The company started off hosting small food-focused gatherings called Freestyle Friday, which is still a tradition that continues to this day. "We chose the CRUXGG appliances with similar gatherings in mind," Serrao. says "Our intention is to create a product line that encourages people to want to get busy in the kitchen with simplicity and style."
They rightfully boast that the CRUXGG rotating waffle maker is key to creating sweet and savory recipes in a flash. Use it for slow mornings at home during the holidays or mix it up and experiment by making a waffle-iron pizza, waffle-iron acorn squash, hash brown waffles, or even a jumbo cookie or brownie—anything goes.
The powerhouse machine is not your grandmother's waffle iron, it's all souped up with a 1,000-watt heating system and six browning levels that can make five one-inch thick waffles in less than 10 minutes. Its titanium ceramic coating is scratch-resistant and durable, and allows for easy-release waffles.
"I love the waffle maker so much that we created a waffle mix," says co-founder Gray. "I don't cook much so I needed something simple. Add some water and, boom, more waffles to slaughter. We designed a waffle maker, launched our own waffle mix and you already know the syrup is coming soon." says co-founder.
If you're not using the company's four flavors of waffle mix—Red Velvet, Chocolate, Toasted Matcha, and Ancestral Roots—try these other creative ideas for waffle maker success. We've compiled some ideas to get you started.
The best things to put in a waffle maker
Bacon
You can readily prepare your strips in a waffle maker in about 5 minutes. You can save what will likely be 1-2 tablespoons of rendered fat for another purpose. But your crispy meats will be ready with minimal effort. Expert food advisor Alton Brown stands by the use of a waffle maker for bacon as well, so it must be the correct choice.
Hash Browns
Instead of cooking them in a skillet, throw those potato shreds into the waffle maker. You'll get the perfect crunch on both sides, without having to worry about having the golden brown top fall apart in a pan upon the turnover. You're getting double-action sear, and it's compacted perfectly to use as a potato waffle patty in a breakfast sandwich.
Omelet
Try making an omelet with your waffle iron for a complete and balanced breakfast. Whip up your eggs with whatever other tidbits that suit you, and pour into your waffle maker. Close the lid and count your blessings—no disastrous omelet flips required.
Cookies and Brownies
The hardest part of baking cookies or brownies is having to wait until they're done. They say a watched pot never boils, so you'd think we would catch on and know that staring at cookies through the oven window doesn't warp time either. Imagine freshly baked cookies or brownies in 3 minutes or less. This can be made a reality with a waffle maker!
Savory Items
Savory items are great in a waffle iron, too, it's like a panini press, but more fun. Try making grilled cheese, pizza, waffled falafels or quesadillas—the possibilities of what can be created between those two hot checkered paddles are boundless.
Waffles, obviously.
Check out Ghetto Gastro's recipe featuring their very own matcha waffle mix.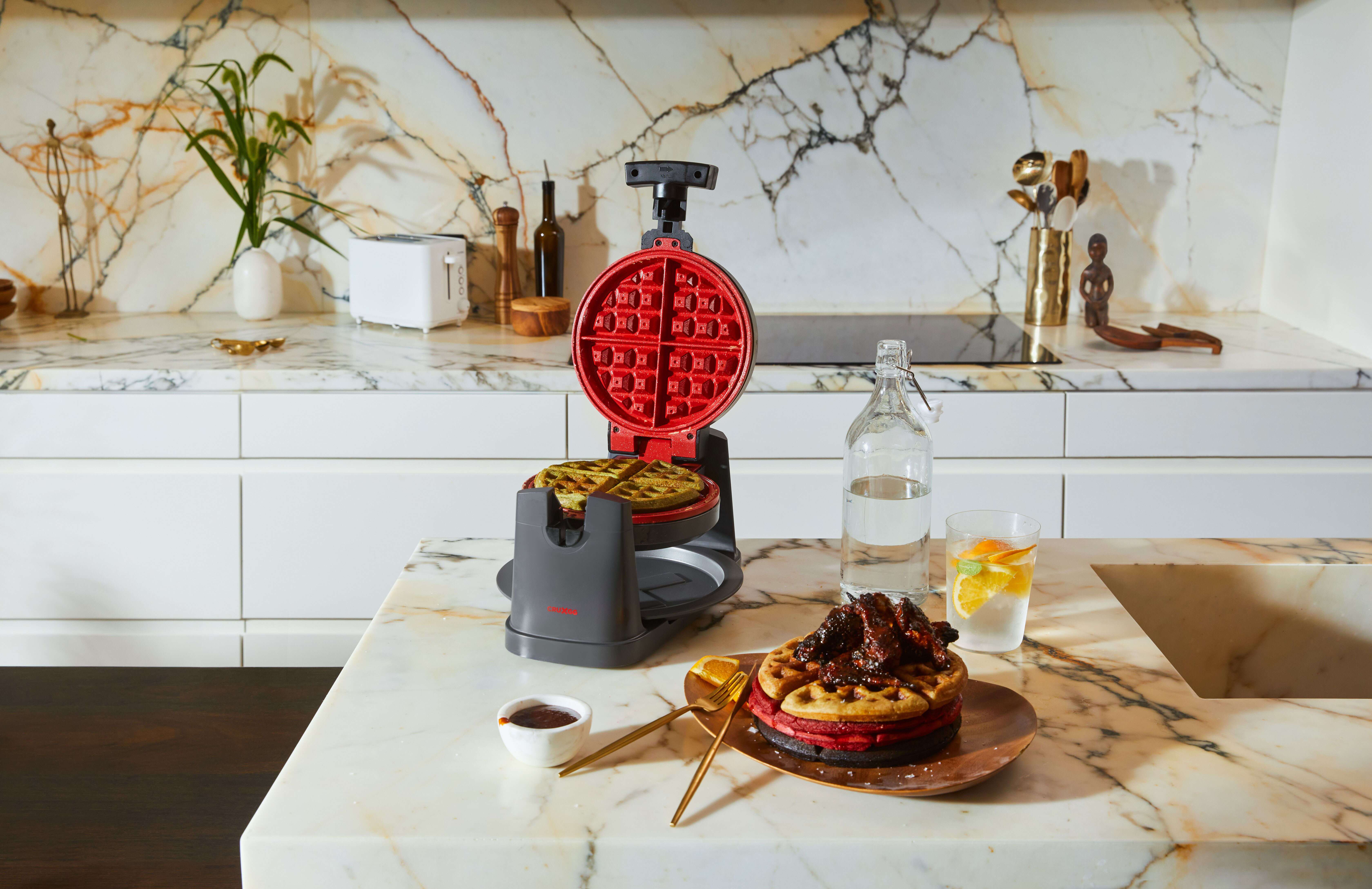 Matcha Waffles and Blistered Figs
Ingredients:
• ¼ cup white grape juice
• 2 tablespoons sherry vinegar
• 1 tablespoon vanilla extract
• 1 dozen figs
• ¾ cup Toasted Matcha Wavy Waffle Mix
• ⅓ cup water
• 2 tablespoons of butter, or plant based butter if you prefer
• Zest of 1 lemon
Directions:
1. Preheat (toaster) oven to 375°F.
2. In a mixing bowl, combine white grape juice, sherry vinegar and vanilla extract.
3. Place figs in an oven safe baking dish or skillet and pour this mixture over them.
4. Bake for 20 minutes, or until the figs are tender and edges have started to carmelize. We suggest rotating the figs after ten minutes. Broil for the last remaining five minutes to fully caramelize.
5. While the figs are baking, preheat your waffle maker on and combine the matcha waffle mix with the water in a mixing bowl.
6. Add the waffle batter to the hot waffle maker.
7. Remove figs from the oven.
8. While the waffle cooks, melt butter in a saucepan and slowly add remaining juices from the baked figs, emulsifying with a whisk.
9. Remove waffle from iron when ready lights appear, and top with figs and fig syrup, top with zested lemon.
Greer Glassman
has worked in the hospitality industry for over a decade, first as a dishwasher and line cook, then later as a front of house manager and eventually, a farm-to-table food chain supplier. She also writes about food culture, recipe development, and other culinary product niches. She's easily pleased by a bowl of matzo ball soup, and asserts that anything can be an ice cream topping, if you will it. You can follow her
@baby_savory
.