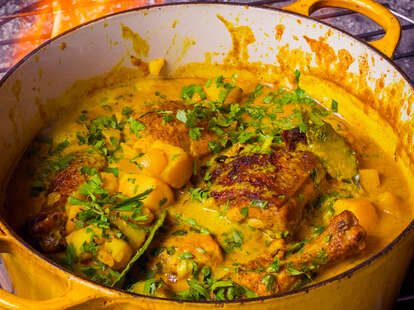 Photo by Samuel Engelking
Photo by Samuel Engelking
Welcome to
Recipes to Remember
, a collection of passed-down recipes that remind us to gather around the table, share a meal prepared with our own hands—or, perhaps even better, the hands of our loved ones—and simply enjoy each other's company. As the holiday season arrives, let's try new-to-us recipes and make lasting memories along the way.
Suzanne Barr's curry chicken is one lucky dish. In her memoir, My Ackee Tree, the multi-talented chef shares how the Jamaican recipe got her a job, not once, but twice: the first, when she used it to audition to be the private chef of a family in the Hamptons, and the second, when an angel investor at a New York City dinner party was so taken by the meal, he offered Barr $100K to put it on more plates.
The dish is "tantalizing to the tongue and soothing to the soul," Barr says, describing it as an entrance to understanding how expansive food from the African diaspora can really be. "A food that stains your fingertips but leaves you wanting more."
You'll find the recipe at the end of Barr's memoir, a cap to the story of a woman with many parts. Barr has been a photographer, stylist, activist, producer at MTV, private chef, restaurant owner, and now, mother. She identifies as Canadian, Jamaican, African, Indigenous, and naturalized American, with deep ties to the UK.
And this diversity is reflected in her dishes: the socca that she enjoyed with her husband in the South of France; welcoming seeds that honor Hawaii, a place she once called home; the apple pie that reminds her of her late mother, Nicey; and of course, the curry chicken that made dreams come true.
For Barr, the process of conjuring memories comes down to smells, photographs, and the knowledge of elders, who she describes as "people that are still alive in our life that remind us of a time when we were so young and uninformed about how important what we were eating meant to who we would eventually become."
The curry chicken, for one, is a blueprint that has always felt familiar to Barr. When it comes to recreating it, first thing's first: Turn up the music. My Ackee Tree, rhythmic in its descriptions, illustrates how music plays a central role in Barr's life. Right now, she's cooking to Kendrick Lamar's Mr. Morale & the Big Steppers, a body of work that she relates to. "You purge so much to reel yourself back in reflection of what you have accomplished in this time," she says.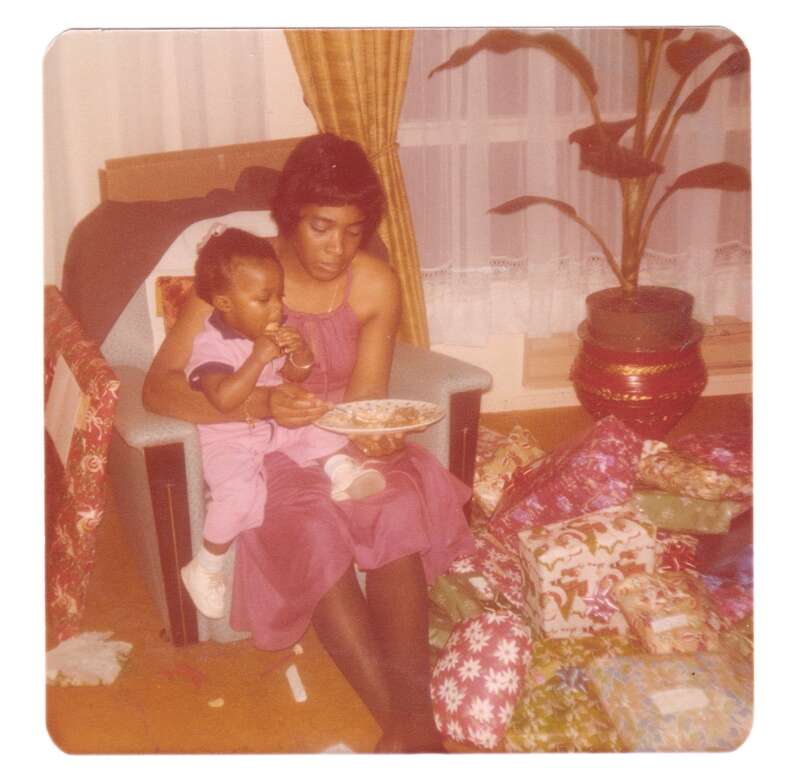 Next, you must understand that in order to get comfortable in the kitchen, you have to overcome the fear of not getting it right. "Something we say in the Caribbean is, 'Cook with good hand.' And what that means to me is, we all have a good hand. And that is one with intention, with love, and with passion."
While Barr's mother used store-bought curry spice for this dish, Barr puts her own stamp on it with a homemade spice blend that she throws together on a cast iron pan. She believes this step is integral to achieving a unique flavor. "Because of the seasoned love that I've put into my cast iron pan, those natural oils from previous dishes are now blending and warming up the spices," she says. If you have some spice left over, store it in a Mason jar for later use, or gift it to a friend. "Trust me, it will leave people with so much joy."
Another key ingredient is the Scotch bonnet pepper, a cultivar of the habanero that's "the perfume of anything from the Caribbean," Barr says. She explains the misconception that Scotch bonnet makes Caribbean food unique because of its fiery nature. "It's actually the complexity of flavors and the timing of when those flavors are released. These floral notes hit your sensory first, and then comes the heat."
To get things cooking, you'll need to brown chicken in a pan with the homemade curry spice, onions, and garlic. Then you add chicken stock and the Scotch bonnet for a simmer, eventually working in potatoes and coconut milk. "You're starting from the bottom of the pot and you're building flavor, step by step," Barr explains. And If you don't eat chicken, try subbing in tofu, eggplant, or okra.
Barr describes the process as a slow approach to cooking. "It's a dish that is most memorable when you can take your time making it and absorb the process of grinding each seed and each spice," she says. "Stirring it slowly with that wooden spoon. Cooking it in your favorite pot that connects you back to home, or to someone that meant something to you and your desire to cook a meal."
100K Curry Chicken
Yield: 4 servings
Ingredients:
Curry Spice Mix
1 tablespoon coriander seeds
1 tablespoon cumin seeds
2 teaspoons whole allspice
2 teaspoons yellow mustard seeds
2 teaspoons fenugreek seeds
1 ½ teaspoons black peppercorns
1 whole dried clove
2 ½ tablespoons turmeric
2 teaspoons ground ginger
1 teaspoon ground nutmeg
1 teaspoon ground cinnamon
½ teaspoon cayenne pepper
Curry Chicken
3 pounds chicken quarters
½ cup curry spice mix
4 cloves garlic, smashed
1 large yellow onion, diced
2 teaspoons extra-virgin olive oil
2 tablespoons kosher salt
1 tablespoon canola oil
3 cups chicken stock
2 bay leaves
1 whole Scotch bonnet pepper, any color
4 Yukon Gold potatoes, peeled and diced
2 cups canned coconut milk
Salt and pepper
2 cups steamed white basmati rice, to serve
For Garnish
(optional)
1 cup toasted cashews
½ cup toasted unsweetened coconut flakes
Fresh cilantro leaves and stems
Mango chutney
Directions:
Make the Curry Spice Mix
1. In a medium dry skillet over high heat, toast the coriander, cumin, allspice, mustard, fenugreek, peppercorns, and clove for 2-4 minutes, until fragrant. Remove from the heat and let cool for 2 minutes.
2. Transfer the spice mix to a spice grinder, mortar and pestle, or to a high-speed blender. Grind to a powder. Transfer the powder to a small bowl. Add the turmeric, ginger, nutmeg, cinnamon, and cayenne. Stir to combine. Set aside.
Make the Curry Chicken
1. Trim off any excess fat from the chicken. Cut each chicken quarter into 3 equal pieces and place them in a large bowl. (Using a serrated knife can be helpful for this, particularly on the skin.) Add the curry spice mix, garlic, onion,olive oil, and salt. Use your hands to massage the mixture into the chicken pieces until they are evenly coated. Cover the bowl with plastic wrap and place the chicken in the fridge to marinate for at least 4 hours, or overnight.
2. Remove the chicken from the fridge. Place the canola oil in a large saucepan
over medium-high heat. Add enough of the chicken (and the onions and garlic)
to cover the bottom of the pot. Cook until the chicken is browned on all sides, 5 to 7 minutes. Transfer the chicken to a clean bowl. Repeat until all of the chicken has been browned.
3. In the same saucepan you used to brown the chicken, add the chicken stock, bay leaves, Scotch bonnet, and chicken pieces. Bring to a boil over high heat. Reduce the eat to low and let simmer, uncovered, for at least 35 minutes, or until the chicken is completely cooked and beginning to fall off the bone.
4. While the curry is simmering, place the potatoes in a medium stock pot. Fill the pot with water to cover the potatoes by at least 2 inches. Place the pot over high heat and bring to a boil. Reduce the heat to low and let simmer for 15 minutes, until tender. Drain.
5. Add the coconut milk to the saucepan with the chicken and stir to combine. Let simmer for an additional 10 minutes. Add the potatoes. Stir to combine. Add salt and pepper to taste.
Toast the Cashews
1. Preheat a medium skillet over medium-high heat. Add the cashews and give the skillet a shake to ensure they're arranged in a single layer. Toast for 3 to 5 minutes, stirring constantly, until the nuts are golden brown and fragrant. Immediately transfer the nuts to a medium bowl to cool.
2. Just before serving, remove the bay leaves and the Scotch bonnet from the curry chicken and discard. To serve, place ½ cup (125 mL) steamed rice in each bowl. Ladle the curry overtop. Garnish each serving with some toasted cashews, toasted coconut, fresh cilantro, and mango chutney, if desired.
Excerpted from My Ackee Treeby Suzanne Barr and Suzanne Hancock. Copyright © 2022 Suzanne Barr and Suzanne Hancock. Published by Penguin Canada, a division of Penguin Random House Canada Limited. Reproduced by arrangement with the Publisher. All rights reserved.