Adam Lapetina
Adam Lapetina
For decades upon decades, Dairy Queen has been there for you in the Summertime with ice cream, burgers, and the occasional visit from Bill Clinton. But how much do you actually know about this ever-evolving, soft-serve-slinging "fan food" behemoth? Well, did you know that it was founded by a dude whose name was "Grandpa"? That revelation -- and more -- right this way...
1. The original formula for DQ's soft-serve was developed in 1938.
It was created by John Fremont "Grandpa" and Bradley McCullough. (Yeah, dude's nickname was actually "Grandpa". No wonder he invented something you don't need to chew.) It was first sold by family friend Sherb Noble at his ice cream store in Kankakee, IL. The first stand-alone DQ wouldn't be opened until 1940, in Joliet, IL.
2. The "curl" on top of the soft-serve is considered a DQ trademark.
It's occasionally referred to by employees and DQ acolytes as "the Q".
3. DQ also owns Orange Julius!
Yep! That perennial mall food-court favorite is a subsidiary of DQ's parent company (meaning you sometimes can find Orange Julius' signature smoothies on DQ menus), and they also own Karmelkorn, a flavored popcorn company started out of Wyoming.
4. However, DQ itself is owned by Berkshire Hathaway.
It was bought by the conglomerate in 1998, so technically Warren Buffett is the Dairy King. That guy's resumé is lookin' good!
5. The largest DQ location ISN'T IN AMERICA?!
It's actually located in Riyadh, Saudi Arabia -- where ice cream is ostensibly always in season. Meanwhile, the busiest location in the world is in Charlottetown, Prince Edward Island, and the largest location in the good ol' USA is in Bloomington, Illinois. USA! USA!
6. In 1985, the first year the Blizzard was introduced, DQ sold more than 175 million of them!
That stellar rate of consumption more than paved the way for our editor to try 22 of them in one sitting.
7. Dairy Queen currently has locations in 30 countries.
And it's also pulled out of its fair share of countries, as well! Some places that used to have DQ's but no longer do (weep for them): Austria, Dominican Republic, Hungary, Italy, Japan, Morocco, Slovenia, South Korea, and Turkey.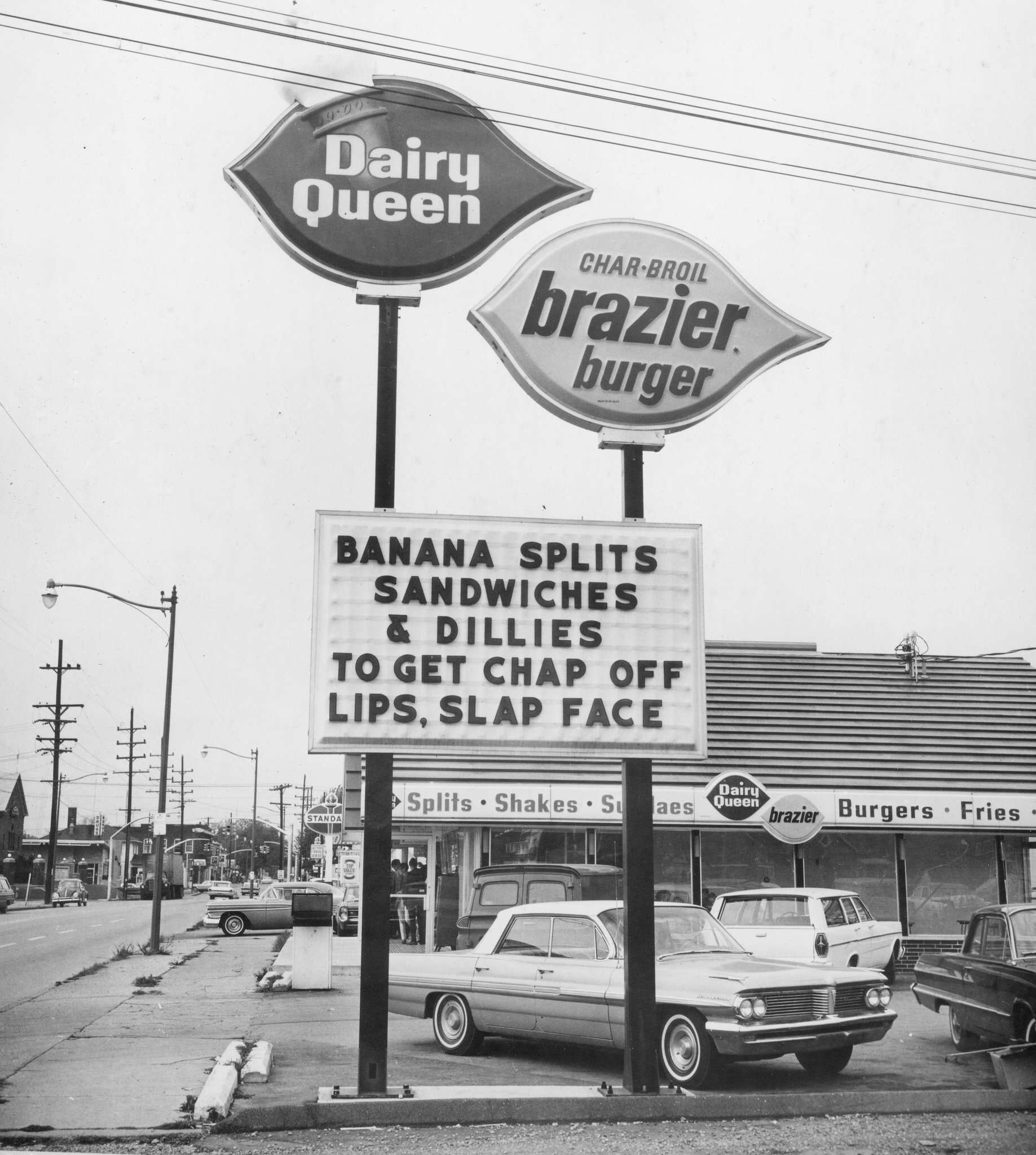 8. Those "Brazier" signs you used to see on Dairy Queens sometimes? They showed what type of DQ it was.
"Brazier"-type DQ stores sell hot dogs and hamburgers (and other hot foods) in addition to the usual frozen treats. The name "Brazier", though, has been phased out of most signage. Your local DQ could be a "Brazier", and you don't even know it yet!
9. The upside-down Blizzard test has a dual purpose.
While some employees do it just for show, it was actually a promotion in some locations (Texas, Louisiana, Canada) -- if the employee didn't turn yours upside-down, you would get a free Blizzard.
10. Mark Cuban ran a DQ for one day in 2002.
After making some comments regarding the managerial aptitude of an NBA official, saying he wouldn't allow him to manage a Dairy Queen, Mark Cuban tried some humble pie and ran a store for a day. He was fined $500,000 for his incendiary comment. But he made a hell of a soft-serve.
11. "Spokestoon" Dennis the Menace was dropped by the DQ team in 2001.
From 1971 to 2001, Dennis the Menace appeared on a bunch of advertisements. But come 2001, DQ decided not to renew the little rapscallion's contract, leading him to turn to an awful life of do-goodery.
12. No Doubt was formed at a DQ in 1986.
Eric Stefani and Greg Spence met while working at the same Dairy Queen and often talked about starting a band together. They finally did, and looped in a bunch of other musicians to round out the group. Oddly, despite the fact that only two of them were DQ alums, they were still successful.
13. The biggest Blizzard ever made weighed 8,224.85lbs.
It was made in Springfield, MA in 2005 and was a whopping 22ft tall. ALTHOUGH SOMEONE IN NEW ENGLAND WOULD PROBABLY CALL IT A "NOR'EASTER", AM I RIGHT?! I'm right.