Sweet Dark Cherry Varenyky

| Photo by Anna Voloshyna
Sweet Dark Cherry Varenyky

| Photo by Anna Voloshyna
Welcome to Recipes to Remember, a collection of passed-down recipes that remind us to gather around the table, share a meal prepared with our own hands—or, perhaps even better, the hands of our loved ones—and simply enjoy each other's company. As the holiday season arrives, let's try new-to-us recipes and make lasting memories along the way.
Growing up, Anna Voloshyna was not allowed to cook. Her mom and grandmother made a hard and fast rule that she couldn't use the stove until she was 16. So on weekends when her matriarchs made hundreds of varenyky, or Ukrainian dumplings, she would take a backseat.
"My mom and grandma would chat and gossip, and I was in charge of arranging all of them in rows," Voloshyna remembers. "I was able to pick the fillings—cabbage, cherry, potatoes. We would eat some and freeze the rest. My grandma had a separate freezer just for varenyky and dumplings."
This was the way of life in her small town of Snihurivka in South Ukraine, about 120 miles from historic Odessa. Home cooking was how people survived since there were barely any restaurants open after the fall of the USSR in 1991. It was also a way to preserve Ukrainian identity, something the Soviet occupation tried to eradicate for nearly 70 years.
The country's distinct culinary culture is on full display in Voloshyna's new cookbook, Budmo!, which means "let us be," and is being released later this month. In it, she details her upbringing and traditions she retained upon moving to the United States, as well as nearly 100 recipes—from soups to crepes to pickles—that showcase Ukraine's culinary history.
"I wanted to educate people about Ukrainian cuisine. Especially right now, it's important to tell people we are not Russia," she says. "We are at war, fighting for our culinary culture and identity as a nation. The book was done before the war started. The original subtitle was 'festive recipes from Ukraine,' but I changed it to 'recipes from a Ukrainian kitchen' because there is a lot of pain right now. I hope this can be a tiny bridge to our culture."
Voloshyna, herself, has been a cultural bridge to her home country. She moved to Kiev for college at the age of 17, and brought her family's traditions with her. In her dorm room, she and her friends would drink wine and use the empty bottles to shape spimini, or meat dumplings, and make crepes and heaping bowls of borscht. "We started hosting cooking parties and everyone would come over," she recalls.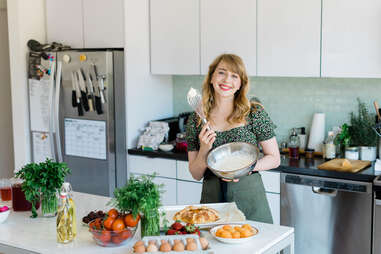 Just four years later, she made the big move to Northern California with her now-husband and continued adapting her family's recipes for an American crowd. She remembers having to adjust to expensive, low quality produce at big supermarkets, and was grateful when she found the Ferry Plaza Farmers Market in San Francisco.
One of her favorite meals to prepare is her grandma's roasted duck, which is featured in the cookbook. For any special occasion, her grandmother would roast a duck in the dutch oven with tart apples and finish it by smearing everything with whole garlic and a bit of rough salt.
"When I make it for my family and friends, I lessen the garlic," Voloshyna says. "This was probably the first dish I made in our small Palo Alto apartment, and they loved it. People think duck is tough or gamey, but try my duck and then we'll talk."
Another hugely important dish in her cookbook is the iconic Slavic soup of borscht. Voloshyna shows how to make three variations—red, green, and a cold version for summer—and explains how its cultural connotations have impacted her.
"People eat borscht multiple times a week and this is such a quintessential Ukrainian dish—it's not just another soup," she says. "The USSR tried to erase the culinary identity of nations, they wanted to make everything Russian. They tried to erase Ukrainian borscht, Georgian wine-making. Countries survived by making and preserving these things at home."
A tradition Voloshyna is continuing to preserve is weekend varenyky. Similar to a Polish pierogi, varenyky is always boiled and never fried (unless you're reheating them). Unlike a pierogi, there is no cheese mixed inside with the mashed potatoes, but they look pretty much the same and are both served with sour cream.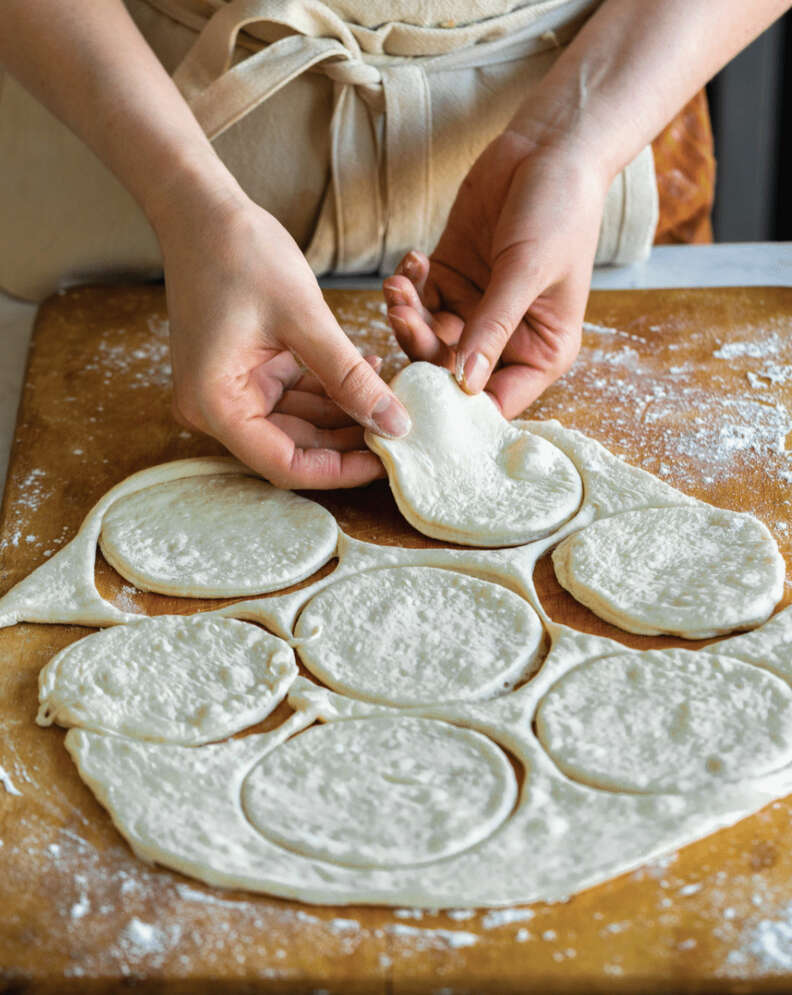 For this version, she says the best thing to use is sour cherries, but you can substitute for frozen dark cherries. She advises not to overstuff the dumplings and be sure to drain the liquid beforehand because the filling will thin out once they're boiled. A good rule of thumb is a three-inch, cookie-cutter dumpling should have no more than three cherries inside.
"The cornstarch in the filling will thicken them a bit, and really works wonders," she says. "Usually, I make these for my husband for a weekend breakfast or brunch. It's such a great family meal."
In the end, Voloshyna hopes that Budmo! can open readers minds to the importance of Slavic food traditions and, specifically, what it means to be Ukrainian—especially now.
"People want to move on and want this war to be over because we have a lot of different problems in this world," she says. "But by learning about Ukrainian cuisine and making borscht in your kitchen, it keeps the conversation going. It's a way for us to know you're still with us."
Sweet Dark Cherry Varenyky Recipe
Yield: Serves 4
Ingredients:
• Varenyky dough (see below)
• ½ pound pitted fresh or thawed frozen dark cherries (from about 1¾ pound unpitted cherries)
• ¼ cup graduated sugar
• 1 tablespoon cornstarch
• 1 tablespoon graduated sugar, for cooking
• 2 tablespoons unsalted butter, melted, for serving
• 2 tablespoons superfine sugar, for serving (optional)
1. Make the dough as directed and let rest for 30 minutes.
2. While the dough rests, make the filling. In a medium bowl, combine all the ingredients and stir gently to mix well. Set aside.
3. Unwrap the dough and place it on a lightly floured work surface. Divide the dough in half. Set half aside and cover with a kitchen towel. Roll out the other dough half into a large round ⅛-inch thick. Using a 3-inch round cookie cutter or overturned glass, cut out as many dough rounds as possible. Lift away any dough scraps and set aside. Roll out the remaining dough half and cut out more rounds the same way. Press together all the dough scraps, roll out, and cut out more rounds.
4. Dust a large sheet pan or cutting board with flour. To shape each dumpling, place 2 cherries in the center of a dough round and fold theround in half to create a half-moon, being careful to press out any air and to pinch the edges to seal securely. Transfer the dumpling to the prepared pan. Repeat with the remaining rounds and filling.
5. When all the dumplings are shaped, bring a large pot of water to a rolling boil and add the granulated sugar. Drop the dumplings into the boiling water, stir them gently with a spoon to prevent them from sticking together, and cook for 5-7 minutes. When they are plump and floating on top, they're done. Using a wire skimmer or other broad slotted utensil, fish the dumplings out of the water and drop them into a large bowl.
6. Drizzle the dumplings with the butter and gently toss to coat evenly. If you want additional sweetness, sprinkle the dumplings with the superfine sugar. Serve right away.
Varenyky Dough
Yield: Enough for 36-42 dumplings
Ingredients:
• 3 cups all-purpose flour, plus more for dusting
• 1 teaspoon salt
• 1 whole egg
• 1 egg yolk
• ¾ cup water
• 1 tablespoon sunflower oil
Directions:
1. In a large bowl, stir together the flour and salt. Make a well in the center of the flour and add the whole egg, egg yolk, water, and oil to the well.
2. Carefully whisk the egg mixture with a fork until combined. Then, using the fork, gradually draw the flour into the egg mixture and mix until the dough comes together in a shaggy mass.
3. Transfer the dough to a lightly floured work surface and knead until smooth, about 5 minutes.
4. Shape the dough into a ball, wrap it in plastic wrap, and let rest at room temperature for about 30 minutes. The dough can also be refrigerated for up to 6 hours and then brought to room temperature before rolling it out. Use as directed in individual recipes.