A $26,000 Cheese Slicer Exists/Was Stolen (Plus More Huge Food News)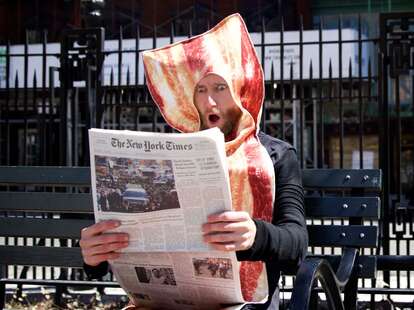 So much happened in food and drink this March, you could say it was... madness! Kitchen utensils worth more than decent cars were stolen! Frogs were made into burgers! Kevin Bacon did things! Prepare yourself, there's a lot to digest.
A $26,000 Cheese Grater Hit the Black Market
Someone swiped the world's most valuable cheese grater from the Amsterdam Cheese Museum (yes, that exists). Worth more than the US average annual rent, the blinged-out platinum slicer is encrusted with 220 diamonds and was designed by jewelry-designer-to-the-stars, Rodrigo Otazu, for cheese-toolmaker Boska Holland – which has offered a cheese gift basket and the world's largest cheese fondue set as rewards for its return. Oh and jail. There'll probably be some jail too.

Bacon and eggs got together
In what must surely be the world's most overdue celebrity-product tie-in, Kevin Bacon became a spokesman for eggs. The charming actor/global common factor, stepped in front of the camera for The Incredible Edible Egg's "Wake Up to Eggs With Bacon" clip. He didn't break into a spirited dance routine – he kept his feet up, in fact – but he did explore new terrain by wearing a t-shirt with his face on it and causing marital strife. Charmingly.
Salad Dressed Up As Pizza
Salad just got way cooler with the release of pizza-flavored salad dressing, Chef Kidd's Funagrette. Devised to entice kids to eat their greens, it comes in Honey Berry, Cocoa Berry, Lime Rickey and PB&J flavors, which leads us to wonder: What does pizza look like in the vicinity of Chef Kidd's HQ? On the side please.
Burgers Got Dark
Japan took it there with the introduction of the black whole fried frog burger. That's right, a whole fried lil' fella in a black-as-midnight burger bun, complete with soy-seasoned chicken for a taste comparison – because frog is known as "mountain chicken" in some cultures -- and lettuce, because let's not get weird. It's the latest menu edition to the Orbi Yokohama Museum café, which is already home to the blue-and-green Blue Burger/Earth Burger. The Black Bun Burger (way to bury the lede) is a limited edition, to coincide with the museum's Deadly Poison Exhibition.
David Chang Said "FUKU" and Everyone Applauded
Momofuku founder David Chang unveiled his fried-chicken ambitions at SXSW. The Galileo of ramen announced that he will open a fried-chicken restaurant in Manhattan, with the highly un-text-able name, Fuku, and that he is thinking big: He cited In-N-Out and Chick-Fil-A as inspirations for the concept, which will no doubt be world-conquering and highly successful -- and covered in ramen.
Lunch Got Lyrical
Beastie Boy Ad-Rock further cemented his legendary status by becoming a sandwich. Comprised of pastrami on rye and bahn mi, the limited-edition Ad-Rock Pang is the brainchild of Adam Horowitz (that'd be Mr. Rock) and Cambodian-inspired sandwich chain, Num Pang. Not only is it delicious, but it's also for the "Chefs Give Back" charity series, which will benefit animal rescue charities Barc and Badass Brooklyn this round. Co-founder Ben Daitz first floated the idea when he ran into Ad-Rock at the dog park, proving once more that mere autograph hunters can do better.
Motley Crew Rocked Minnesota
Hair-metal legends, Motley Crue, rock so hard that even a food truck named in their honor shook a neighborhood to its foundations. The Motley Crews Heavy Metal Grill was parked in owner Marty Richie's driveway in Lakeville when it detonated just after 11pm, due to a faulty propane tank. Though nobody was seriously injured, the blast damaged 20 homes and prompted more than 80 calls to police. "Grills, Grills, Grills"?