The first month of 2015 was so packed with food news, you couldn't have possibly digested it all. Thankfully for your ability to talk about things besides sports at parties, we've rounded up the most crucial nuggets, covering everything from what you'll be shoving in your mouth, to which restaurants you'll be Instagramming it at (hopefully before the mouth-shoving happens). Whether it involves David Chang or Ben and Jerry, if you missed it, here's your second chance at... not missing it.
News of Ramen's Demise Was Greatly Exaggerated
Like Jay-Z's retirement, David Chang's f-bombing pronouncement that "ramen is dead" proved to be a prelude to a brilliant reinvention. Make that reinventions, as he introduced both the "ramlet," a French omelet that incorporates instant ramen seasoning, and ramen-fried chicken ("RFC"). Meanwhile, another legend, Jack Nakamura, opened Sun Noodle Ramen Lab -- a restaurant and school set to push the boundaries of noodles as far as noodles can be pushed.
Sweet Stuff Got Sweeter, More Hip Hop
Thrillist sat down with Ben & Jerry's flavor guru Peter Lind to taste-test three new Cookie Core flavors -- Spectacular Speculoos, Peanut Buttah, and Boom Chocolotta. Reactions ranged from "oh my god" to "give us the precious." Oreo unveiled its limited edition Red Velvet variety just in time for Valentine's (nothing says "I'll love you no matter what" like cream cheese filling). Finally, cookies got flow via Baking With My Homies Cookie Stamps, which let hip suburban moms bring a little Tupac, Biggie, and Eazy to their East Coast-West Coast beefs... er, bake sales.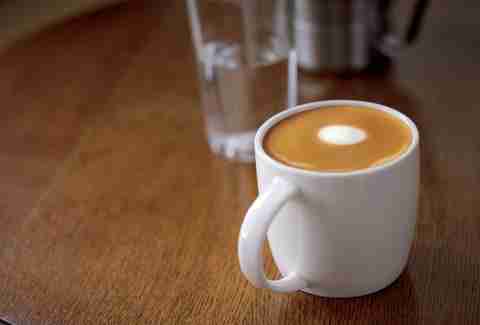 Starbucks Got Cheesy, Whiter
Seattle's finest elicited a global "Who are you anymore?" when a traumatized Australian Redditor posted a pic of "cheese syrup," prompting the company to explain that the suspicious package didn't herald the arrival of the Nacho Latte, but of the Strawberry Cheesecake Frappuccino. While those won't wash up on America's shores anytime soon, the Flat White did, prompting much debate over antipodeans' idiosyncratic cappu-latte preferences. Avoid looking like a bloody galah with our handy guide, then pray a Starbucks moves next door to you, because it'll make you mad rich.
Pizza Got Stealthy, Stunty
Dave Hax's "How to Steal Pizza – the Perfect Crime" racked up 3.6 million-plus YouTube views in, like, 5 minutes, proving that the most industrious people are also the cheapest. A badass bike delivery guy braved the under-performing but still pretty crappy NYC blizzard with a GoPro strapped to his head, illustrating that a 10% tip for these heroes sucks and you know it. Oh and our recipes team decided that while it can't be Christmas every day, every meal, including salad, can be pizza -- with a sprinkling of these croutons.
Breakfast Got Insane
In the spirit of "Breakfast like a king," an English cafe unveiled an 8,000 calorie breakfast fit for all eight Henrys (to eat it, one must sign a waiver, and travel to someplace called "Congleton"). And while America's East Coast went blizzard-mad, it got so damn hot in Australia (again with those guys!?) that its citizenry made clichés a reality and fried eggs on the sidewalk. Had they boiled them, they could have gotten a do-over.
 
Gadgets Made Eating Too Much Even Easier
That belt you're wearing -- the one that leaves shameful flesh wounds and requires manual adjustment -- might be passé thanks to Belty, which loosens and tightens automatically as you sit, stand, and steal all the pizza. It was one of many food-inspired innovations unveiled at the 2015 Consumer Electronics Show, among them robotic cooks and grill cleaners, 3-D food printers, and fridges so sophisticated that yours might as well be a 1987 car phone.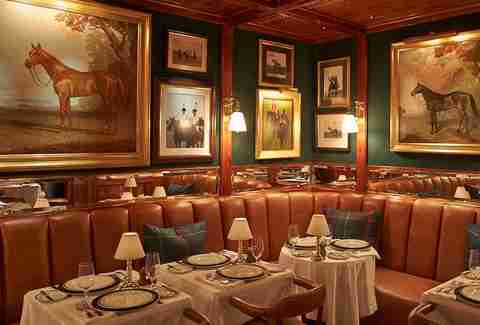 Celebrities Opened Up
Permits are in hand for Jessica Biel's Au Fudged; the exclusive joint will be a "Soho house for kids," and it's organic, because nothing puts privileged children in Seventh Heaven like sustainability. Rapper-turned-actor-turned-author T.I. unveiled plans for a Southern restaurant in Atlanta (it'll be "upscale" so you can't just have whatever you like). It was announced that Valentine's diners in Brooklyn will be able to celebrate the greatest love story of our time with a ludicrous Kim and Kanye-inspired prix fixe featuring the likes of Khicken Fried Rump Roast. Also in NYC, Ralph Lauren opened Polo Bar -- a stained-wood homage to the old school. Imma let you finish, but no you still can't smoke there.
Burgers Flipped Out
The Internet didn't break but did suffer a small fracture when it learned that the dude behind The Bob's Burgers Experiment (that's him, right there!) will publish a cookbook recreating Bobby's most inspired chalkboard puns, from "Bruschetta-bout-it" to "Poblano Picasso." Adorably earnest food critic, Marilyn Hagerty, followed up her adorable 2012 Grand Forks Herald review of Olive Garden with an adorable review of several McDonalds franchises. Sick burns include, "This is a friendly place in the morning with people trickling in and out. There are newspapers around." Dude Foods unveiled the $400 White Castle Slider, a foodie explosion replete with white Italian truffles and gold flakes. The verdict? "Terrible." But you should still try it for yourself.
Trends Got Bonier
Hot on the tail of 2014's cat café craze, some intrepid LA pooch lovers are fundraising to simultaneously open America's first two dog cafés (first unless New York beats them to it!). One will offer fur-free coffee; the other cuddles and tail wags, plus adoption opportunities should you want to bring home more than a bag of beans. Oh, and after approximately 400,000 years, the prehistoric meat elixir "bone broth" is having a moment, with the New York Times declaring it a thing and, more importantly, platelet-rich Lakers star Kobe Bryant crediting it for keeping him on the court at 36. Looks like Kobe might have to start eating Ben & Jerry's instead.